For a long time I lived in New York in a small rent-regulated penthouse apartment on 10th Street and University Place. It was in an elegant, somewhat picaresque old building, one of a few owned by a single family whose oldest son came around now and then to check on things and who knew most of the tenants on a first-name basis. The building, named for a county in southwest England, had a huge lobby with stained glass windows overlooking some shrubbery bringing to mind an Oxford study hall. A band of doormen and handymen born in Puerto Rico but who lived in the Bronx as fervent Yankee fans kept the premises immaculate and in good spirits.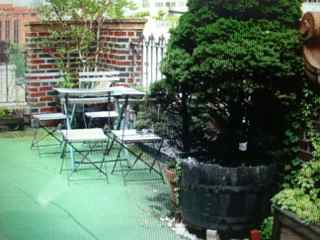 The penthouse apartment had a wide terrace covered with AstroTurf with moss growing about the edges that wrapped around the two airy high-ceilinged rooms and bathroom. The terrace was wide enough to accommodate a table with chairs, various trees rooted into large barrels, planter boxes, a birdbath, an illegal grill and a tool shed. It looked North, West and South taking in the Empire State building and the World Trade Center. It was a place where you could sunbathe and have long breakfasts of coffee and bagels with the Sunday New York Times and dinners with friends deep into the night. The sunsets, especially during the colder months, were spectacular. The bathroom had little black and white hard tiles and a large old-fashioned mirror, the tub was spacious with thick spigots. In summer the entire building smelled of cedar water towers warmed in the sun, roof tar, bus traffic from the street below and honeysuckle from the terrace. In winter the heat blasted away New York style and there were many of those special mornings when a particular sort of silence upon waking up told you it had snowed during the night.
There was an upstairs neighbor, an elderly Jewish woman who was a relic from Edna St. Vincent Millay's West Village who lived with a cat in the studio "tower" apartment. The next-door neighbors were a lovely young woman from Westchester married to a Chinese sculptor and a discretely gay man self-exiled from Brighton Beach who worshipped the sun, had a year round tan and who could never understand why I did not want to go to Florida.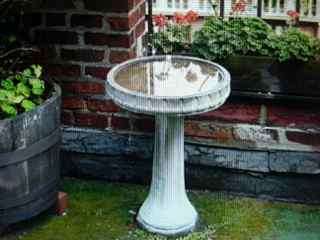 And the neighborhood was a delight. Washington Square Park was two blocks south; Balduccis and the Jefferson Market were two blocks west along one of the prettiest streets in New York City. University Place still had great local character, a wonderful florist, dry cleaners, an appliance hardware store, Bradley's Jazz Bar, the Cedar Tavern, and the original Japonica sushi restaurant. When one was feeling flush Il Cantinori was just a few doors away where Andy Warhol and various Rolling Stones and their families were regulars. On 4th Avenue there was a place called Siracusa with wonderful food and homemade gelato housed in a building once owned by Herman Melville, and on East 9th Street there was Col Legno near Second Avenue, friendly and simple with some of the best pasta dishes I've ever eaten. Across the street was a Greek coffee shop called 3Zs where breakfast was taken virtually every weekday, along with a group of regulars; an accountant and his wife who worked together but who always sat apart, an elderly woman with a red wig who did the New York Times crossword using two magnifying glasses, a gallery owner, all of us forming a very New York kind of dysfunctional family. I kept my own bottle of maple syrup there and used to love hearing the orders go in to the kitchen, "Gimme two easy-over and a Whiskey-Down," as in: two fried eggs easy-over and an order of rye toast.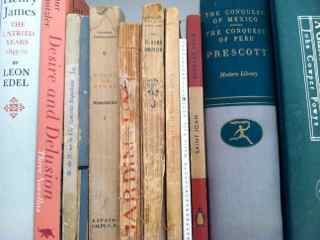 And then, as it has always happened in New York, time did its thing. What felt eternal and reliable turned out to be fragile and ephemeral. Over the years neighbors moved away or died and new ones arrived. As the rents on University Place rose, Bradley's closed. The appliance store closed. The coffee shop closed. Boutiques and unsatisfying restaurant franchises took their places. I saw the World Trade Center towers come down from the terrace and smelled the aftermath for weeks. Il Cantinori got even more expensive and decidedly less cool. Then the Cedar Tavern closed. Balduccis closed. And finally the building itself went co-op. The sweet old window frames it used to have made from solid wood were replaced with practical metallic ones more at home in a Kips Bay high-rise. The ye-olde charming lobby inexplicably took on a brighter, corporate look.
I went back some months ago and walked around the neighborhood. A lot of it feels the same, but most of it feels very different. It seems less cozy and less stylish in the true sense of the word, more money conscious like most of Manhattan these days. But this is surely a sensation New Yorkers have been experiencing for over two centuries. The new people I saw on the street there and in the surrounding restaurants, clearly excited to be living in the thick of things now, will have their turn if they stick around long enough.
REAL LIFE. REAL NEWS. REAL VOICES.
Help us tell more of the stories that matter from voices that too often remain unheard.