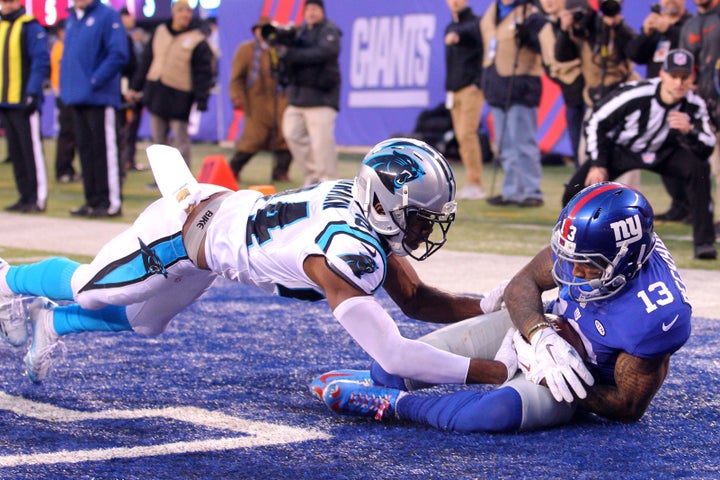 The New York Giants-Carolina Panthers game was arguably the most fun and entertaining matchup of this boring NFL season.
Carolina defeated New York 38-35 on Sunday, in a game that saw the Giants come back from 28 points down to tie, before eventually losing in the final seconds.
The game also provided a head-to-head of one of the top wide receivers in the league, Odell Beckham Jr., versus one of top cornerbacks, Josh Norman. And there were definitely moments during the game that got out of control, with the Giants' Beckham being the perpetrator in almost all of the confrontations.
Yes, Beckham's actions were ridiculous and childish on many occasions. Yes, his helmet-to-helmet hit on Norman was dirty and bush league, and the wideout should have been ejected.
But the reality is, this back and forth (outside of the dangerous hit the the head of course) between two of the game's young stars was wildly entertaining. These are two elite players showing off their competitiveness.
The Beckham-Norman matchup was close to, if not exactly, what people wanted.
As great competitors do, the Giants' star bounced back and was able to score the game-tying touchdown.
Even after the game, the on-field battle continued over Twitter.
If both players keep their cool a little bit more in the future, this matchup will be extremely enticing. Less Brandon Weeden vs. Matt Hasselbeck and more Beckham vs. Norman, please.
Calling all HuffPost superfans!
Sign up for membership to become a founding member and help shape HuffPost's next chapter