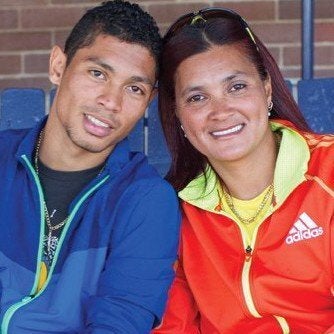 Odessa Swarts was a standout athlete in her prime, but apartheid in her home country of South Africa kept her from competing on track and field's biggest stage. Thanks to her son, she is finally getting a taste of Olympic glory.
Moments after van Niekerk crossed the finish line, NBC's Tom Hammond put his victory in context.
"Thinking back home of his mother Odessa, who was a world-class athlete herself, but denied the chance to compete internationally because of the apartheid rules in South Africa," Hammond said. "And the country of South Africa ... trying to put that apartheid past behind them, this one will be a rallying point for them."
Swarts was a stellar runner in the 1980s and '90s, but could not compete in the Olympics because of sanctions against apartheid-era South Africa.
She chose to participate in non-racial, anti-apartheid sport under the non-racial sports organisation, South African Council on Sport (Sacos). Back in the day, if you were a member of Sacos, you chose to play sport for freedom from oppression and apartheid. The international sports boycott of [South Africa] was strictly adhered to and respected. Although Odessa longed to know her international capabilities, she stood diligently and unselfishly with anti-apartheid sport.
Now, there is a gold medal and world record in the family.
For more Olympics coverage:
Related