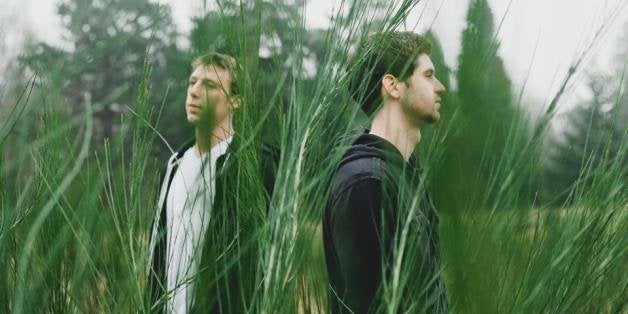 The boys of Odesza have to do laundry. Like an entire tour's worth of laundry. "Does anyone in New York actually sit at a laundromat and wash their clothes?" Harrison Mills, one-half of Washington state's greatest export in electronic music, said after draining an iced coffee at a cafe in Williamsburg. "Or is that totally lame?"
Mills and Clayton Knight were nearing the end of a four-month cross-country tour to promote their EP "My Friends Never Die," a dreamy falsetto-driven set of five synth tracks punctuated by piano, guitar and drum underlay. After crashing on couches, in friends' apartments and in the occasional hotel, this whole laundry thing was really getting to be a problem. But it had to wait.
Odesza's music is part of the non-Top-40 strain of electronic dance music; it's floaty and light, free of boring bass drops and inspired by classical training and string instruments. Having toured with heavyweights in this arena, Emancipator and Pretty Lights, Odesza is poised to be the "next big thing" in electronic music, topping must-see lists with contemporary acts like Flume and Bondax.
"I think people are sick of hearing the same thing over and over," Mills said. "Bring back melody into popular music would be really nice, instead of noise." Knight sucked on his cigarette and nodded. "There needs to be more music in music," he said.
The duo met when they were students at Western Washington University, and spent most of the summer after they graduated in 2012 writing and recording in Bellingham, Washington. They ended up with "Summer's Gone," an EP that hints at warm weather, twinkly lights, BBQs and deep conversations with people you just met. "It's funny how you can send people to the exact place we were at when we were writing it," Knight said.
Knight has played classical and jazz piano and says that whenever he writes a song now, even though he knows it will go through his MacBook, he starts with the keys. "Then we build synth around that." Mills has musical training too, and made grocery money in college by recording "little piano stuff" for a media firm that made North Face commercials. For a while, many of the brand's TV spots you'd hear in the Pacific Northwest were soundtracked by Mills, he said. "I remember I was sitting at my house and there was a commercial in between some baseball game my dad was watching and I was like, that's fucking me!" But now, nearly two years later, Odesza is selling out moderate-sized venues all over the country, hitting up cities where they have a fanbase big enough to warrant more than one show, and are beginning to piece together new tracks as a follow-up to "My Friends Never Die." They want to debut it in the fall.
On their trip to New York, they booked one show in Brooklyn and one in Manhattan, with three days in between to record, have meetings, and, yes, do that goddamn laundry. On a warm Tuesday night in May, Mills and Knight entered downtown Manhattan's Santos Party House, ready to jam for industry folks, college kids and creative types -- "a lot of the older designer crew is digging the sound," Mills had said the day before. Before taking the stage, Mills and Knight sipped from PBR cans and slapped backs as they made their way through the venue. They wore clean clothes (we asked) and headed to the stage, where they drummed the crowd into a trance-like state, with actual drums and few words.
A little before midnight, the crowd emptied into the street in Chinatown. One young concert-goer with thick glasses turned to his buddy and said, "This shit is so much better than Skrillex."
Calling all HuffPost superfans!
Sign up for membership to become a founding member and help shape HuffPost's next chapter
BEFORE YOU GO