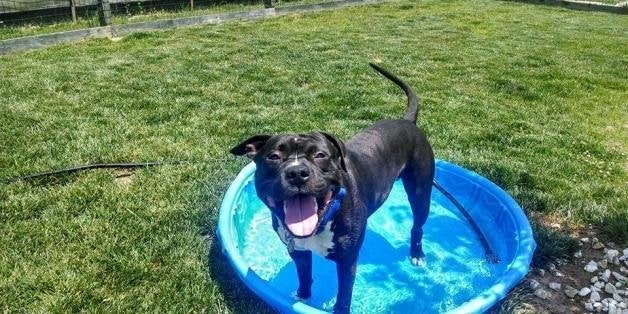 His rescuers almost can't believe how well he's healed. Or that the people who did this to him haven't been caught.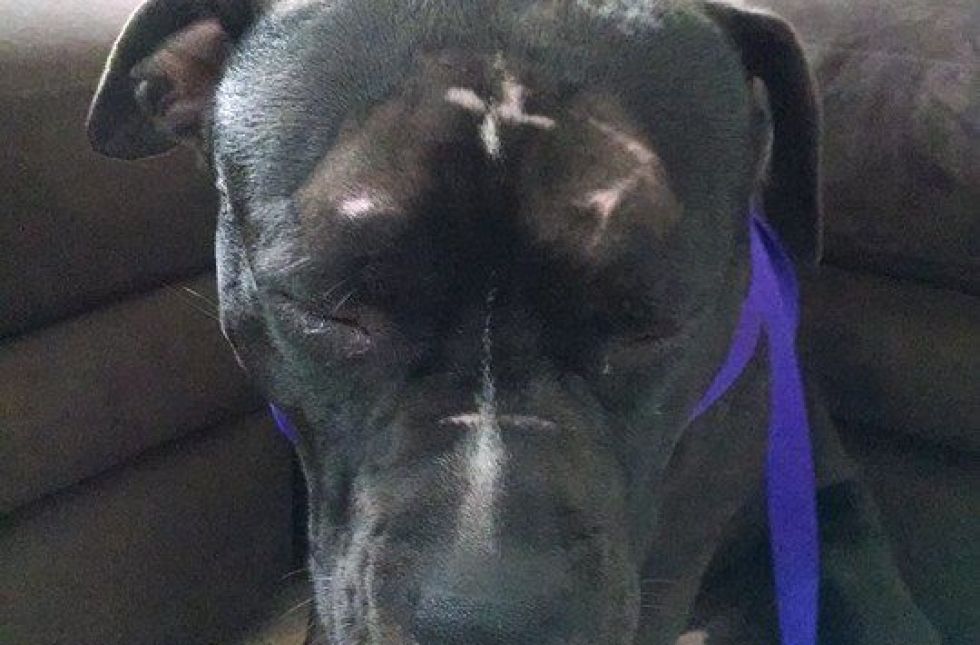 Odin's first day in foster care.
The nature of his injuries indicate Odin's blocky grey head was smashed with a brick.
"We were not sure he was going to make it," says Lauren Verfaillie Ramone, founder of Pit Bull Pride of Delaware. She became responsible for the dog after he was picked up by animal control and brought to the Veterinary Specialty Center of Delaware.
After more than a week of care by specialists and surgeons, Ramone brought Odin home. The sightless dog had to be taught voice commands; slowly, on a harness, he learned the lay of the house.
Other parts of his new life came more naturally.
"The first thing Odin did when I first met him was come up to me and kiss me in the face," says Ramone. "I was sitting down on the floor and I called his name. He walked over to me and just kissed me. His eyes were still shut from all of the swelling."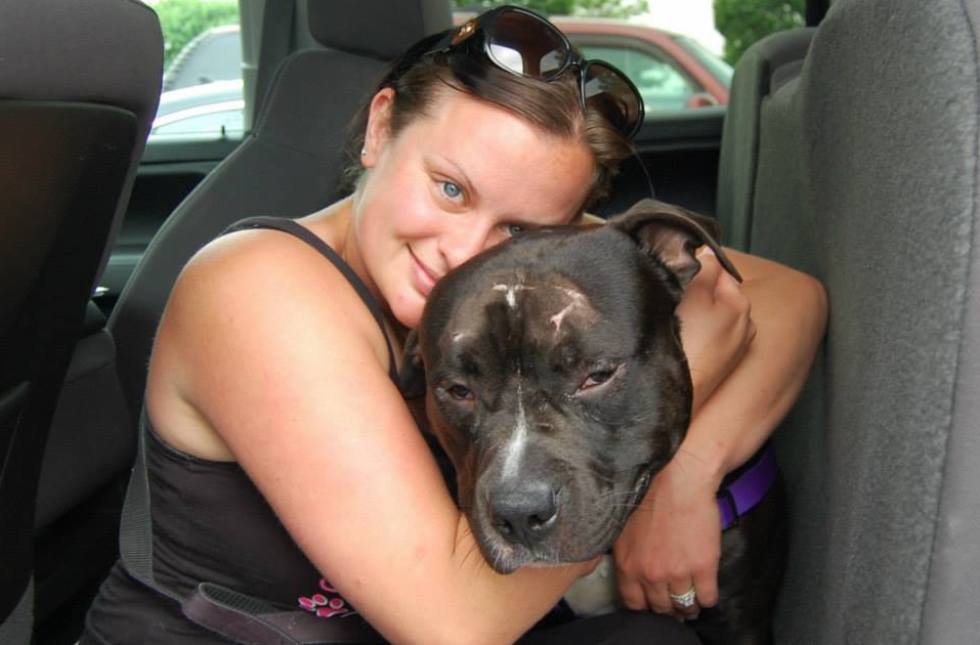 Odin and Ramone snuggling.
But what about the person or people who met Odin with such viciousness?
At the end of June, hundreds of Pit Bull Pride of Delaware volunteers began handing out fliers in the area where Odin had been found, asking for information about the attack in exchange for a $5,000 reward offered by the Humane Society.
"Odin was found in a bad area so were escorted by [the] Wilmington Police Department for everyone's safety," says Ramone. "Animal control also came out to help us. Since June 22, 2014, we have handed out hundreds of rewards fliers in hopes that someone will know something."
There's been a few calls and a few leads, but Odin's case is "still under investigation," says Mauceri. "My guess is there's someone out there who knows something."
Ramone guesses that, too. And so Pit Bull Pride of Delaware released a video recently, telling Odin's story and begging for information.
"I am not giving up. I will not rest until I find who did this to Odin," Ramone says. "I think it is important to find Odin's attackers, because if they could do that do an innocent dog then who knows what else they are capable of. I am hopeful that we will find who did this. I want to get justice for Odin. He deserves that."

As for Odin, the three-year-old's skull fractures are healing and he has recovered some of his eyesight, though he is now developing cataracts.
In August, Odin was adopted by good friends of Ramone's. He's got three human siblings now and one pit bull sister who share in this well-deserved, blissfully ordinary life.
"He's been doing great since he's been with my family. He has brought nothing but happiness and joy to us," says Jessica Hibbard, Odin's new owner. "After all the trauma he has been through, he has nothing but love to give."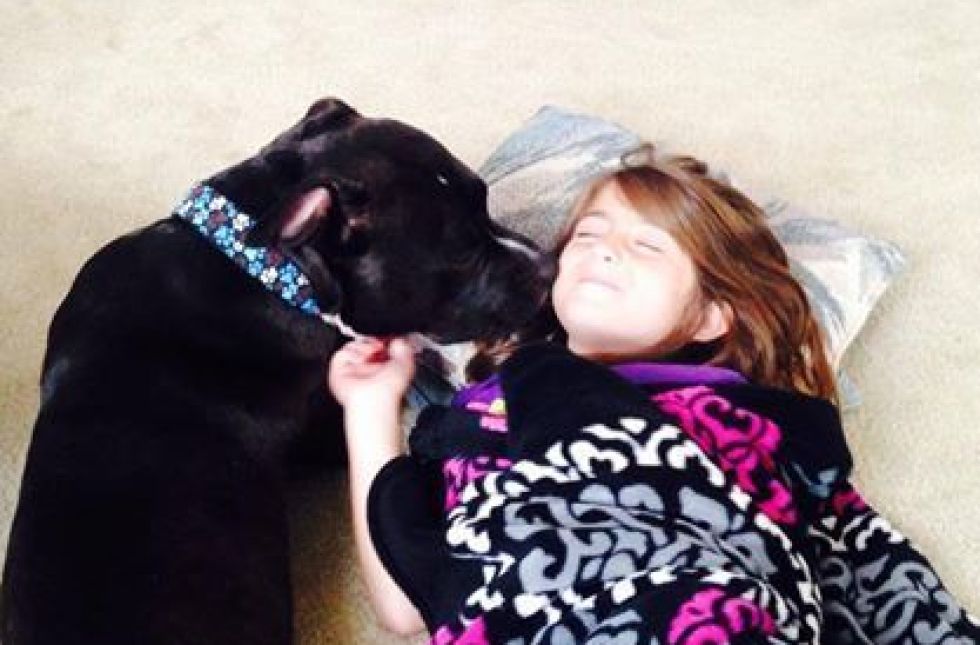 Odin napping with his new sister Haley
Indeed, Ramone, who still sees Odin often, is struck both by wanting so badly to see someone punished for what was done to this dog, while also marveling at his resilience.
"To this day Odin has not shown any signs of aggression, and has always been gentle and loving to everyone that he meets," she says. "He has taught me a lot about forgiveness."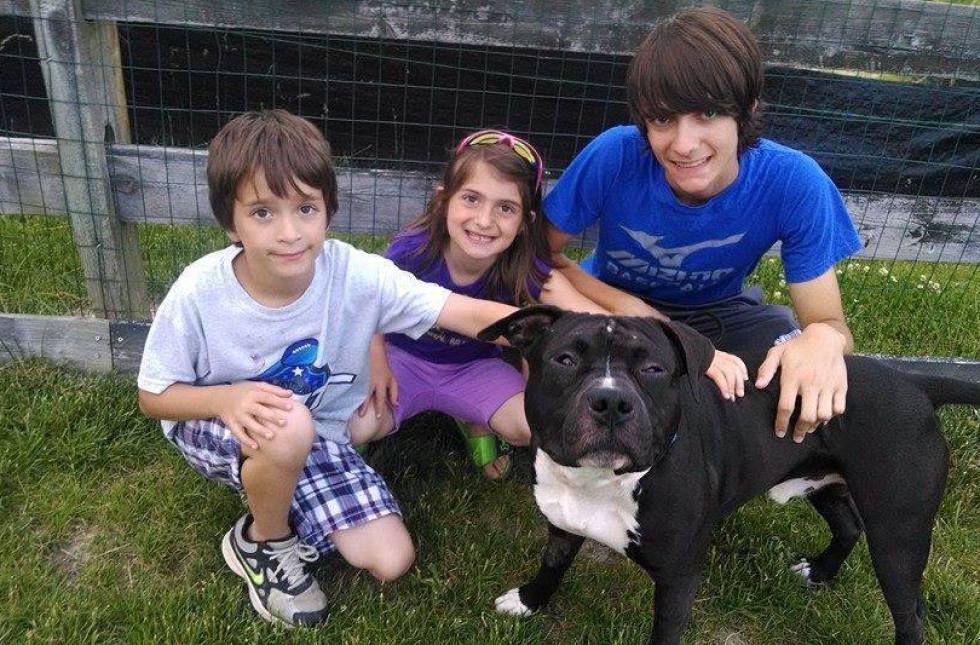 Odin is happy at home with his new human siblings, Cody, Tyler and Haley
If you have any information about Odin's attack, please contact Capt. Sherri Warburton of Delaware Animal Care and Control at (302) 698-3006.
Get in touch at arin.greenwood@huffingtonpost.com if you have an animal story to share!
REAL LIFE. REAL NEWS. REAL VOICES.
Help us tell more of the stories that matter from voices that too often remain unheard.