Warning! This post contains spoilers for "Westworld" Season 1.
Throughout the thrilling first season of "Westworld," a photo of a woman in New York City's Times Square appeared time and time again.
First spotted in Dolores' father's hands during the pilot, the photo was eventually revealed to be a picture of Logan's sister, Juliet. Juliet is also William's fiancée — making her The Man in Black's deceased wife in the present day. 
Of course, internet sleuths discovered an odd thing about Juliet's photo. According to reddit user 2EyedRaven, the picture is actually a Getty stock photo.
It's quite possible the "Westworld" creators are messing with us, as the credited photographer's name is Erik Von Weber, which makes us wonder if it's supposed to be a nod to Arnold Weber, one of the park's creators. On the other hand, they could have just needed a photo in a pinch.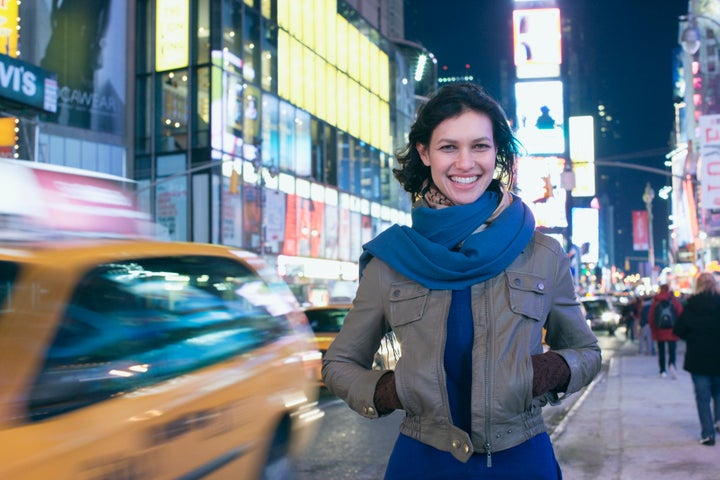 Unabia confirmed her identity to The Huffington Post via email, writing that it was "so cool to find that I am a character on 'Westworld' unbeknownst to me!"
The model said she believed that the photo was shot about four years ago and had no idea it was going to be used on the show. 
"Lately more people have been asking me if I have been in a TV show," Unabia wrote. "Someone did ask if my picture may have been used for a TV show but I did not know what they were talking about so I just said it was possible." 
Though she didn't watch the HBO hit before finding all of this out, Unabia said she's going to binge-watch the show ASAP.
When asked to imagine what her character in the photo was like, she said, "Juliet must have been one powerful woman to make William into such a psychopath after losing her." 
Unabia added, "Hopefully I can come back to life on the show as a host." 
It's all coming together ... ? 
This post was updated after we reached out to Unabia.
Calling all HuffPost superfans!
Sign up for membership to become a founding member and help shape HuffPost's next chapter
BEFORE YOU GO
PHOTO GALLERY
"Westworld"