 Becoming a doctor, lawyer or business person have long served as paths out of poverty, as well as symbols for many of the American Dream. But now, if a student isn't careful, these once-prestigious careers may be paths into poverty or heavy student debt. What has gone so wrong?
Students now face a perfect storm of rising college tuition, negligible scholarships and stagnant salaries. These winds of change threaten our society's need for a new generation of qualified young professionals, who depend on us to sufficiently reward their efforts and ambition. We ignore, at our own peril, the factors that make their potential for success increasingly uncertain.
Professional salaries are under attack. The projected financial rewards for graduates of college and professional schools, as measured by average starting salaries, have not increased nearly as fast as inflation or tuition. For example, the average starting salary for a physician (after tax) is $93,600. Not bad, you say. But medical school now costs on average $193,188 for private institutions and $122,128 for public institutions, a price tag that doesn't include fees, the cost of books and housing, or the value of four years of lost wages. Medical students are often forced to borrow all of these funds. Thus, a doctor is likely to begin his or her career with a monthly salary of $7,800, and a monthly student loan debt of $1,918.96, based on an interest rate of 6.8 percent over 10 years. (The suggested minimum annual salary to handle such a repayment is $287,844).
We used to take comfort in believing those who held our lives in their hands were sufficiently well-off -- that they weren't worrying about money problems when they should have been treating us. That's not true anymore.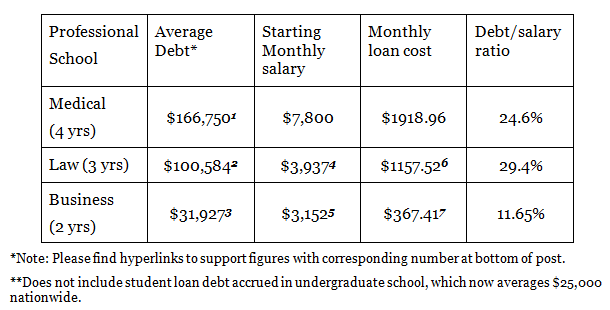 As illustrated in the table, the situation is no better for lawyers and business professionals. Wages are too low and debt is too high. Even worse, many professionals meet their spouses in graduate school, leading to double debt. And more troubling, the current long-term glut of lawyers is suppressing wages and decreasing the likelihood of employment in their chosen field. And, impacting MBAs, banks have shed their highly-paid traders and corporate finance officers, along with support staff. The cut-backs are due, in part, to the financial crisis and in part to government pressure to shed whole lines of business. Will a recovery make things better? Top business leaders and lawyers, including law school deans, are very cautious. Many think the system is broken and will continue to produce more graduates than available jobs.
What can save the system? At an absolute minimum, costs and tuitions must come way down. As I addressed in a recent TEDx talk, colleges are so enslaved to the high tuition model that any serious restructuring threatens quality. A new model must be found. Law schools are experimenting with two-year programs. Business schools are questioning the relevance of everything they teach. Medical schools have revamped their internships. And still the debt piles up -- more and more every day.
Visit Families United in Educational Leadership (FUEL).
Popular in the Community