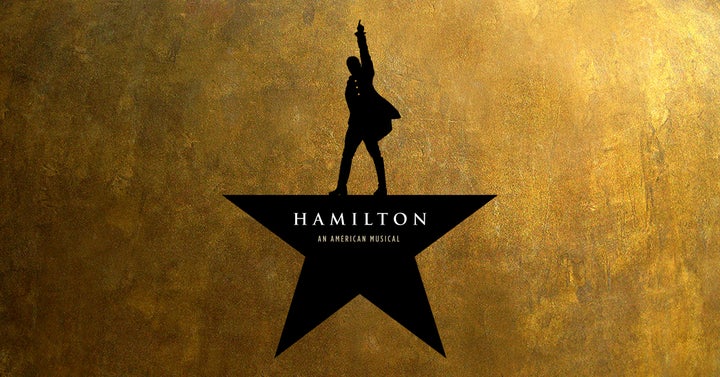 "There is a certain enthusiasm in liberty, that makes human nature rise above itself, in acts of bravery and heroism."-Alexander Hamilton
In 2011, a college friend now on Broadway posted a video on Facebook. The artist was a young goateed Nuyorican whom I had come to love and admire through the soul-stirring "Great Performances" PBS special dedicated to the dreams and stories of the cast of <em>In The Heights</em>. As this young man -- my same age at the time -- gathers wits to spit bars about Alexander Hamilton at an erudite D.C. crowd gathered at the behest of the newly inaugurated President Barack Obama, the nerves showed the humanity that always lingers behind the actor/rapper/singer/songwriter/genius. In an interview, Lin-Manuel Miranda claimed when he looks at the video he sees a Puerto Rican kid scared out of his mind. Sure, the nerves are normal -- who wouldn't be terrified? But in that expression was an invitation -- to step into a world he would create out of thin East White House Room air.
For four minutes and twenty-seven seconds, the artist builds cathedrals in the air with only words and sparse, largely staccato piano. The story is plain - -Alexander Hamilton wrote his way out of horror and tragedy, only to find himself in New York City -- just another immigrant coming up from the bottom. The Greeks called actors "hypocrites" as they were only playing parts, not living them, and yet the best actors don't make you forget they are are acting -- they make the lines between acting and autobiography vanish. When Burr/Hamilton/Miranda belt "In New York you can be a new man" it's hard to know who is actually speaking. As the camera pans to the audience, the task becomes more difficult, as every head-bob from the silent crowd whispers a silent "Amen" -- that ancient term that says "what you are saying is TRUE." Art tells us that which we know to be true but have ignored or worse, forgotten.
We were preparing for a Leadership Camp with a rag-tag group of ninth grade boys. Each day featured guest speakers and a theme -- Communication, Character, Crossing Cultures, and Creativity. These kids are some of the best and brightest -- those who would turn fortunes from pennies if given the funds or half a chance; craft new worlds from daydreams while living through nightmares -- not unlike a certain Treasury Secretary from the West Indies once did.
The theme for the day was creativity. Against my better instincts, I told them what the video was about -- Alexander Hamilton. The wave of eye rolls, groans, snickers was enough to deter anyone, but I knew what I had seen and was confident in the power of an artist to connect -- even through YouTube and a spotty internet connection. One kid put his head down. Until the snaps began. As they looked at each other there were some swallowed laughs. Heads began to bob. Two guys began to snap along. By the time the video finished, I couldn't get out my requisite, "Okay, so what did you guys think of that?" before Zed said "Did all that stuff really happen -- like the hurricane and his mom dying and all?"
The world would never be the same -- not for them, anyway.  I know that sounds hyperbolic, but from that point forward we set off to do everything we could to find ways into learning that made it real, enjoyable and human. Not everything was a home run, but we found out new things together.
In the five years since that summer, the one-off spoken-word performance from the East Room of the White House has become a best-selling album, the defining artistic expression of what history will undoubtedly call "the Obama era," and has reinvented musical theater the way Rent did when I was in high school. Cultural force, meta-narrative of the twenty-first century American experience, cautionary leadership tale, parable of the body politic -- however one perceives Hamilton, it has done the one thing that any art seeks to do -- it has forced all who come in contact with it to engage and reflect.
I work primarily with children locked in cycles of generational poverty. For many, the roots of those generations can be directly traced to the horrific legacy of chattel slavery -- much of which was legislated and protected by the "founding fathers" featured in Hamilton. As our area gentrifies, things have begun to change. When a parent applied for a grant to get a copy of the famed "Keyhole Portrait" of George Washington for our local school, the program required that the framed print occupy a place of prominence. It was only when placed in the heart of the school's library that someone questioned the arrival. Washington owned more slaves than the rest of the founding fathers combined, posting ransom notices for runaway slaves, pursuing them to the full extent of the law at the time. The logic was obvious to all -- how could a school, with no ostensible connection to George Washington, so prominently feature a gilded portrait that exalted our first President, who was also slaveholder in-chief?
Some have alleged that Hamilton never fully confronts race directly, but if it did it might descend into the same moralizing opine that often mars great art. When Chris Jackson embodies Washington, the full weight of the real Washington's character emerges in prophetic subversion. Like Ezekiel's radical acts or Hosea's theatrical marriage to Gomer, the very act of casting actors of color in roles they fully embody is a revolutionary act, further blurring the line between acting and autobiography as Lin-Manuel did while standing beneath George's extended right hand in the East Room. The radical humanity on display is a single note that finds the third and the fifth in the lived experience of the hearer. The unity onstage seeps into your chest and you find yourself moving to a rhythm, the fourth wall a thin veil between your heart and those on stage, all beating in time -- together.
This is the revolution of 'Hamilton'. A reminder that in all of our humanity we are flawed, frail and often fumbling.
This is what Hamilton does to you. This is what the first rough draft from that fateful White House performance did to me. This is what it did to the ninth graders in our literacy camp. Young, scrappy and hungry, they absorbed it, taking those beats into their chest. Given time and some constraints, two weeks later they made their own beat and performed "Get Lifted" to the cheers of a loving congregation. From a school with a 78% dropout rate they studied, laughed, worked and yes, wrote their way out. All six are currently at college on full or partial scholarships. Some are preparing to be lawyers, finding Elizas and Angelicas along the way. Others are designing clothes, sneakers, and promoting events all while still going to class, finding friends for whom they would gladly fight. One has his debut hip-hop concert at a local venue next week, boldly tackling social issues -- in the tradition of Nas, Common, the Roots and Lin. Non-stop.
In an interview with Charlie Rose, Lin-Manuel Miranda said, "This is my love letter to hip-hop." If that is true, then this is my love letter to Hamilton. There are a million things I haven't said here -- the way I cry every time Chris Jackson sings anything, the fact that my 11-year-old special needs son has the entire soundtrack memorized and how it helped him pass fourth-grade social studies this year, and hundreds more. Sometimes your best thoughts go the way of the Adams rap.
Our assistant director of our literacy camp and one of my dearest friends has endured my Hamilton obsession. Recently she said she has finally come around to fully loving it. That she couldn't quite put her finger on it. I told her another friend had recently told me he had a hard time with the patriotism that culturally it seems to inspire. My camp director friend said "That's the thing though -- when you really listen to it -- that's not what Lin's saying. He's saying we've been told these guys built the country, but it wasn't really them. It was us." She got out of the van to chase twelve kids up the stairs to participate in our free literacy camp, an effort to curb the "summer slide" that happens for lots of kids growing up in poverty. Shutting the door, she said last week another volunteer saw her sitting at the registration desk with one of our second-grade girls. "Oh, training her to take your place, signing people in?" she said. "No," my friend replied, "I'm training her to be a doctor, a lawyer, an artist, a teacher."
This is the revolution of Hamilton. A reminder that in all of our humanity we are flawed, frail and often fumbling. But we also love fearlessly, think ferociously and serve sacrificially. This is the work of art's greatest gift to us as a people -- the reminder that "the sacred rights of mankind are not to be rummaged for among old parchments or musty records. They are written, as with a sunbeam, in the whole volume of human nature, by the hand of the divinity itself; and can never be erased."
May it ever be so, Alexander. And may this not be a moment, but the movement.
Calling all HuffPost superfans!
Sign up for membership to become a founding member and help shape HuffPost's next chapter