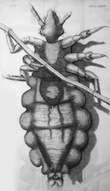 We talked over the phone as he was being driven home from LAX. I filled him in on some current events. (There are 7,458 residents of Banff who, I guess, are either too bewitched or bored by the beauty there to bother about world events.) I shared some headlines and studied his take. He was surprised -- only he wasn't -- to hear that Al and Tipper had called it quits. He was a realist about relationships, he said.
"Bill and Hilary are a sound political partnership -- and that's not the same as a marriage," he said.
Not exactly original, I thought, yet probably true.
Our first date was set for a Friday at a steak place downtown. My first meet and greet of my virtual dating career.
I began my preparations two hours before date time and in a hot bath. After, I applied an array of creams to the various terrains of my body. Since it was a special occasion, I powdered my torso also.
Then came the hard part: dressing myself. Online dating sites instruct you to "Come as Yourself." What woman does that? To me, that seems simplistic, confusing -- and, as a matter of fact, absurd. I mean, what does that mean? Which self?
I had neither experience or a concept; my methodology was to try on everything I own and assess each option on its individual merit.
I brought out and tried on the DKNY, the DVF, the CK and the J. Crew. The MaxMara and the Elie Tahari. I pulled on pants and skirts. Dresses and suits. Cotton and silk. Flowing things, tailored things, tight things. I tried on risqué and reserved, alluring and austere.
An hour to date time and I was having an existential crisis -- of the closet variety. As I pulled outfits from my closet, my repository of selves, all of my eras, looks and moods confronted me at once. They all wanted to go to lunch!
I pulled and zipped, buttoned and snapped, pulled on and flung off, groveled in the hamper, laundry basket and in the pit of my closet for other options all the while I dearly, pitifully wished I was the type of woman who knew herself. The type you read about in magazines. A woman with mastery over her body and her closet -- who had, perhaps, some Anne Fontaine shirts, satin and silk blouses, an array of T-shirts, turtle necks and white button downs, a dozen or so shoe options -- sandal, spectator, flat and fuck mes, sling-backs and mules, Puma, Converse, Nike and Ugg -- and five perfect pairs of jeans -- boot, bell, skinny, glitzy and faded 501s - all of which fit.
As I wrestled and wiggled, pulled on and flung off I longed to be someone else. With extra-vigilance I tried not to allow this to devolve into a Zoom Moment. I tried not to ask myself How the hell did I get here? Or, worse: Why was I mid-life and dating?

Then, suddenly, I was ready. I thought I looked good -- or, as good as I could.
I had on a navy Favourbrook pantsuit. I had bought it five years before. Then, the top was loose, now it was fitted.
After this ordeal, I wanted nothing more than to close the curtains, climb fully dressed under the covers and reward myself with a nap.
I didn't. I took a picture of myself. For my sisters. One has been married for twenty years; she thinks mid-life dating would be an adventure and fun. The other is a widow and has not dated much, since her husband died.
I found my keys and my bag.

My house was in total turmoil. A layer of separates was strewn over every surface. Unchosen shoes littered the floors. My bathroom looked as if an aging Goldilocks had paid a visit, opened and sampled each and every cream and then left them lidless, topless and without their caps.
It took me two hours to get dressed. It would take me at least that to clean up after myself.
I looked over my shoulder and sighed.
It is amazing what a mess I made to appear put together.