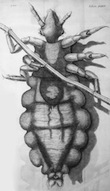 A real and true story -- what I've learned about love through ongoing battles with lice and through dabbling in online dating -- presented in single posts, serially, Monday through Thursday, for the foreseeable future until its inevitable and uplifting conclusion.
I was standing in a glass box on a street in Brooklyn, an area in which I had not a single friend -- three thousand miles from my doorstep in Los Angeles. Curbside, a giant, gleaming, black Mercedes sedan idled in which two strangers -- men whose names I did not know and who spoke a language I did not understand -- waited for me. My young son was a few blocks away, in their basement. He was with a woman who went by an alias, and demanded cash. I wracked my brains for the PIN number of an account I'd not used in a decade, hoping to coax more money from the ATM. This was a Zoom Moment, for sure; a moment that makes no sense unless the lens trained on my life is pulled back. Way back. In a Zoom Moment, pulling wide is the only way to answer my existential shout out: How the hell did I get here?
The answer was simple: Pediculosis. Lice. Yet it's complicated. Dear Reader: Allow me to begin at the beginning. I am a single mom. This is the story of our lousy year.