It's not easy to think globally. Problems seem so distant and insurmountable. After national treasure Harvey Fierstein brought new attention to the ongoing arrest, torture, and abuse of gays in Russia, promoted by its new set of draconian anti-gay laws, my first thought was, "This is an outrage." My second thought was, "But what can I do?"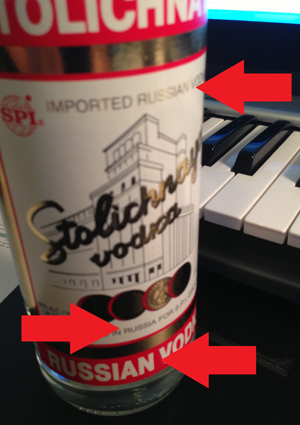 I guess Dan Savage was thinking along similar lines, and he's come up with what he thinks is a good first step: boycott Russian vodka.
On the surface it makes sense. Gays and Russians have in common the fact that we all rather famously love our vodka. Russia and vodka are so closely linked that a major boycott carries heavy symbolic weight. Russia's economy benefits from the export of vodka worldwide, and a worldwide boycott by LGBT people and our allies might get the Russian government's attention.
But SPI, the maker of Stolichnaya, the largest, most famous, and most prestigious Russian vodka sold in the U.S., sees it differently. In a statement SPI reminds the world of its sponsorship of many LGBT causes and events in the U.S., distances itself from the Russian government, and claims "passionate" advocacy on the side of "freedom, tolerance and openness in society."
So is the boycott a good idea? Does SPI get a pass? If we're not boycotting Stoli, arguably one of the top five vodka brands in the U.S. and the only Russian vodka on that list, then what's the point?
Well, no, SPI does not get a pass, because a closer look at their press release actually makes the case for the boycott. First, the press release answers accusations that no one ever leveled, saying, "Stolichnaya Vodka has always been, and continues to be, a fervent supporter and friend to the LGBT community." SPI goes on to mention several sponsorship and outreach efforts that Stoli has conducted with LGBT organizations.
Well, OK, but no one is saying that Stoli is a homophobic brand. Stoli is not the bad guy here, but the fact that the brand has been marketed to LGBT people in the U.S. doesn't make them a good guy, either, since there is a difference between marketing and advocacy. In fact, given how LGBT people enjoy our festivals and parties, failure to market to the LGBT community by sponsoring them would be really bad business.
Second, the press release is disingenuous in distancing itself from Russia. The press release says, "The Russian government has no ownership interest or control over the Stoli brand that is privately owned by SPI Group, headquartered in Luxembourg in the heart of Western Europe." But no one ever said that profits from Stoli go directly to the Russian government. That's not the applicable standard here. And in trying to make it the applicable standard, the statement tries to avoid these truths:
Google "Russian Vodka" and the first thing you get is an ad that SPI paid for so that Stoli could be the top result. Indeed, SPI has been touting Stoli's Russian origin for years.
Enough of the vodka's ingredients are sourced in Russia that it can call itself a "Russian vodka," which it does on the label three separate times -- though, interestingly, the image that appears on Queerty with the press release says "Premium" instead of "Russian." Queerty, a beneficiary of an exclusive Stoli sponsorship, should perhaps get that fixed.
The Russian government itself has laid claim to the brand name "Stolichnaya." SPI's Russian owner had enough influence with the Russian government to purchase the brand name years ago.
It's clearly Russian, has influence in Russia, and has the ability to use that influence. That is the standard to be applied.
Finally, the press release doesn't claim to have done any LGBT advocacy or outreach in Russia, only in the U.S. As far as we know, up to this point, the only public advocacy for LGBT people in Russia that Stoli has done has been this very statement, which calls the new laws "dreadful." But this statement was only issued in response to Dan Savage's call for a boycott. In other words, the mere threat of boycott has gotten Stoli's attention. More energy around this idea might prompt them to move from talk to action, from touting their sponsorships in the U.S. to conducting meaningful advocacy in Russia.
Boycotts should be conducted with solemnity and thoughtfulness. Businesses like Stoli do what they have to do without sentimentality, and without rancor. We can do the same in exerting our global influence. The global economy is a complex system, and any action taken could have unintended consequences and provoke collateral damage. If a boycott is successful, it's likely to hurt farmers and workers before it ever hurts decision makers personally. It's a frustratingly distant and seemingly small response to a big problem. It's enough to make a person throw up his hands and return to simpler problems closer to home.
But spending my meager playwright's pay on a vodka that proudly calls itself "Russian," knowing that the simple act of temporarily switching brands might have had some impact on LGBT lives there? That would burn in my gut. I'm boycotting. Please join me.
REAL LIFE. REAL NEWS. REAL VOICES.
Help us tell more of the stories that matter from voices that too often remain unheard.