On last month's blog, from my post-surgical hospital bed, I wrote that there were many fine Detroit literary events that I would regretfully miss in September due to my fractured ankle. I'm home now, a 4-lb cast to the good, not getting out much, but I was thrilled to attend the 2014 Knight Art Detroit Challenge Grant Awards October 6 at Detroit's Fillmore Theatre. It makes me proud to be part of the Detroit artistic community, with amazing ideas percolating up from everywhere - new and veteran groups, individual artists, literary, dance, drumming, neighborhood art projects - all being awarded for their creativity by the Knight Foundation's vision and generosity.
The array of cultural richness, and in some cases joyful zaniness, was good for the heart, soul and even the healing ankle. I was especially pleased to see that DABLS African Bead Museum and Southwest Detroit's Ballet Folklorico did so well and proud that, for the second year in a row, InsideOut Literary Arts Project made a strong showing. It was a special thrill to see iO alumna and former Citywide Poets director, Nandi Comer, accept the award for her brainchild, "Dancing through the Night" - an exploration through poetry of "the heat and the history" of Detroit's post Motown techno music explosion.
In my last blog I also encouraged folks to come out for the Detroit Institute of Arts' annual art bike ride, for which iO's Arzelia Williams, Kennedie King and Justin Rogers created and performed an original group poem based on a painting by German Expressionist painter Franz Marc. You can read about their creative process on the iO blog here.
As I go through my recuperation, I find myself collecting the stories of friends who have been beset by the evil fracture fairy. Apparently this is a not uncommon rite of passage for those of us of a certain age. I have discovered, too, that I have a new fashion experience awaiting me: the fracture shoe. How utterly divine. Not that I've ever been a fan of skyscraper high heels, but it's humbling to start recognizing the limits that lie ahead. Women's shoes of today bespeak, I guess, a certain form of empowerment, or foolhardiness. I'll leave commentary on that subject for another day, but I will say that I was blown away by the shoes that two of our iO star poets were wearing at another literary event I missed recently.
In addition to performing it on the DIA Bike Ride, Arzelia, Justin and Kennedie were invited to share the poem at Mercedes Benz Financial Services's annual celebration of their many arts partnerships, "Experiencing Perspectives Art Exhibition," on September 30. As Justin Rogers wrote for the piece,
from: "People in a Landscape of Colors"
we are not a group
of reasons to defend yourself
we are children's smiles
lost in thick colors--
our skin is an endless selection of crayons
we are accessible, interchangeable
we are easy to use
our intentions are slow and steady
there is no race in our equation
You can read the poem in its entirety on the iO Facebook page here. And here below are our powerful, stylish young poets, sending brave, healing and hopeful words out to the world. Please note the shoes, as well as the confidence and joy.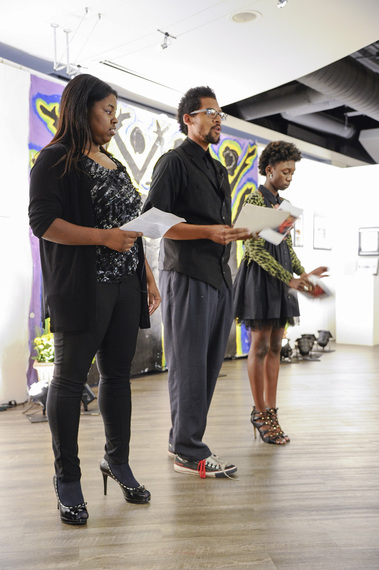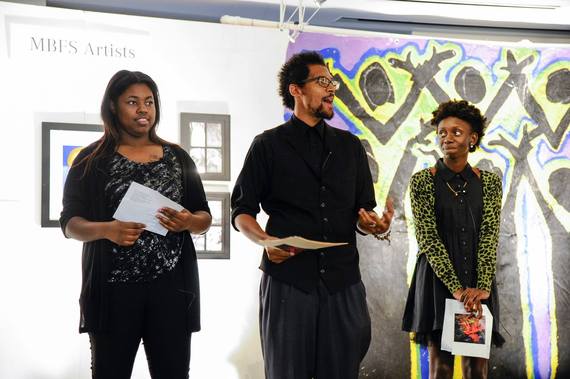 Left to right: Arzelia Williams, Justin Rogers, Kennedie King. Photo Credit: Jennifer Korman, Mercedes Benz Financial Services
It gives me tremendous pleasure when our students reach national and even global audiences with messages of such subtlety and insight, as has happened more than once thanks to MBFS, which has been a valued supporter of iO since 2009. Justin Rogers performed a solo poem that was live-streamed to Germany, Brazil and other spots around the globe for a MBFS annual meeting in December 2010. At the art celebration in May 2012, Andy Hawkes explained to the MBFS attendees what iO had meant to him as a high school student. I'll never forget his I was a C student, and now I'm going to Yale" with which he wowed the crowd as he launched into his career as a graduate student in the arts at one of our country's most prestigious universities. As our mission states, it is our goal at iO for students' words to launch them off the page "into extraordinary lives." With the help of foundations, corporations, and individual friends, we have managed to make that mission come true for going on twenty years.
You can help us SUSTAIN THIS WORK and meet our obligation to match the Knight Foundation's $100,000 by contributing to iO's current Crowdrise fund drive here. Thank you for your support and good wishes. Here's to healing vibes for us all.
Popular in the Community