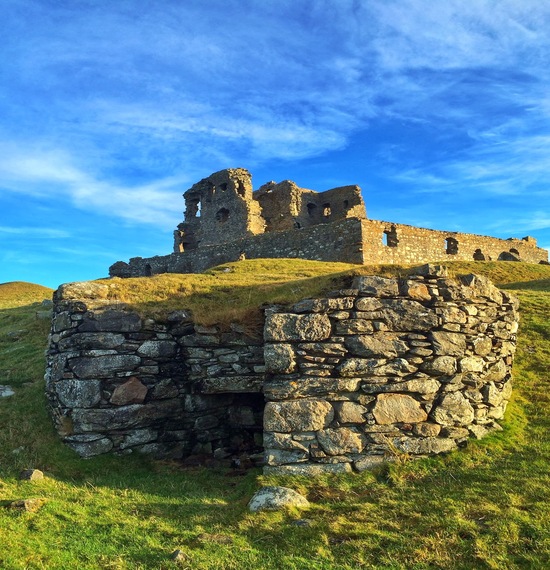 Every time we drive a winding road to visit a castle, I am watching and waiting for that moment that the fortress comes into view, and like a small child, I gasp at the sight of it. Every. Single. Time.
I grew up on stories that were set in castles, tales of knights and princesses. I knew that somewhere in the world, these magnificent old towers and turrets really existed, but I had not seen them with my own eyes.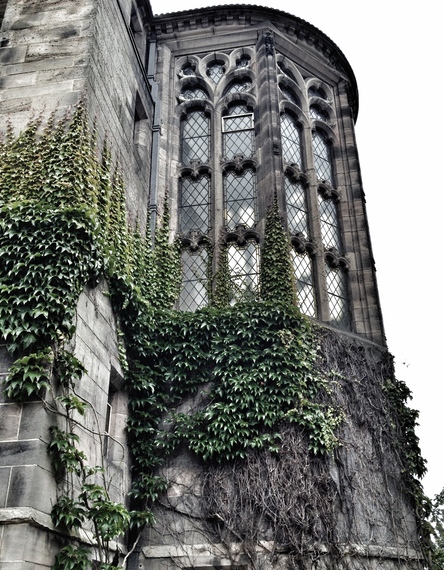 Last summer we moved from Arkansas to Scotland, and I have come to realize that the conversation that immediately gives me away as an American is to talk about how many castles we have been to see since we have arrived.
I know that there are some castles in the United States, but nothing like what you will find here in Scotland, either in number or in age. At one point there were over 2000 castles in Scotland, a baffling amount when you consider the fact that Scotland is roughly the size of South Carolina.
And while I do not think it is possible that we will visit every castle in Scotland while living here, we are doing our best. Fortunately there is a large concentration along what has been dubbed The Castle Trail just to the west of where we are living in Aberdeen.
Some of my favorite visits have not necessarily been to the most renowned castles in Scotland. I think we have the most fun when we find an old ruin of a castle and seem to have it all to ourselves, like the day we walked to Auchindoun Castle, which is set back a mile from the road so you have to approach it on foot. We have four children, three of them boys, so there is nothing I love more than to release them in a castle ruin where they can run free and engage in imaginary battles.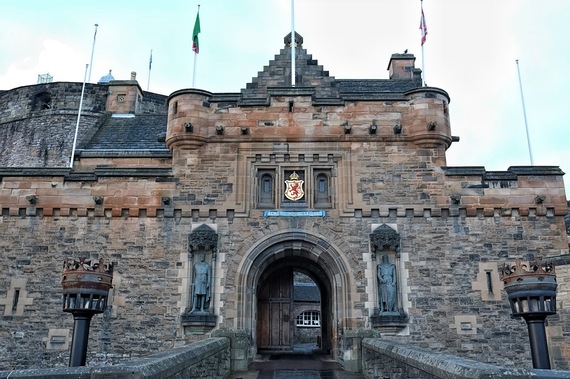 However, I also love the famous, fancy castles, and I found myself quite content to stand in line (or "to queue," as they say here) to view the Scottish Crown Jewels in Edinburgh Castle, where the boys enjoyed a demonstration in The Great Hall of the proper way to wear a kilt.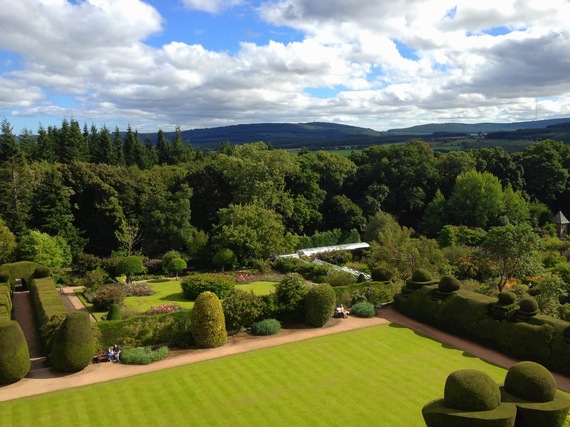 A restored or well-preserved country castle is usually surrounded by an exquisite garden, and the castle grounds are as impressive as the rooms within it. A highlight of a visit to a castle out in the "shire" is to have tea in the garden shop after a wander in the woods or a walk among the roses.
I hope that I will not ever tire of visiting castles, or that they will not become commonplace to me as a result of seeing so many. In six months, the little jump that my heart does when we see one has not dulled at all, so I think the magical appeal of castles will hold for many days to come.
Here are a few details about some of our favorite castles in Scotland:
Edinburgh Castle, situated dramatically on the city hilltop, is perhaps the most famous castle in Scotland. Impressively large, its renown is well deserved and the history exhibits throughout the castle mount make it easy to spend the better part of a day there.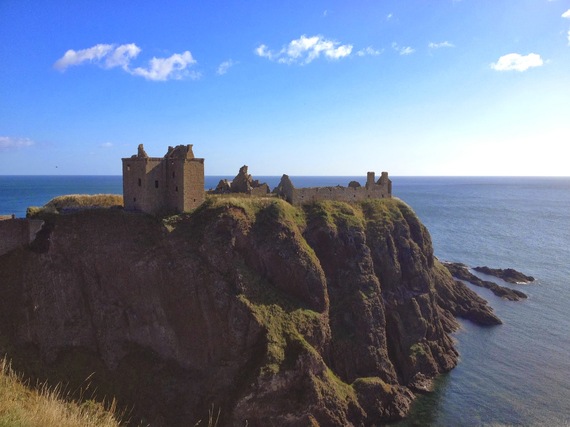 Dunnottar Castle in Stonehaven is only a short hop south from our home in Aberdeen. This castle is a ruin perched atop a rock outcropping in the sea. From its dramatic position, the fortress was a great stronghold in many important events in Scotland. Rich with history that is sometimes troubled, Dunnottar was visited by many of the most important figures in Scottish history, including William Wallace.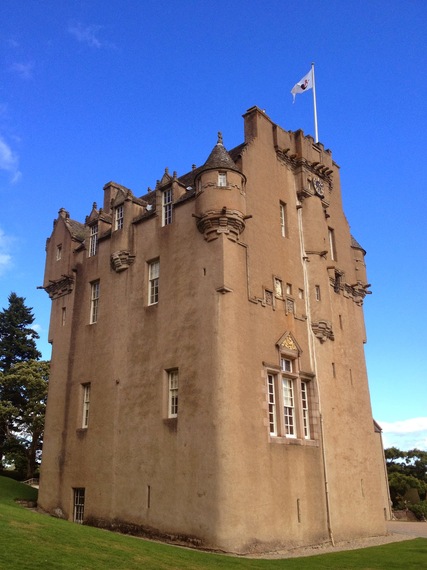 Crathes Castle is another favorite near Aberdeen. It has been lovingly preserved and a self-guided tour takes you on a loop throughout the castle, but the gorgeous grounds are the highlight. The friendly members of Scotland's National Trust have loads of history to share if you are curious. This castle is well suited for outings with children, with beautiful grounds for playing and miles of walking trails in the surrounding woods!
Urquhart Castle is an imposing castle ruin situated on Loch Ness, so it's easy to combine a visit to this castle with your search for Nessie, without which no trip to Scotland is complete. Do not worry if your little knight forgets his sword and shield, there are plenty available for purchase in the gift shop.
A really different castle to visit is up on the coast in Fraserburgh where a smaller 16th century castle was turned into a lighthouse in 1787. Kinnaird Head Lighthouse, which is part of the Scottish Lighthouse Museum, was actually built on top of the castle. The whole building has been lovingly restored to preserve the memory of the days when lighthouses were manned by keepers, who blew the foghorns and kept the lights burning for ships at sea.
Auchindoun Castle (pictured first in this article) is on a hill is in Speyside, so you can combine a visit to this castle with a trip to one of the famous seven whiskey distilleries in the area. You park along the side of the road and then walk about a mile along a farm path to reach the castle ruin. Your reward for the extra steps it takes to get there is that there are no admission fees.
Related