A few weeks ago ICOMOS' recommendation against the registering of 19 buildings designed by Le Corbusier in the World Heritage List provoked heated discussion in the architecture world. ICOMOS, an influential advisory body of UNESCO, claimed that the 19 nominated buildings do not clearly 'demonstrate remarkable universal significance of the modern architectural movement' and that 'Le Corbusier was not the only architect who promoted the modern architectural movement, in which many architects participated.'
Among the 19 nominated buildings is the National Museum of Western Art in Taito Ward, Tokyo, completed in 1959. It is an architecturally and historically significant building, so ICOMOS' announcement surprised and prompted me to take a closer look at what happened. Researching the way the World Heritage List is being managed made me question whether history and politics had a play in ICOMOS' rejection.
In the meantime, to get you in the Modern architecture appreciation mood, click through this slideshow to view key buildings of Modernism from around the world, some of which have already been recognized by UNESCO as such.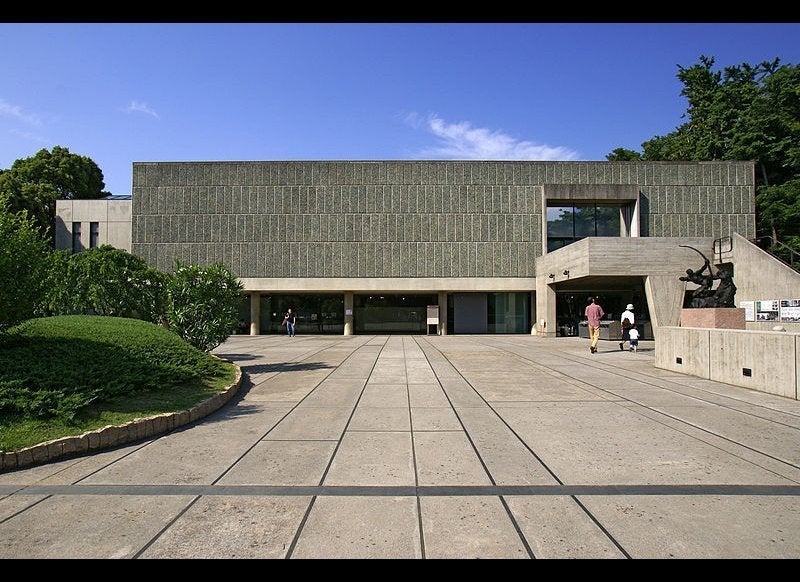 Memorable Modernity
UNESCO is a specialized agency of the United Nations, and among its main priorities is "promoting and supporting an international movement for identifying, protecting and managing the intangible and tangible heritage of the world." For this purpose, an official World Heritage List was established which currently includes 911 properties considered by the World Heritage Committee "of outstanding universal value." Its legislative frame is set by the 1972 Convention which has been ratified by 187 state parties to date, outlining key issues such as criteria for inclusion in the list, rights and duties of state parties and access to the World Heritage Fund. For those selected, this offers as much as $4 million per year, architectural prestige and increased popularity.
Modern heritage that is from late 19th century onwards, according to UNESCO's most recent list includes 27 properties and sites, 80% of which are in Europe. It disturbing that Asia, Africa and the Arab States have no modern heritage listed. Has Modernism passed them by?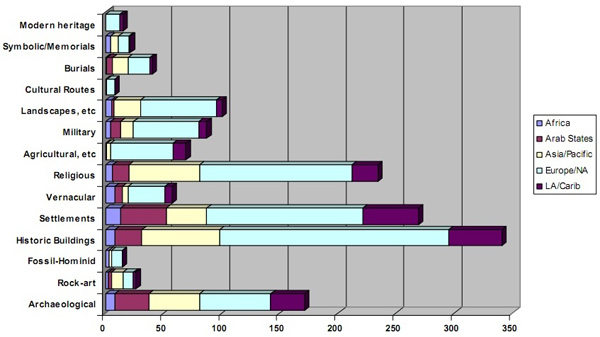 World Heritage List, totals by category (Figure A2, "The World Heritage List: Filling the Gaps - An Action Plan For The Future")
The horizontal numbers represent the number of properties of each category featured in the List.
Those facts represent ongoing tendencies in the World Heritage List, such as the obvious underrepresentation of certain regions compared to Europe, and categories, including Modern heritage. Both of them concern the case with Le Corbusier's museum as an example of Modern architecture in Japan.
The National Museum of Western Art is Le Corbusier's only built work in Japan, but also arguably the most complete example of his concept of an "infinitely growing museum," a museum which has the potential to expand according to its usage and the collection it houses. The nomination considered the property 'of outstanding value' according to three of the UNESCO selection criteria:
i.to represent a masterpiece of human creative genius;

ii.to exhibit an important interchange of human values [...];
iii.to bear a unique or at least exceptional testimony to a cultural tradition [...];
It is not hard to speculate that ICOMOS' rejection of Le Corbusier's National Museum of Western Art as a move of political correctness. Featuring it as the first modern building in Japan in the World Heritage List would be hitting where it hurts: ignoring Japan's own contribution to the Modern Movement and praising a building which was created through Europe-based manipulation (the building was commissioned post WW2 and the architect forced to be from the allied nations).
In the fifth issue of World Heritage Papers, dedicated to Modern heritage and its preservation, Prof. Shin Muramatsu and Yasushi Zenno argue that the last few centuries have imposed a (not so) subtly Eurocentric vision on architectural history and concerning modern heritage,
so many buildings created in non-Western countries during the nineteenth and twentieth centuries were in fact built, politically, economically and culturally speaking, in order to support the Western construction of colonies, and thus it is difficult for the once-colonized nations to evaluate such buildings today without an ideological understanding of their often bitter past.
For me it is clear that this building should have been included - architectural heritage should not be influenced by political correctness. Do you think it should be on the list? Why do you think it was rejected?
Related
Popular in the Community