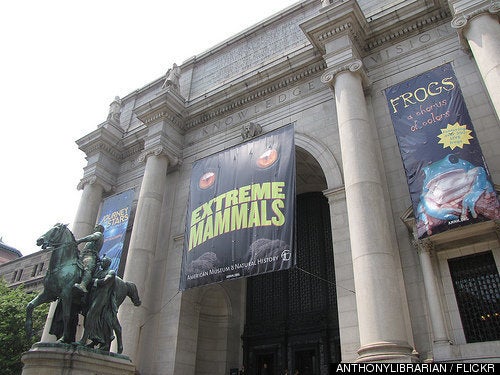 I'm going to admit, I had a little trouble coming up with a topic for this week's post. I didn't really do anything exciting this week because I was too busy studying for my midterms to go sightseeing like last week, and I'm sure none of you are interested in hearing about me taking exams. However, since today's Friday, only one week of classes stands between Boston University's student body and spring break, and the halls are ringing with the ever-popular question, "Where are you going?"
Given all this talk of vacation planning, it was only natural that my thoughts turned to space-related destinations I'd visited in the past, places I'd visit again in a heartbeat if I had the chance.
While I'm home for Spring Break, I've already made plans to visit the Cradle of Aviation Museum in Garden City. Most Long Islanders don't think of our home as very spacey, but it was at Grumman's nearby factory in Bethpage that the lunar module was constructed. There's an unused one on display at the museum, as well as a lot of other awesome exhibits on our area's contributions to aerospace history.
Hopefully, I'll also be able to spend a Saturday night at the Custer Institute in Southold, as that's the only night it's open to the public. (Yes, May Custer Elmer, an early member of the organization, was indeed the grandniece of the famous General Custer.) Most of the astronomical objects shown on Public Night there are the same ones the BU Astronomical Society shows at ours, and it's really enlightening to see what a difference the darker skies on Long Island make compared to how the same planets or galaxies look from Boston. The old observatory building is also just a very friendly, comfortable place, full of interesting astronomical memorabilia, like members' photos of Halley's Comet taken during its 1985-86 appearance.
If there's time during the break, I'd also like to get out to New York City to revisit the American Museum of Natural History, which hopefully should require no introduction, as well as the Intrepid Sea, Air, and Space Museum. While most exhibits at the Intrepid focus on military history, the aircraft carrier also served a more peaceful role as the recovery ship for the Aurora 7 and Gemini 3 missions in the early 1960s. (They also have Concorde Alpha-Delta, which set the record for fastest crossing of the Atlantic.) However, I do regret that I won't be in New York on April 23rd, when the Space Shuttle Enterprise will arrive in NYC to be prepared for eventual display at the Intrepid.
I've never been to the New York Hall of Science, but while I'm in NYC, I'd love to take the chance to pop in and see their vintage replicas of space race hardware, which were created for the 1964 World's Fair in nearby Corona Park. And, although it's in a very different part of the city, I'd also like to visit the Challenger Learning Center of Manhattan, if not over this break, than at some point in the future.
So that's my little somewhat-realistic mix of revisits and first visits that I'd enjoy being able to make over my spring break. But as long as we're speculating, why limit ourselves to New York? There's a lot of fabulous space places I've been to outside of my home state, and a lot more I haven't visited yet but want to someday!
First of all, Washington D.C. and the many space-history related sites I documented over the summer beckon. I was lucky enough to revisit NASA Headquarters on Valentine's Day for the TweetUp, but it would be great to go to Arlington, the meteorite room at the National Museum of Natural History, or Washington National Cathedral again. And if only I could spend 11 MORE hours exploring the National Air and Space Museum! However, I wasn't able to check out the Air and Space annex at Dulles Airport, the Udvar-Hazy Center, or the Naval Observatory where the moons of Mars were discovered in 1877, so I've still got a few more to-dos in the city of taxation without representation.
And, for Pete Conrad's sake, of COURSE I want to go back to the Kennedy Space Center in Florida, if only because the craziness of being there right before and after Discovery's last launch meant I didn't have much time to take in the museum galleries. The surroundings communities are full of all kinds of spacey goodness, like the Space Walk of Fame in Titusville, Florida. (And I'd like to go looking for "I Dream of Jeannie Lane" in Cocoa Beach!)
Also, since "you're never too old to go to Space Camp", I'd definitely enjoy a chance to revisit the U.S. Space and Rocket Center in Huntsville, Alabama, even if it was just as a guest and I couldn't use any of the simulators I got to play around in when I attended Advanced Space Academy, because their museum is pretty cool on its own. (Although the 1/6th gravity chair is one of the most fun things I've ever done.)
Those are the three NASA centers I've visited -- Headquarters, Kennedy, and the Marshall Space Flight Center in Huntsville -- but there's eight more I haven't been to, and that's what I call a challenge. At the top of my list are the Johnson Space Center in Houston, Texas, location of THE Mission Control, and the Jet Propulsion Laboratory in California, the lovely locale from which most robotic space probes are controlled. (And if I flew to Houston by way of Amarillo, I could check out the statue of Rick Husband in the airport there... )
Speaking of the West, if I'm ever in New Mexico, I've just got to go to the Very Large Array and Spaceport America. Closer to home, I really want to visit the McAuliffe-Shepard Discovery Center in Concord, New Hampshire. Since that isn't terribly far away, I might be able to check it off sooner than some other places on this list, especially if it was part of a trip with one of BU's aerospace clubs.
Internationally, I'd like to someday visit all 16 countries that are participating in the International Space Station. (I've already been to the U.S., Italy and the United Kingdom, but the closest I've come to visiting Canada, Japan, Germany, and Norway is their pavilions at EPCOT.) And, of course, I want to visit outer space myself someday!
But I don't think I'll have any trouble staying busy with my traveling until then...
Calling all HuffPost superfans!
Sign up for membership to become a founding member and help shape HuffPost's next chapter