 WASHINGTON -- Organizing for Action, the advocacy arm pushing the Obama administration's agenda, will begin its next big policy push on Thursday with a focus on climate change.
The group, which was formed using the 2012 Obama campaign's machinery, will begin what organizers view as a potential multi-year effort to lay the groundwork for legislative action on climate change. The first steps will come in the form of an email blast to the group's reported 20 million subscribers Thursday morning featuring a "greatest hits" video compilation of what it calls the climate deniers in Congress.
"We are tracking a set of folks who are sitting there ... who have said goofy things about climate denial that play well to some small set of folks but are really out of step with the science and the facts," explained Ivan Frishberg, the organization's climate change campaign manager. "We are going to start to organize in a set of districts to hold those folks accountable for the fact that they deny climate change."
OFA's video is viewable below:
The climate campaign, said Frishberg, will be the first sustained advocacy effort for the non-profit 501c4 organization since its formation in January. The group has organized around gun control and immigration reform, but in both those cases, Congress moved first, before OFA got involved. Climate legislation will have to be built from scratch.
"Immigration and gun violence prevention -- those conversations have moved a long way toward the goal line," said Frishberg. "And on immigration, there was a very long and hard fought movement to get to this point. On climate, in terms of Congress, we have a ways to go."
Climate change activists likely will be heartened by OFA's decision to tackle the subject, which has remained in the backdrop since Congress failed to pass cap-and-trade legislation in 2009. But a closer look at the specific objectives of the campaign is less likely to satisfy the growing community of scientists and advocates who see an immediate need for bold action.
OFA is not advocating any specific policy prescription, nor does its campaign address the lingering question of whether the president will sign off on the construction of the lower part of the Keystone XL, the controversial pipeline that would carry heavy crude oil from Canada to refineries in Oklahoma. Instead, OFA's goal is simply getting lawmakers to acknowledge the reality of anthropogenic climate change.
"It's nice to see Organizing for Action going after climate deniers in Congress," said Jamie Henn, a spokesman for the climate advocacy group 350.org. However, he added, "if President Obama approves Keystone XL it will irrevocably damage OFA's credibility on environmental issues. Obama voters have made it clear, in polls and in the streets, that they want their president to stand up to Big Oil and say no to Keystone XL."
Frishberg said that OFA will support the executive actions made by the president, as well as regulations implemented by the Environmental Protection Agency. He did not address Keystone XL specifically, though OFA has previously mentioned the matter in emails to supporters, demanding a full State Department review of the pipeline.
As for the limited objectives of the group's campaign, Frishberg pointed to the importance of simply raising the issue and re-stating the reality of climate change.
"I think there is something that's fundamental about starting the conversation by saying this thing is real," Frishberg said. "If we can't start there and have a consensus there, then how do you ever move the conversation forward? You can disagree or agree on different policy approaches. But if people are throwing out those premises-- the impact on people's lives, the clarity of the science -- if they're throwing that overboard, it's hard to go much further."
Republican Sens. James Inhofe (Okla.) and Marco Rubio (Fla.) also make an appearance, as does House Speaker John Boehner (Ohio), who in one particularly choice passage appears to argue that climate change is largely attributable to cattle.
Since 2011, there have been 24 hearing requests to discuss climate change, OFA's video says. Republican leaders have rejected every one.
"We have a Congress that is filled with folks who reject the basic science of climate change," said Frishberg. "So a lot of what we're going to be doing is focusing on a long-term effort to change the conversation."
Before You Go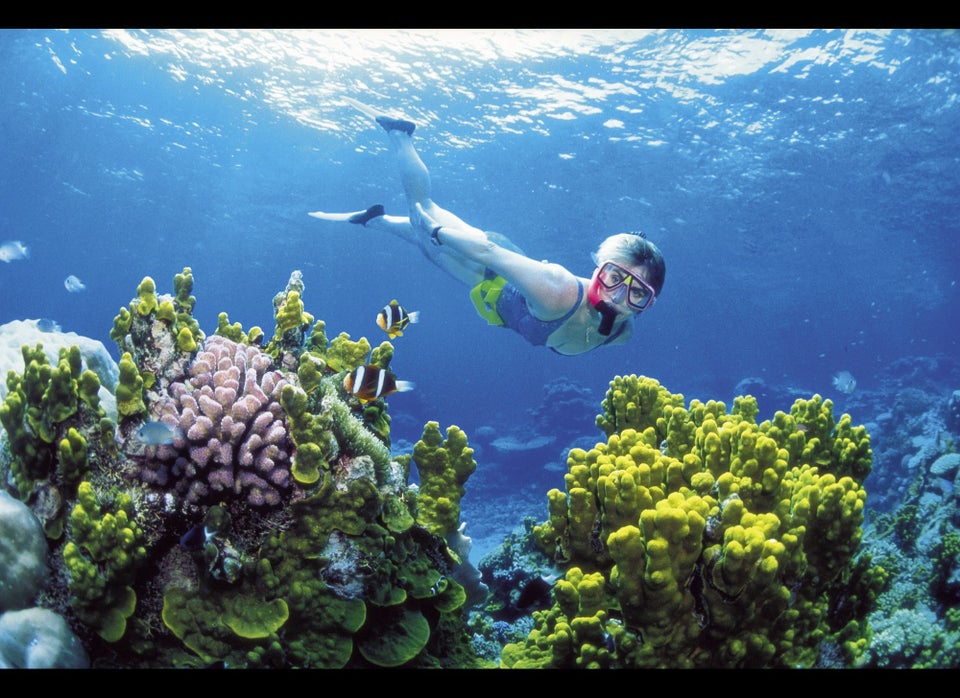 What Climate Change Just Might Ruin
Popular in the Community