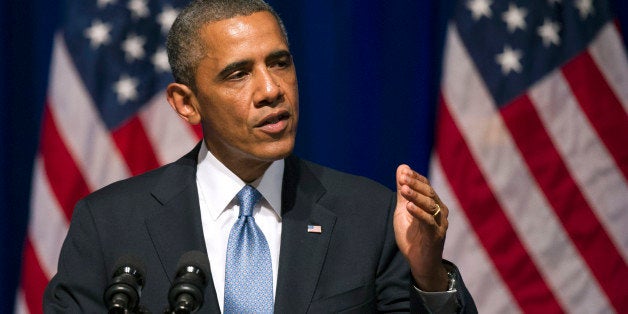 Overall, the organization backing the president's agenda has raised $20.8 million from more than 355,000 donors since it was formed at the beginning of the year. In the last three months, OFA has spent the majority of its resources promoting the Affordable Care Act to the public as the Oct. 1 rollout of the health insurance exchanges approached.
"At the end of our third quarter, 98% of OFA's contributors are grassroots donors with an average donor contribution of under $59 making this truly a grassroots funded operation," an OFA official said in a statement.
That $59 average contribution is a slight uptick from the second quarter when the average contribution was $55. Unlike most political nonprofits, OFA's giving is dominated by small donors, who accounted for 66 percent of overall contributions in the third quarter.
A handful of donors gave larger contributions of $25,000 or more. In total, these 23 donors gave more than $1 million in the third quarter. The largest third-quarter contributions included $150,000 from California philanthropist Anne Earhart, $100,385 from venture capitalist and Qualtrics head Ryan Smith, and $100,000 each from NetSuite chairman Evan Goldberg, photography chain owner Olan Mills and Ian Simmons, husband to a relative of Commerce Secretary Penny Pritzker.
In September, OFA launched an ad blasting House Republicans for voting some 40 times to defund Obamacare. "Okay, they've said their piece. But now they've gone even further, threatening to shut down the government if ObamaCare isn't dismantled," the ad said. "It could disrupt Social Security and veterans' benefits, hurt job growth and undermine our economic recovery. Tell these House Republicans: Enough already."
Since then, of course, the House Republicans' insistence on defunding or delaying Obamacare has led to a government shutdown. And OFA, which operates the @BarackObama Twitter handle, has been pushing back by publicizing the effects the shutdown is having on ordinary Americans.
REAL LIFE. REAL NEWS. REAL VOICES.
Help us tell more of the stories that matter from voices that too often remain unheard.
BEFORE YOU GO
PHOTO GALLERY
11 Paranoid Obama Conspiracy Theories