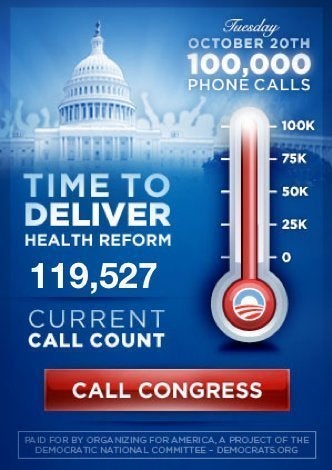 It's not even noon on the West Coast and already Capitol Hill staffers say they're getting nonstop calls from constituents in support of President Barack Obama's health insurance reform. At about 2:15 EST, Organizing for America (OFA) surpassed it's goal of 100,000 phone calls to Congress, each one imploring representatives to vote for reform.
The nationwide "Time to Deliver on Health Reform" event is the most massive outpouring of support from Obama supporters since Election Day 2008.
Senate Democratic aides told HuffPost that their phones have been ringing off the hook. "We're getting completely crushed with calls, jamming our phone lines from the moment we opened," said one aide.
Another said they'd gotten "pretty much non-stop health care calls from OFA." A third also said their office was getting bombed and that four out of every five calls specifically mentioned the public option.
Only one aide contacted said that the calls had not been heavy. "We've had about 130 [health care] calls to the DC office today," said a staffer, explaining that on busy advocacy days the number can climb much higher.
Several aides said the callers seemed less informed about the issue than typical advocates, indicating that Obama is reaching a wide variety of voters who do not typically engage in the political process. Almost all of them called on the senators to support the President's health care plan. Several aides noted with irony that the president doesn't have a specific plan that he has endorsed - to the great frustration, in fact, of many Democrats.
After the election, Obama for America (OFA) became Organizing for America (OFA), an issue-oriented advocacy arm of the DNC whose primary purpose is to help make campaign promises a reality by cultivating public support for Obama's agenda.
Calls officially started at 9:00 AM Eastern, and supporters reached 40,000 calls about noon. From there, the numbers climbed quickly, hitting 85,000 around 1:30 PM and 95,000 around 2:00 PM -- fifteen minutes after that, 100,000.
To generate these numbers, OFA organized over 1,000 phonebank events across all 50 states. Yesterday, OFA said its phonebanks would make hundreds of thousands of calls to voters in order to generate 100,000 calls from constituents to Congress.
This morning's email to OFA members said, "If we hit 100,000 calls made or committed to, we'll send an unmistakable signal that this time, families must come before insurance companies. We'll be tracking progress toward our goal publicly -- make sure to report your call back to us so we can count it." (See the current count.)
President Obama will speak to OFAers across the country today at 8:00 PM Eastern to kickoff the evening phone banks. Sources within OFA say they are going to raise their goal to 150,000 calls to Congress but no official word yet.
UPDATE 6:03 PM Eastern: OFA has surpassed its updated goal of 200,000 phone calls to Congress. No word yet on what their new goal will be.
Additional reporting by Ryan Grim
Popular in the Community