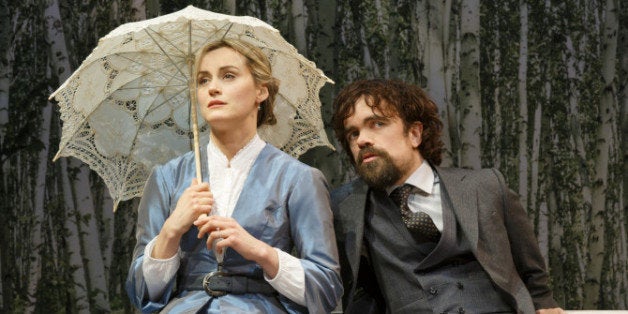 Off-Broadway plays can get really weird. Like, watermelon-being-smashed-to-bits-on-stage weird. So when the basic Broadway lineup starts to feel tired, it can be difficult to navigate theater options that extend beyond seeing "Wicked" for the fourth time. Here to help you avoid being needlessly splattered with fresh fruit, we bring you the February edition of our monthly roundup of Off- and Off-Off-Broadway shows.
"A Month in the Country"
Great For: Binge-watchers who almost never read anything on their high school syllabi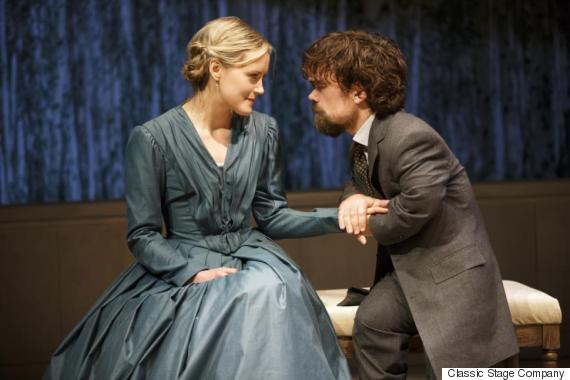 Classic Stage Company's revival of "A Month in the Country" is what would happen if Ivan Turgenev's five-act play were translated into SparkNotes and then optioned as a Netflix Original Series. Okay, part of that is because it stars Taylor Schilling ("Orange Is the New Black"), and she starts the show off in the role of Natalya feeling a lot like Piper Chapman took a time machine to the mid-1800s. Also, her first costume looks like the sort of thing Belle would wear in a side show at Disney World.
But as the show paces into its first act (there are only two here), Schilling's icy idiosyncrasies melt into an invigorated re-imaging of the erotically complex leading lady. And while it's clear most of the crowd came for Peter Dinklage (Rakitin), they soon fall for his co-stars performance with the force of Rakitin and Aleksei. The way Schilling reads the colloquial translations of the lines imbues them with a cutting wit. As a whole, the show is fast-paced and absurd in a way that works for the modern audience, though might make a Turgenev scholar consider standing up and peeing on the floor in the way of Crazy Eyes.
"The Woodsman"
Not Great For: Those of us still haunted by the flying monkeys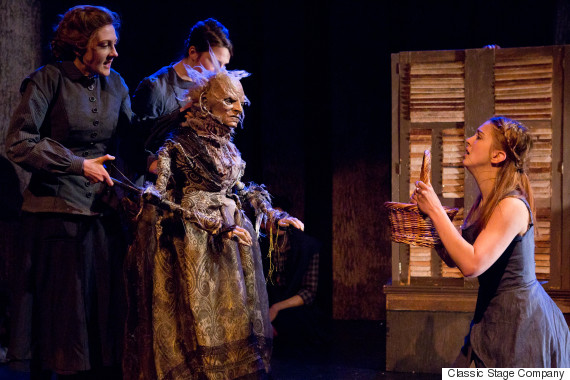 "The Woodsman" uses a mix of puppetry and music to tell the Tin Man's prologue to "The Wizard of Oz." You know "Wicked"? Yeah, this is nothing like that.
With a largely barebones set and even sparser dialogue, the unconcealed machinations of the puppetry bring an eerie otherworldliness to the figures on stage as they interact with the cast. The witch, with her spider-thin arms, distended neck and death mask of a face, is far more terrifying than a bright green Margaret Hamilton could be even on her bitchiest day. The story of tragic love that unfolds feels like an folklore plucked from ancient oral history. When it ends by transporting the Tim Man to the beginning of Frank L. Baum's allegory, the shift is so jilting that, at a recent performance, an older man in the audience blurted out, "Is that Dorothy?!"
"Nevermore"
Great For: Hot Topic employees who can recite "The Raven"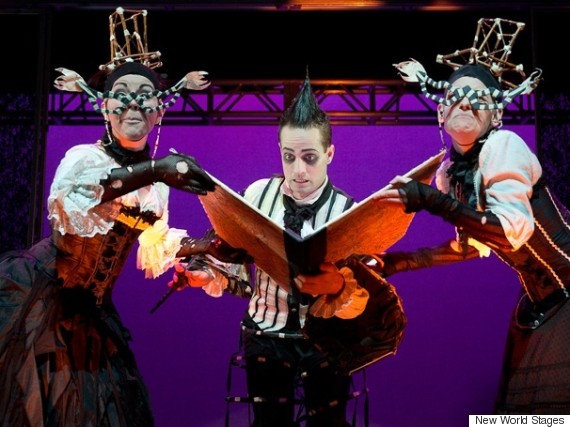 "Nevermore" is a musical based on Edgar Allen Poe's life with a thematic mix of the grotesque and pop macabre (as well as an unexplainable punk theme seen in faux hawks and eyeliner reminiscent of the Green Day musical). Imagine if Lemony Snicket wrote Poe's biography and then Tim Burton translated the whole thing to the stage. Equal parts haunting and campy, "Nevermore" takes on a tone that is a sort of an analogy for the massive wire skirt Mama Poe wears during her solo number: ill-fitting but really fun to try on for a little while.
"The Lion"
Great For: Aspirational subjects of a John Mayer song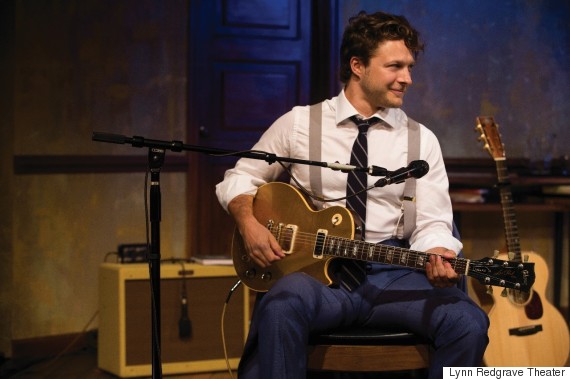 There are times when Benjamin Scheuer's bildungsroman of a one-man musical gets a bit simplistic with its rhyming ("boy" and "toy," for example). As he begins to tell the story of discovering family love, romantic love and ultimately himself, the tone feels folky to the point of being remedial. And yet, as the complexity of the narrative progresses towards the climax, it's clear Scheuer's talent has been deceptively embedded in the songs and monologues of which the show consists. Like a sentence by E.B. White (or hacky sack player in the school parking lot), "The Lion" feels easy, but is much, much harder than it looks.
"Love/Sick"
Great For: Anyone over 35 who, like, is still just looking for the right person, you know?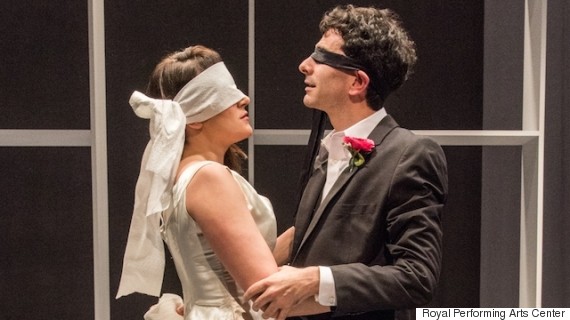 "Love/Sick" is a donation-based show performed in a church, and there are times when it feels like ... a donation-based show performed in a church. It could easily benefit from a tightened script and more polished direction, though that that only makes it slightly less entertaining. Several comedic vignettes centered around familial obligations (i.e. getting married, having the baby, not getting divorced after you do those things), are cut by the running theme of musical numbers set at a Target-Costco hybrid called SuperCenter: playwright John Cariani's (blatantly obvious) analogy for the one-stop shop that we consider all adult life to be. Also, speaking of "Wicked," the show currently stars Dee Roscioli.
Calling all HuffPost superfans!
Sign up for membership to become a founding member and help shape HuffPost's next chapter
BEFORE YOU GO
PHOTO GALLERY
20 Most Confusing Performance Art Pieces Of All Time