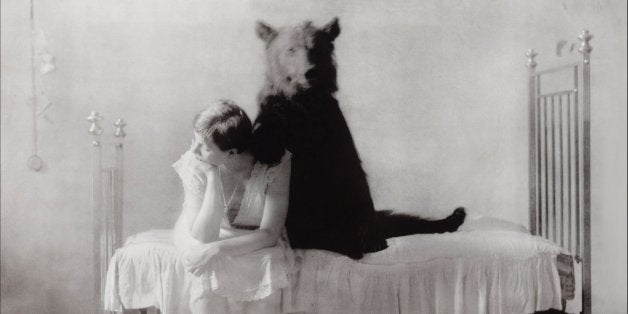 Off Course
by Michelle Huneven
Sarah Crichton Books / Farrar, Straus and Giroux, $26.00
Publishes April 1, 2014
The Book We're Talking About is a weekly review combining plot description and analysis with fun tidbits about the book.

What we think
Michelle Huneven's new novel, Off Course, delivers fully on its title, following economics Ph.D. candidate Cressida Hartley as she gets caught up in the treacherous eddies and rip tides of 1980s small-town life in the Sierras, which quickly begin to pull her away from her planned three months of dissertation-writing.
Cressida retreats to her parents' mountain cabin for what is originally intended to be a short stint of intensive writing, but she finds the silence of the mountain and the isolation of her new home do more to hinder her writing than help it. Alone, it's so easy to slack off that Cressida barely even attempts to work, and it's not long before real distractions arrive in the form of the boisterous local lodge-owner, Jakey, and a married carpenter with a gravelly voice.
At first, Cressida's dalliances are casual, and sometimes even seem to invigorate her writing process. She forms friendships in the local community, bangs away (occasionally) at her dissertation, and seems to be making the most of her stay. But as time passes and relationships grow entangled and complicated, she allows herself to be dragged further and further away from her old life outside the mountains, and from the goals she had set out to accomplish while she sojourned there.
Huneven's novel, with its quiet, unassuming plot and unadorned prose, is so spare that it appears almost unfinished at times. The initial chapters can drag, as Huneven devotes page after page to straightforward narration of mundane events; even the biggest Hemingway fan may find that so many pared-down sentences and non-events grate after a while. Initially it's unclear whether the story is slow-building, or simply going nowhere at all.
Though the opening, uneventful chapters detract from the overall enjoyment of the reading, it's reassuring to realize that they have a purpose. The monochromatic drift of the narrative lulls us, just as the mountain air lulls Cressida. We are no more prepared for her loss of control than she is, and by the time it's become clear that she's succumbed to the sinister undercurrents at work in her mountain town, we, too, are enmeshed. Huneven's subdued, murmuring prose creeps up on us; at first it's unassuming, then unsettling, then almost eerie. And while her writing is clear and straightforward, she's no stranger to the sudden, evocative image, and when she chooses she can stun with one, all the more powerfully thanks to the general simplicity of her language.
As the tension of the story finally starts to grow, it becomes clear that the greatest triumph of Off Course lies in Huneven's remarkable ability to create a mood, and to bring the reader fully inside it. And though Off Course is set in the 1980s, the atmosphere of disconnection has a modern resonance. Somehow, in depicting Cressida's pre-Internet, pre-HBO existence (her cabin is so isolated she can't even use the phone during the day without racking up massive bills), Huneven manages to capture perfectly the grimy, dank feeling of a Sunday spent watching too much Netflix. The initial comfort, the growing unease, the inevitable sense of self-loathing as the wasted hours of the afternoon are surveyed. Cressida's growing aimlessness and social disconnection are fueled by New Yorker back issues, a painting habit, and heady sexual flings, but such disregard for time passing fruitlessly is facilitated even more easily by the Internet-era distractions that surround us today.
It would be a disservice to Huneven's work, however, to paint Off Course as a cautionary tale. The novel eludes easy answers -- about why Cressida wandered, whether she could have stayed on course, and whether her life would have been significantly better if she had. There is no lurch into melodrama and no redemptive happy ending, only the quiet horror of everyday life, with its relentless uncertainty and unforgiving forward march.
What other reviewers think
Kirkus: "Huneven creates a detailed, moving portrait of two people who initially think they can have a no-strings affair but are drawn into something much more serious and damaging.... Sensitive, reflective and uncomfortably true to life."
Publishers Weekly: "While Huneven's latest will likely disappoint romantics, Cress makes for an eerily relatable and heartbreaking protagonist."
Who wrote it?
Off Course is Michelle Huneven's fourth novel. Her novel Blame was a finalist for the National Book Critics Circle Award. Huneven earned an MFA from Iowa Writers Workshop, and she lives in Altadena, California.
Who will read it?
Fans of dark, moody literary fiction and literary thrillers. Also, people who prefer spare, unsentimental prose.
Opening lines:
"Cressida Hartley moved up to her parents' mountain cabin to finish her dissertation. She would not become one of the aging lurkers around the Econ Department who hoped for sections of Intro to teach while the tenure track shimmered eternally on the far side of two hundred pages."
Notable passage:
"In the mornings, Cress woke to the jubilant jeers of mockingbirds. She ached all over from hauling dishes and tables at work, and the exertions of love. She carried her coffee and book outside. Spring was a clear flammable gas in the air. She was reading a novel whose cover showed a naked woman seated in a chair with her hair on fire, a literary novel that was borderline pornographic and seemed of a piece with the tremble of new leaves, the heavy orange perfume, the river's gush, her own sexual fog."
Rating, out of ten:
7. The novel ultimately builds to a painfully true-to-life, deeply unsettling conclusion, but the dry, aimless first half is a bit of a slog.
REAL LIFE. REAL NEWS. REAL VOICES.
Help us tell more of the stories that matter from voices that too often remain unheard.