 The off-duty Boulder police officer who has been suspended over his role in the killing and disposal of a neighborhood elk on Mapleton Hill last week called in sick the night of the shooting and operates a website advertising "quality taxidermy at an affordable price."
Boulder police Chief Mark Beckner on Monday confirmed that officer Brent Curnow, a 14-year veteran of the department, had been scheduled to work New Year's Day, but instead reported he was sick that night.
Curnow and officer Sam Carter, who did work Jan. 1, are the subject of both a criminal investigation by Colorado Parks and Wildlife and an internal Boulder police probe after officials say an on-duty officer shot the elk at Ninth Street and Mapleton Avenue, and an off-duty officer took the carcass home to process it for meat.
An Internet domain registration record shows a website called BuffaloPeaksTaxidermy.com is registered to Curnow's address in Aurora and lists "Brent Curnow" as the site's contact.
A person answering the phone number listed on the Buffalo Peaks Taxidermy website Monday night told the Daily Camera that he had been instructed by Curnow to inform members of the media that the officer could not comment on the elk shooting case due to the ongoing police investigation.
Last week's killing of the popular elk has caused community uproar, as Boulder police first denied involvement, then revealed that the towering bull elk was shot by an on-duty officer. Boulder County sheriff's officials confirmed that an on-duty deputy also helped load the animal into a pickup truck.
On Monday, Beckner and Boulder County Sheriff Joe Pelle offered new details about what happened on Mapleton Hill that night.
Jeff George was identified for the first time as the sheriff's deputy involved in the shooting case. Pelle said the deputy, who joined the sheriff's office several years ago after working for the University of Colorado Police Department, appears to be "peripheral and innocent."
George, who, as a Boulder County sheriff's deputy, wouldn't normally patrol Mapleton Hill, received text messages on his personal cell phone the night of the shooting asking for help loading the dead elk into the back of a pickup truck, Pelle said.
The deputy told Pelle that he knew Carter had been looking for an aggressive elk, although he wasn't aware of any plan to harvest the meat, the sheriff said. When Boulder police announced an officer had killed the animal, officials said it was because the officer reported it was injured, not aggressive.
And Carter, the on-duty Boulder officer, also called in sick the day after the shooting, Beckner said.
Unlike the two Boulder police officers under investigation in the killing of the elk, George is not on administrative leave.
"To the best of our knowledge, the officer was not there when the elk was shot," Pelle said of the deputy. "To the best of our knowledge, he was not part of a conspiracy."
Beckner said he expects Colorado Parks and Wildlife to make a recommendation on criminal charges to Boulder County District Attorney Stan Garnett possibly by the end of this week.
The internal investigation by the Boulder Police Department could take up to four to six weeks, Beckner said. The sheriff's department is conducting an internal investigation of its own, but Pelle said the information uncovered so far does not indicate George is likely to face criminal charges or that he engaged in any significant violation of departmental policy. However, if new information comes out about George's role in the incident, Pelle said he would reconsider his decision.
As for the criminal probe, Boulder officers Carter and Curnow are under investigation for their role in killing an elk around 11 p.m. Jan. 1 at Ninth and Mapleton.
Neighbors told the Camera that a police officer informed them that night that he may have to put down the elk because it was behaving aggressively and not to be alarmed if they heard a gunshot.
The next day, however, police officials and dispatchers had no record of an elk being put down, nor had Colorado Parks and Wildlife been notified of the elk's death. Police officers are required to make a report whenever they discharge their weapons, and Parks and Wildlife is supposed to be notified when a large animal is killed.
Carter, who was on duty that night in a district that includes Mapleton Hill, later told internal police investigators he shot the elk because it was limping and displayed broken antlers.
It is not clear how the two men who were on duty -- Carter at the police department and George at the sheriff's office -- accounted for the roughly 90 minutes to two hours that neighbors said they spent dealing with the elk.
Both Pelle and Beckner said officers are not required to tell dispatchers where they are, and on slow nights like New Year's Day, they might go some time without checking in.
Unusual events that night
Pelle said the events of that night did not initially seem strange to George because sheriff's deputies put down several dozen wild animals annually, mostly those that have been hit by cars, and private citizens can take those animals home for meat through the state's roadkill permit program.
Yet it was unusual, Pelle said, that the animal was being taken for the personal benefit of a law enforcement officer and that the police officers contacted the deputy on his personal phone, rather than over the police radio, as would be more common.
George came forward voluntarily, Pelle said, after the deputy read the initial Daily Camera article about the slain elk, a story in which Boulder police denied being involved with the shooting. Boulder police officials admitted the following day that two officers were involved.
Pelle said he does not know the relationship among George, Carter and Curnow, but he assumes they are friends outside of work because the Boulder police officers had the deputy's personal cell phone number.
"My hope is that we continue to determine that this deputy's involvement was peripheral and innocent," Pelle said. "If anything changes and we get contradictory information, we'll reconsider our course of action."
Camera Staff Writer Mitchell Byars contributed to this report.
Contact Camera Staff Writer Erica Meltzer at 303-473-1355 or meltzere@dailycamera.com. ___
(c)2013 the Daily Camera (Boulder, Colo.)
Distributed by MCT Information Services
Related
Before You Go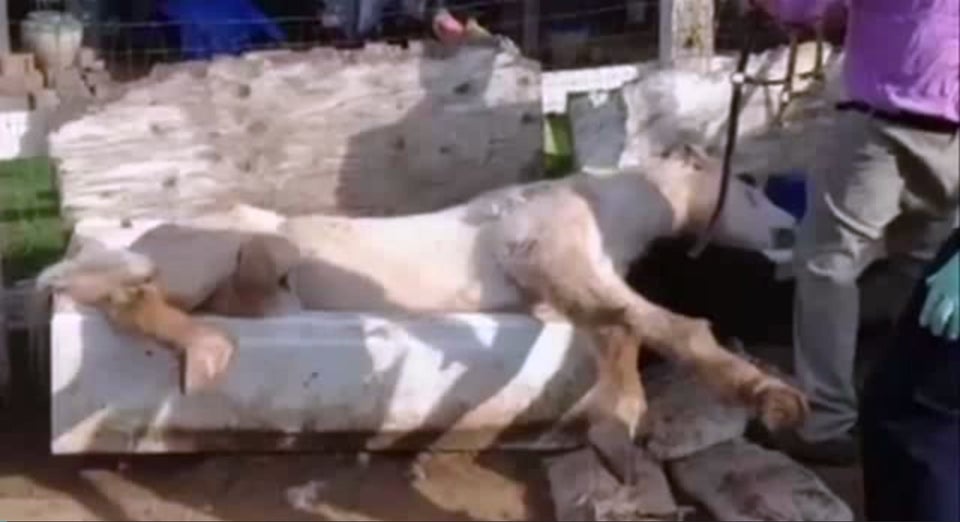 Animals In The News
Popular in the Community