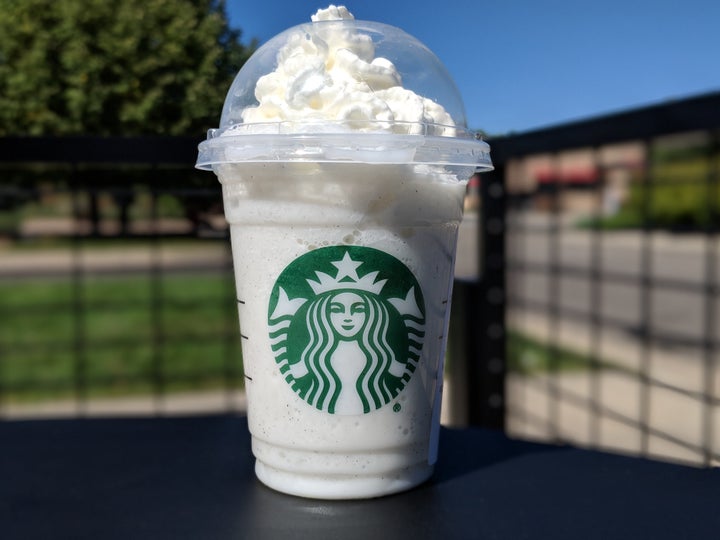 Imagine going to McDonald's and not seeing a Big Mac on the menu. That'd be weird, right? Not for Starbucks, which regularly leaves signature drinks like the Coffee Frappuccino off the menu that appears in its stores.
That's because the Starbucks menu changes frequently, mostly to highlight new drinks and to get customers hyped about seasonal drinks like the Pumpkin Spice Latte.
Here's the problem: With every menu change, plenty of options for delicious liquid refreshment are taken out of sight ... and out of mind. And Starbucks not only usually still has the ingredients to make those drinks, but the baristas there are happy to prepare them.
We surveyed Starbucks employees from all over the country about their favorite drinks not currently on the in-store menu that you can still order. [Editor's note: We changed the baristas' names because they weren't authorized to speak on behalf of Starbucks.] These are the delicious Starbucks drinks you're not ordering, but can.

I knew that Pauline, a barista in Boulder, Colorado, has been asked this question before. But it's my duty as a journalist covering the food and drink beat to ask the tough questions. "Does it really taste like cotton candy?" I asked. "It does taste like cotton candy!" she replied. "I like it because it's vanilla bean [powder] and raspberry [syrup], and they taste really good together." It was intended as a fun one-off back in 2015 with five other fan creations, but since Starbucks locations still have the ingredients, the drink can live on in your large plastic cup.
The White Chocolate Mocha is a favorite of Kelly, a San Francisco barista. But heed her warning. "It's sweet, though," she told HuffPost. Before you order this seasonal treat, keep in mind that there's a difference between this and the White Hot Chocolate. While the White Hot Chocolate is just white chocolate mocha sauce, steamed milk, and whipped cream, the White Chocolate Mocha takes all those same ingredients and adds a shot of espresso. And when the days start getting shorter, you're going to need that boost.
I didn't think people liked fruitcake. I certainly didn't grow up with it around my house. But for a lot of people, the Fruitcake Frappuccino that debuted last December was a drink they wanted year round. Just ask Lily of West Hartford, Connecticut, who said she continues to order it ― as do her customers. And Starbucks still has the ingredients, including the Crème Frappuccino base, hazelnut syrup, matcha tea sprinkle and dried fruit (ask your barista if they can swipe some from the oatmeal). If you want to make it feel just like the holidays, try ordering this Frapp and then quickly regifting it to someone else.

Starbucks took a huge leap forward in the nondairy milk game when it started stocking almond and coconut milk in its fridges. And it really hooked up the lactose-avoiding masses when it started releasing creative drinks featuring those milks. But then Starbucks took most of them off the menu. Luckily for us, Marlene in Boston didn't forget about the Iced Vanilla Bean Coconutmilk Latte. "We shake coconut milk with vanilla bean powder, and use it [as the milk base] for the latte," she told HuffPost. "It kind of tastes like the Vanilla Bean Frappuccino, but you taste the coconut milk more." If you've never had the tasty coconut milk/espresso combo before, this is a great introduction.
This is one of my favorite drinks at Starbucks, and it differs from the canned version of Doubleshot in supermarkets and convenience stores. While that canned drink has the same name, it's enhanced with B vitamins, ginseng and guarana. The version in stores is much simpler: espresso, milk and classic sweetener. Randy, a barista in Phoenix, likes it because it's "a highly caffeinated, shaken espresso drink," and he encourages modifying it by switching it up with hazelnut, pumpkin spice or any other sweetener. And don't forget you can swap the standard 2 percent milk with anything nondairy, too.
Sometimes in the dead of winter, when you're not sure you'll ever feel warm again, you may think about the summer. You might even want to remind yourself of what you were eating and drinking then ― like iced tea lemonades! Barista Bill of Dallas said he doesn't drink espresso, so he loves this "caffeinated tea," especially because "you can make it sweet" or leave it as is. He likes it sweet, like the last peach you eat before summer's over.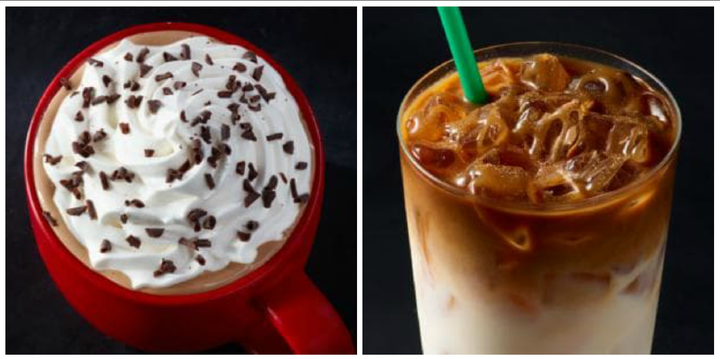 Like many of the drinks listed here, Peppermint Mocha feels like one of those drinks only available in fall and winter. Nope! "We always have the ingredients to make [this drink]," Christine in Cleveland told HuffPost. "Just mocha and peppermint, which are two staple syrups!" So next time you want it to feel like the holidays ― even if it's in mid-July ― order this espresso-based drink. (One note: The official recipe has mocha sauce in it. Mocha sauce is a thicker version of the syrup. Sauce is used as a drizzle and to put on the walls of the drink, whereas a syrup goes in the drink. But the flavor is the same.)
Pretty much everything on the Starbucks menu is available either hot or iced, except for a hot Frappuccino. First: That sounds awful. Second: According to a cursory Google search, people who try to order them get told "no" by baristas. Almost all other drinks are fair game. That's the case with this Cinnamon Almondmilk Macchiato, which debuted last February as an iced drink with espresso, almond milk, cinnamon dolce syrup, caramel sauce and a cinnamon dolce topping. Steve from Kansas City, Missouri, told HuffPost he likes it with steamed almond milk and sans ice ― the rest is pretty much the same. He said, "[I like it as] a hot drink, but we can do it however you want." Don't forget that bit of advice next time you find yourself ordering a former menu item at Starbucks.
Clarification: Language in this story has been amended to clarify that the drinks do not appear on the menu that Starbucks posts in stores.
Before You Go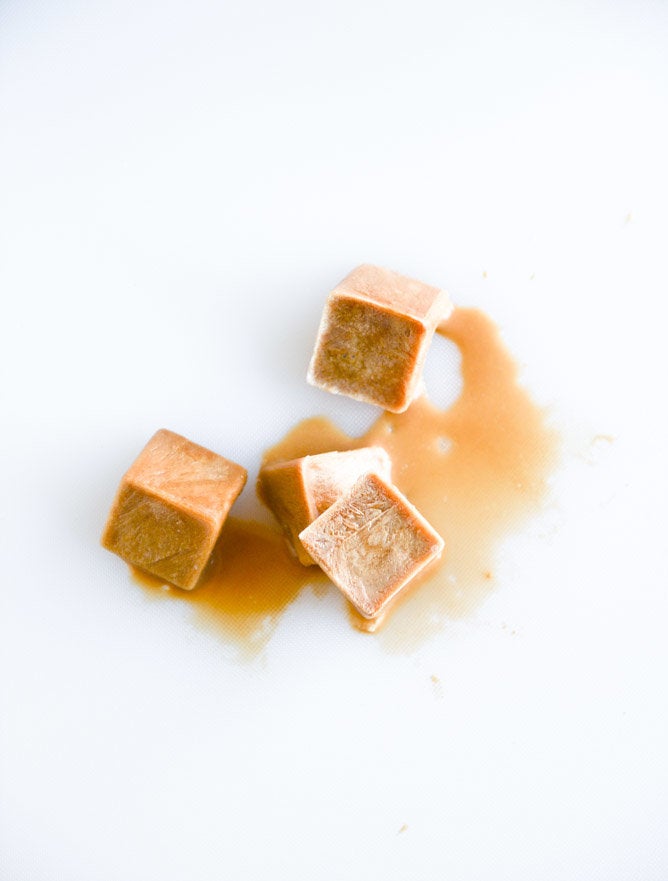 Iced Coffee Hacks