Arts and finance and real estate -- three things you might see in Michael Crowley's Righteous Money -- but rarely make arts news ... until recently. January 2011 marked the resurgence of an epidemic the indie theater community hadn't experienced since 2003 -- a series of serious losses of space and companies in the Off-Off Broadway community.
With reduced support from funding sources, soaring rents and patrons with shrunken pockets, indie theaters began closing at alarming rates. Closings included the historic Ohio Theater and Center Stage, the birthplace of Stephen Adly Guirgis' Our Lady of 121st Street, who at that time, was still an emerging playwright. (Read the New York Theatre review 2011 call to action The Bombing of Off-Off Broadway describing the events in more detail here.)
JODY: How would you describe the current state of your theater?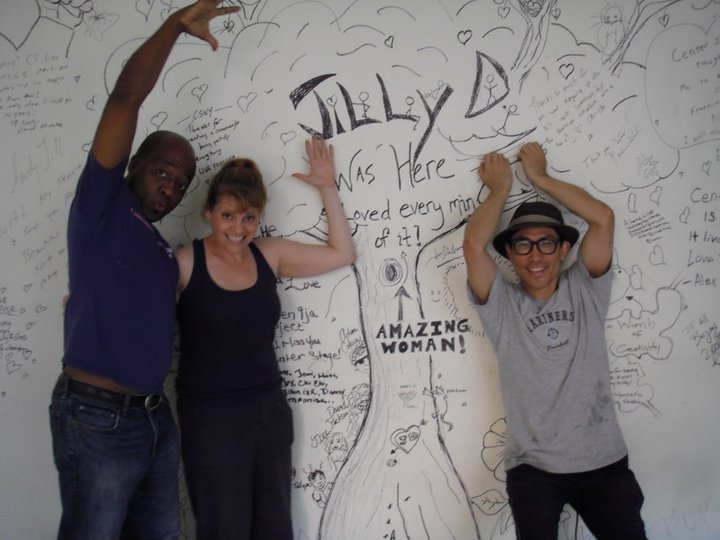 Beresford Bennett, Jill DeArmon and Taylm Jinn Kim, at Center Stage, May 30th, 2011.
JILL DEARMON: On May 30, 2011, after 16 years we closed our doors at Center Stage, NY on 21st street in the heart of Chelsea. Almost exactly one year later I still mourn the loss of such a beautiful creative space. So many amazing theater companies called Center Stage, NY home. (LAByrinth, Partial Comfort, the Rebel Verses Theatre Festival ) I still love to go and see all their work.
ROB NEILL (New York Neo -Futurists): The current state of our theater company? Well ... healthy, vibrant and embracing the challenge of change. The New York Neo-Futurists are riding the roller coaster of indie theater and continue to create new & dynamic work. In 2012, so far we are seeing slightly larger audiences for our weekly show Too Much Light Makes The Baby Go Blind. We continue to create new mainstage shows with You Are in an Open Field at HERE starting this month and The Neo-Futurists on The Future in October at the Red Room, we are taking The Complete and Condensed Stage Directions of Eugene ONeill, Volume One: Early Plays/Lost Plays to Arena Stage this week for there O'Neill festival. We are running workshops, plus we are bringing on new ensemble members and board members. Corporate and government funding is in flux while individual and board support is up. With some help from ART/NY we are trying to focus and streamline how we do what we do administratively, we do much of it as a collective, but this year we added an Assistant Managing Director position to our small staff.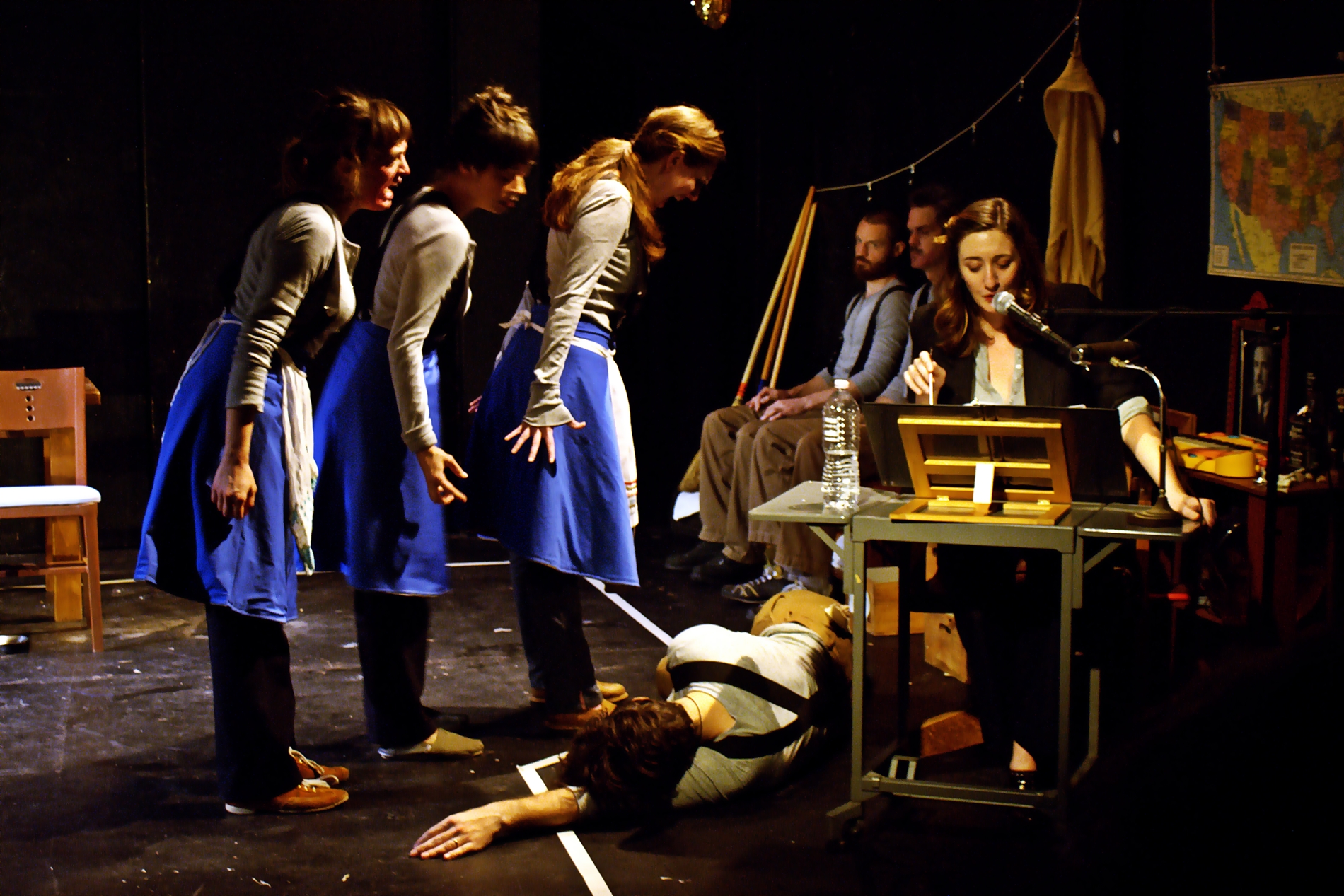 New York Neo-Futurists:(L to R) Cara Francis, Lauren Sharpe, Erica Livingston, Brendan Donaldson, Jacquelyn Landgraf, (back) Danny Burnam and Connor Kalista in the Drama Desk Nominated The Complete and Condensed Stage Directions of Eugene ONeill, Volume One: Early Plays/Lost Plays Photo by Anton Nickel
MICHAEL GARDNER ( Brick Theater): The years at The Brick are flying by like so many ... flying ... bricks! We celebrate 10 years this December and it's definitely a shifting moment for us as a company. The theater, which, started out as a space resource for Robert Honeywell and I to stage our personal projects, has grown beyond anything we could have imagined. To contain it all, this year, we're expanding the staff, enhancing the facilities and changing our presenting models. Comic book devotees, video gamers, clown artists and fight directors have nested at our annual theme festivals and formed dedicated hybrid communities. We've responded by institutionalizing these festivals and overseeing them with Executive Producers for each. This year also saw the launch of a new monthly staged-reading series called "The Oven" and bi-weekly writer's group called "Graffiti," which are likewise growing almost beyond our capabilities. It's kind of a growth spurt year for us.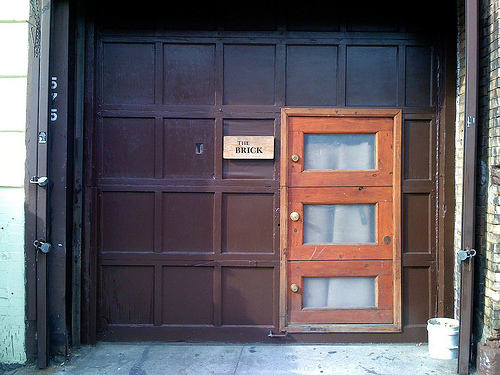 The Brick Theater
HEIDI GRUMELOT (Horse Trade Theater): They are in great shape right now! We have secured a seven year lease for UNDER St Marks and are working to make sure the theater continues to be a thriving performing arts space for many years to come. We have almost completed a much needed lobby make-over at 85 East 4th Street, home to The Kraine Theater and The Red Room, and are planning more improvements over the summer at USM and in The Red Room.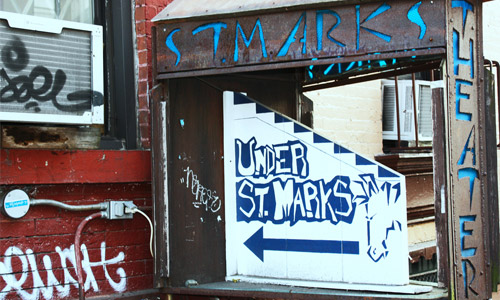 Under St. Marks, a Horse Trade space that was in danger of closing in 2011
ROBERT LYONS (New Ohio Theater): In transition. When we lost our space on Wooster Street in Soho after 22 years, we were the poster child for how real estate development is killing downtown theater. When we reopened on Christopher Street in the West Village one year later, we became the poster child of how real estate developers and the City of New York and not-for-profit theaters can work together to keep downtown theater in Manhattan. So I've seen the issue from both sides.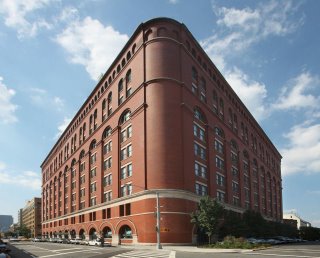 Archive Building, which houses the New Ohio Theatre located at 154 Christopher Street
JODY: Why is Off-Off Broadway an essential part of the theater community?
JILL DEARMON: I am a true believer that theater is essential to bringing truth, possibilities and questions to our community. And although I no longer have my own space to put work up in, I am working as a director and a teaching artist to help keep the theater community thriving. (Jill recently directed a play by co-founder Cecila Copeland in NY Madness, featuring Padraic Lillis) Any writers in need of a good director?
ROB NEILL (New York Neo -Futurists): Off-Off Broadway is the theater's lab. It provides an arena to experiment and fail and develop voices and styles. It gives some artists a platform, some a gateway and many an community and home. I have been a part of this performance family since 1995 when I came to NYC with the early group of Neo-Futurists, and I appreciate the diversity of what I have seen, done, experienced and the support that the Neos find from other companies and the community.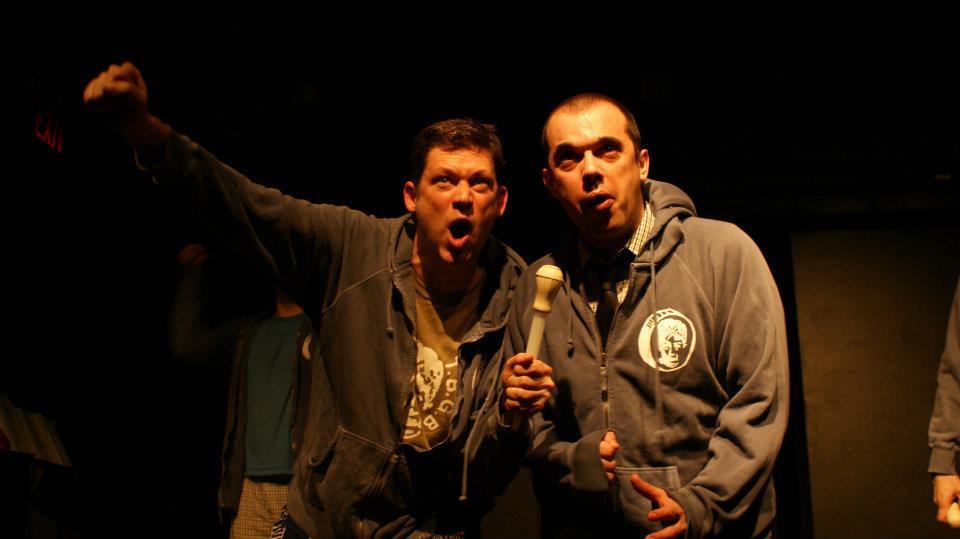 Rob Neill and Adam Smith in Too Much Light Makes the Baby Go Blind. Photo by Anton Nickel.
MICHAEL GARDNER ( Brick Theater): Off-Off Broadway remains the crucial democratizing force of the New York theater performance scene. It's the YouTube of the live performance world. With nothing more than a fierce talent and a fearless attitude, aspiring theater-makers can always find a theatrical home or a network of theatrical homes on the indie theater scene. As long as that scene has resources. The danger, as you point out in "The Bombing of Off Off Broadway," is that those resources quietly disappear from the city. A similar wave of closings shook the Off-Off community in 2003.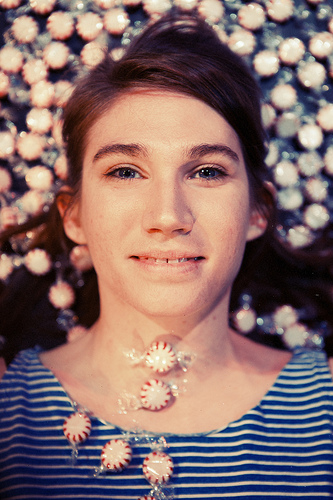 Pictured: Lena Hudson, in The Collected Rules of Gifted Camp Coming up in May at the Brick. Photo by Sasha Arutyunova
HEIDI GRUMELOT (Horse Trade Theater): Where else would new, innovative and avant-garde ideas live? Where would DIY/self-producing artists work? Where else can emerging artists afford to experiment with new ideas and take time to develop innovative collaborations? It all has to start somewhere.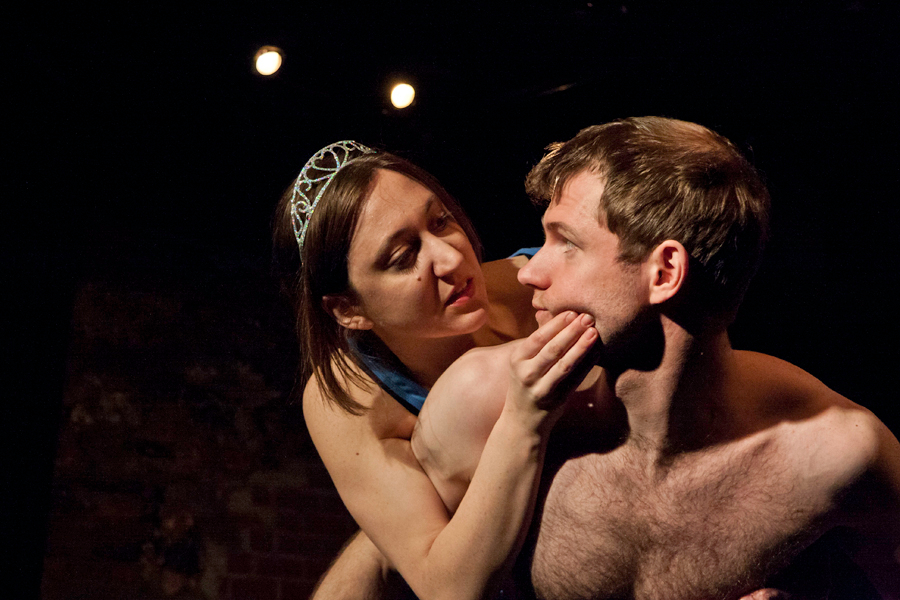 Darcy Fowler and Quinlan Corbett pictured in Horsetrade's recent NY Times acclaimed co-production of Larry Kunofsky's Your Boyfriend May Be Imaginary at Under St. Marks. Photo by Rob Fuller
ROBERT LYONS ( New Ohio Theater): The fact that there is no money to be made Off-Off Broadway (and by the way, the current lingo is: independent theatre, as in "the indie theatre scene") means that there is complete artistic freedom. And the work is driven completely by artistic passion. That creates a space for innovation, experimentation, imagination. All the things we like about indie theater.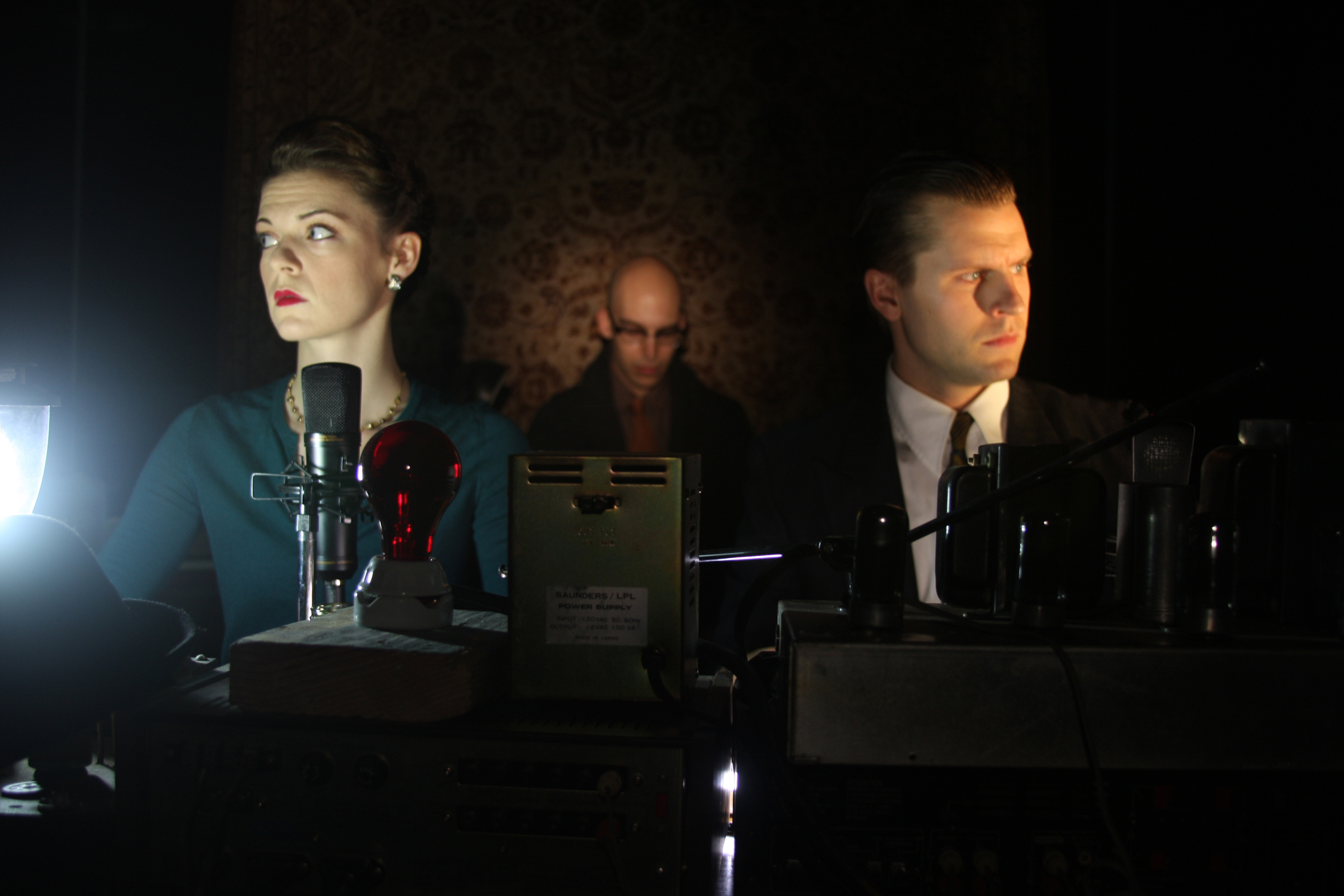 Stephanie Wright Thompson as Anastasia Volinski, Marc Bovino as Dr. Mischa Romanov and Joe Curnutte as The Host pictured in the New Ohio's Drama Desk Nominated (sound design) production of Samuel & Alasdair: A Personal History of the Robot War. Photo courtesy of The Mad Ones

JODY: What does your theater need most right now?
ROB NEILL (New York Neo -Futurists): What do we need? Today, we are looking for some monitor speakers for next week's show. Overall I would say more sold out houses/packed shows. Oh and some new places to tour the shows -- more college gigs, especially for Too Much Light and O'Neill. How many things can be included in 'most'? We'd love to have a dedicated rehearsal/performance space to call our own ... but then again space is such a tricky element of all that we all do. And of course -- more funding.
MICHAEL GARDNER ( Brick Theater): The Brick needs communities and more communities. The more varied and eccentric, the better. Communities of artists, audiences, nerds, nationalities, age groups, political affiliations, patrons, programmers, students, friends, colleagues and collaborators. If there's one thing that fostering multiple groups and festivals has taught us over the years, it's that communities feed each other and make each other stronger. New Off-Off organizations such as New York Theater Review, Indie Theater Now, The New York Innovative Theatre Awards and the League of Independent Theaters have made magnificent strides towards solidifying this collective, and we are thrilled to be a part. Look for The Brick to be widening its circles even more in the coming years. Join us! And invite us to join yours! Our doors are always open. Except when they're closed. But that's only because we've stepped out for a minute to get a sandwich. Look for us at www.bricktheater.com and everywhere bricks are flying.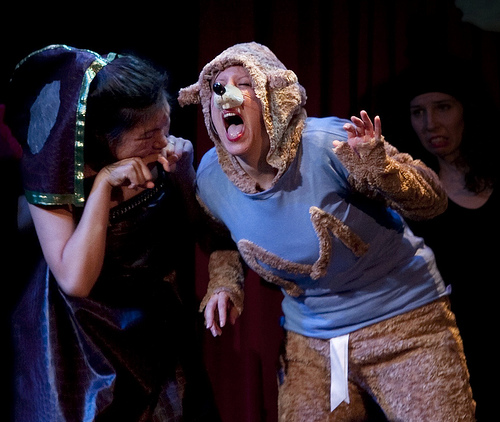 Rachel Lin, Maia Lorian, Heather Lee Rogers pictured in The Brick Theater's recent production of Flying Snakes in 3D. Photo by Katherine Miles Jones.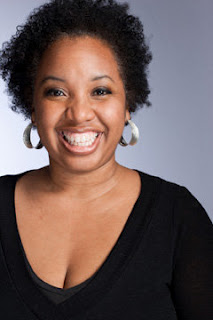 Playwright, Pia Wilson The Flower Thief
ROBERT LYONS ( New Ohio Theater): Ironically, more money!
That's it dear readers. If you're left wondering what you can do here are my suggestions; buy tickets, make donations, propose new work, spread the word. And as always, thanks for reading.
Support HuffPost
The Stakes Have Never Been Higher
Related
Popular in the Community