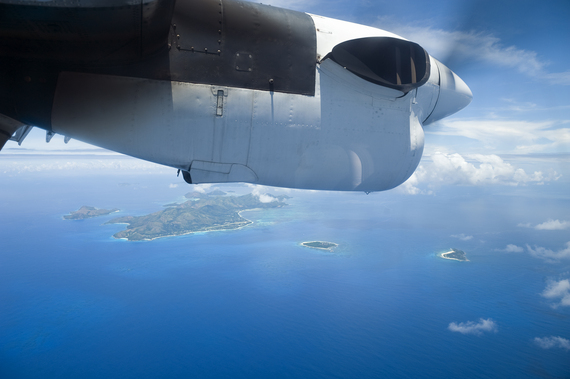 Ditch the paperback and lounge chair for one of these off-the-beaten-path beach adventures.
Newport Ranch
Perch over the Pacific at the Inn at Newport Ranch, the ranch part is meant literally: the new luxury property is part of a 2,000-acre working cattle operation, one that just happens to abut 50-foot cliffs plunging into the Pacific near Mendocino. Since this is cowboy country, start the day off with a hearty western omelet, then run, mountain bike, or ride horseback on 30 miles of trails built from a network of old logging roads. Return for an evening soak in the rooftop hot tub as the sun dips into the ocean, then enjoy the ranch's homegrown vegetables and local Dungeness crab for dinner. There's an inn with three guest rooms, but you should splurge on the entire Sea Drum House, with four bedrooms and a private deck overlooking the sea. From $300; theinnatnewportranch.com.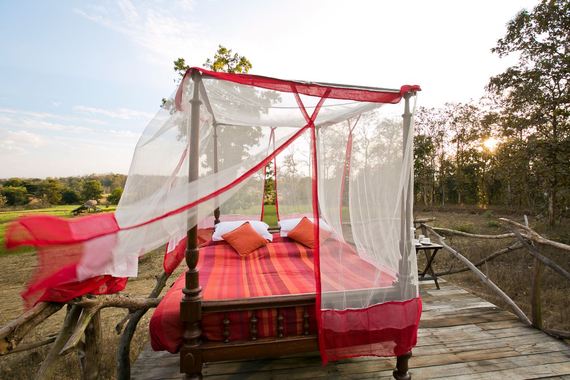 Jamtara Wilderness Camp
Farmers In parts of central India have slept in the open on elevated platforms for decades, to guard their crops from sloth bears, chital stags, and the occasional Bengal tiger. At the new Jamtara Wilderness Camp, founder Amit Sankhala turned that tradition on its head, with an outdoor four-poster bed that can be reserved by guests on clear nights to welcome nocturnal wildlife encounters. The camp's focus on wildlife tourism has provided surrounding landowners with the incentive to protect rather than scare off the native animals. Sankhala has conservation in his genes--he's the grandson of Kailash Sankhala, the famed naturalist who helped establish the first tiger reserves in India--and he set his three-acre camp just outside 183,000-acre Pench National Park's less traveled northern boundary. That means your chances of seeing a tiger in the wild--there are estimated to be 55 in the park--have never been better. Centered near a sprawling banyan tree, the main camp's ten luxe tents have wooden floors re-purposed from old sailing ships and are outfitted with writing desks salvaged from the Supreme Court of India. Guests explore a different kind of wild India here: activities range from a game drive through a forest full of leopards and stags to lazing on a chaise next to the infinity pool listening to a Malabar pied hornbill. Rest assured that the day will close with a sundowner.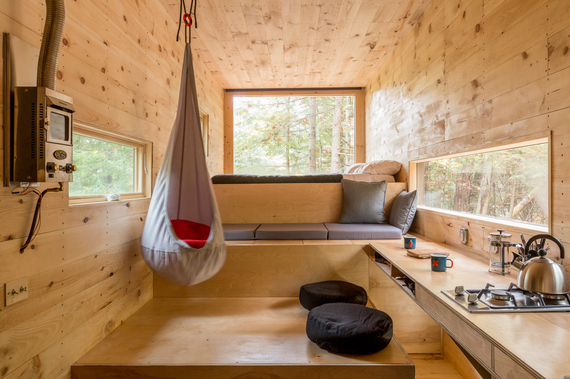 Tiny-House Fantasy
Who hasn't toyed with the idea of radically downsizing to a picturesque cabin, complete with blond-wood floors, stainless-steel appliances, and assorted design magazines? Usually, the daydream ends when you remember that you need a place to put your books and skis and children. That's where Getaway, founded out of Harvard's entrepreneurship lab, comes in. It'll let you live the tiny-house fantasy with less commitment: $99 gets you a night in an Instagram-worthy,160-squarefootretreat tucked into the woods. The catch: you don't know where you're going until the day before, only that it will be a secluded location within a two-hour drive of Boston. (Plans for New York City and San Francisco are in the works.) Part of the reason for secrecy is to prevent you from stressing over your trip. Getaway doesn't even want you to have to shop: they'll stash ingredients for meals for an extra fee. Book a spontaneous night or two, then return refreshed to your regular-sized life.