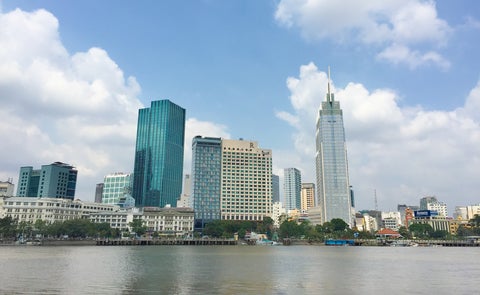 Everybody knows about Saigon's colonial architecture, the Cu Chi Tunnels and the Ben Thanh Market, but what about the rest of Saigon? The local market spots and the hidden parks and gardens? Shopping hangouts and restaurants that the locals love, along with delicious dishes that aren't Pho? Intrigued? Then read on for 6 of our favorite secrets of Saigon.
Shopping At 42 Tôn Thất Thiệp
Throughout the districts of Saigon (in particular 1, 3, 5, & 10) are a number of old apartment complexes - all left over from a different time and mostly fallen into disrepair. But the apartments at 42 Tôn Thất Thiệp hide a few secrets behind their otherwise unassuming façades. Enter by the front door and inside you'll encounter Saigon's youth hunting through eclectic fashions from the likes of Vietnamese upstarts such as Clueless, Penguin Island and she.by.shj. This is one of the best places in Saigon to see Vietnam's next and current generation of creatives and fashionistas at work and at play.
The Floating Temple of Phu Chau
Far from the center of Saigon, this ornate temple sits atop a small island on a still and quiet section of the Vam Thuat River. The temple is adorned with marble dragons, shrines to Avalokiteśvara and The Buddha Maitreya and is almost always completely quiet. Locals come here on the full moon to offer fruits and flowers in return for good weather. It's not particularly well kept, and has a few stalls set up to catch the tourist dollar - but it is a wonderful and pretty, if odd, little slice of Saigon culture.
Hidden in plain sight at the edge of district 1, the Botanic Gardens were one of the first projects taken on by French colonists, and happily, survive in all their lush paradisiacal beauty to this day. The Botanic Gardens are a perfect option for an inner city stroll with a lover or friend and offer a little piece of quiet and calm amongst the noise and cosmopolitan brashness of the city.
Saigon has hundreds upon hundreds of little cafes - some grander than others and others almost unknown to all but the most clued in of locals. Some of our favorites' include Vừng Ơi, Mở Ra on the 1st floor of a beautiful but decaying French mansion, which puts on live music nights by candlelight, Pound Café which offers a more simple affair of low stools that spill out onto the street and cheap, but good coffee, and finally the wonderfully cool So 7 Café, whose decor includes a guitar, an easel and a tree, and serves beautifully sweet Vietnamese coffee all day long- morning to night.
Instead of following the tourist trail direct to Ben Than Market - try Binh Tay Market in Chinatown instead. There are more than 600 stalls across two stories here and the market is always buzzing with locals stocking up on food, fabrics and flowers. It's almost always full to the brim, and the small alleyways between the market stalls don't provide much room for maneuvering, but what you might lose out in comfort you more than make up for in a real local market experience.
Everyone knows Pho - it's loved from London to Sydney and served in hundreds of Pho restaurants around Saigon and beyond, and deservedly so. But what about all the rest of these delicious Vietnamese noodle soups? Start by hunting out a Bun Bo Hue restaurant and try a bowl of this delicious noodle soup from Hue in central Vietnam. The broth is generally made with lemongrass, paprika, chilies and shrimp paste and then the soup is completed by layering rice noodles and layers of meat across the top of the dish. Then move on to Mi Dac Biet which can be ordered as either a noodle soup or dry - with the sweet and spicy soup base then used as a dip on the side - and served with sliced pork and pork liver, egg noodles and vegetables. Absolutely delicious.
REAL LIFE. REAL NEWS. REAL VOICES.
Help us tell more of the stories that matter from voices that too often remain unheard.
This post was published on the now-closed HuffPost Contributor platform. Contributors control their own work and posted freely to our site. If you need to flag this entry as abusive,
send us an email
.