Why forgo a jaunt to your favorite winter hot spot just because it isn't quite apres-ski season yet? If you hurry this fall, pool, spa, and stargazing await as stellar offseason fun.
I'm not really a cold weather girl -- I've spent most of my life in places like Costa Rica, Florida, Austin, and Las Vegas. But just because I prefer balmy, warm wind to bundling up in a snowy cabin, that doesn't mean that I haven't visited some of the top ski resorts in the country -- but I often go off season. When I started looking into warm weather activities at famous ski towns nationwide, I started to realize there was a best-kept secret that didn't involve skiing: fabulous amenities to take advantage of off season (and often at much-reduced rates, too). Sure, the skiing at these world-famous locales is top shelf in winter--but don't discount resorts such as the Four Seasons Resort Vail or Big Sky Resort just because it isn't parka season. Even posh ski hot spot Stein Eriksen Lodge Deer Valley is famed for flyfishing and horseback riding when temperatures spike.
Ahead of fall and holiday season madness, I've recently fallen in love with The Ritz-Carlton, Lake Tahoe, which is an easy drive (when the roads aren't covered in snow!) from my new home in northern California. Nestled in Northstar California Resort, I opted for serene pool time (you don't need a spa appointment -- although my first-day massage was as amazing as you'd expect -- to have access to the spa and super-quiet spa pool), outdoor excursions, and nighttime activities -- all wrapped up in cozy mountainside bliss.
The hotel's luxe rooms feature gas fireplaces to curl up by while assessing the day's itinerary. Make sure to include hikes, pool time (weather permitting heading into fall), and free time in quaint Truckee, the adorable neighboring town where leisurely strolling among the shops and dining outside are ideal this time of year.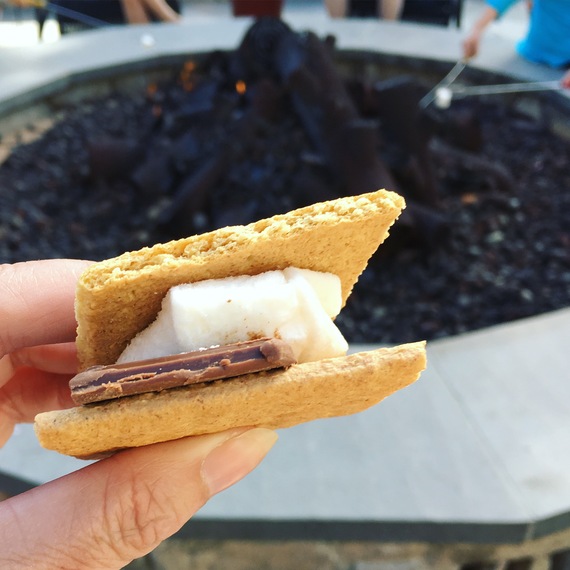 Americana activities like roasting s'mores are fun during Tahoe's warm-weather months.
Cocktail service with lush views and smoky eats from the Backyard Bar & BBQ? Yes please! Before indulging in upscale cuisine at the Ritz's delicious Manzanita, cuddle up next to the huge stone fireplace at The Living Room cocktail bar. (A White Russian is the perfect fix when the temperatures begin to drop. Anything to keep you sitting there to soak up that crisp mountain air.)
In early evening, head straight to the resort's outdoor courtyard for the hotel's nightly fireside "Marshmalogy" -- s'mores for everyone, with a different flavored homemade marshmallow every night. My favorite was a deep red cherry, which tasted akin to an artisanal cherry soda and paired perfectly with gooey melted chocolate. And don't even think about missing the stargazing. The combination of high elevation and reduced light pollution make for a breathtaking view of sparkling galaxies above. And once it gets cold in Tahoe, it is literally unimaginable to stand outside at night, so this is definitely a warm-weather treat.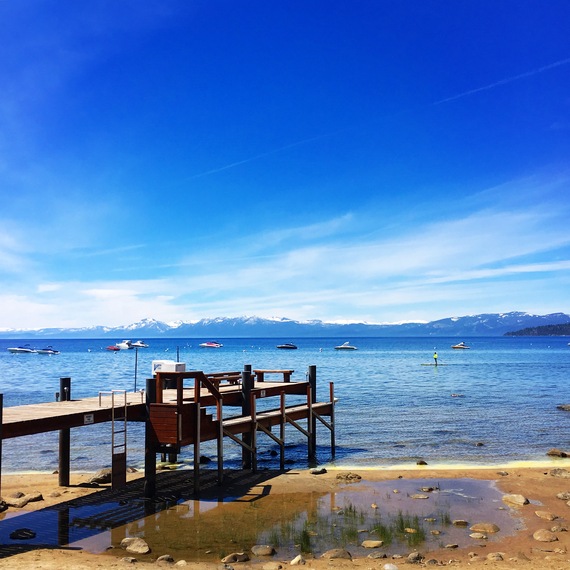 Starting next year, fans of Ritz Carlton's ski resort Tahoe location will have a spot for lakeside fun as well.
And what about the lake, you ask? Next year, the Ritz will debut its Lake Club, exclusively for hotel guests. It will feature multi-level dining with panoramic lake views, an outdoor whirlpool and firepit, and direct beach access to Lake Tahoe. A private boat pier means beloved water activities (kayaking, paddle boarding, parasailing) are just a step away. Meet you there?
Next up? Aspen, take me away. Before it starts snowing, that is.