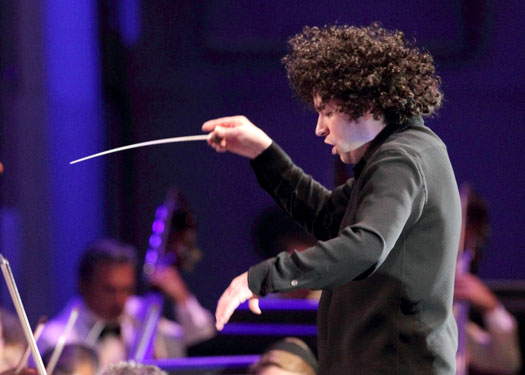 Photos via Mathew Imaging
Gustavo Dudamel is sunk deep into his buttery leather chair trying to fit in a few texts before our chat. For a minute, he looks like any other young man who is able to blot out the world for the small screen.
It is only a tiny reprieve. I am sandwiched between flurries of activity for his Los Angeles opera conducting debut of Carmen: parents streaming into Disney rehearsal halls to fetch their children (members of the LA Children's Chorus); LA Phil musicians (who are donating their services for this pension fund benefit) hurrying in and out of the offices with their instruments and LA Master Chorale members overstuffed into the elevators after a long day of rehearsal.
Dudamel stands up graciously in his Frank Gehry-designed corner office to say hello, but I tell him to carry on, especially if he is texting his wife, dancer Eloisa Maturén (he admits to texting her constantly throughout the day) who has just finished running a dance festival in Caracas that had performance venues in the squares, on the street and the Teresa Careno theater accompanied by Dudamel and his Simon Bolivar orchestra.
"It is very important for us to give something. It was a completely new generation, whole new choreographers and new schools. Subito ballet. Subito modern," he says with his trademark passion.
Note to self (thinking about how incredible this must have been): next year!
But he is quick to put the phone away. "I hate this," he admits, referring to the texting. "You see complete tables of people not talking to each other. Just tic tic tic tic tic. I try to do it when I'm alone."
But he is not often alone. Dudamel is all about connections.
Dudamel and his wife are in LA now, with a home in Beechwood Canyon. "We have a lot of friends," he says. "We are very bohemian," he adds, reminding me that he sees himself as someone who thrives on combing his love for his art with people of all persuasions.
Though this is his first operatic performance in the US, he has been conducting opera since 2003 all over the world. It will be an exciting moment for us when he decides to make his debut for a fully staged production (he will do Carmen at La Scala in November). But for now, this Carmen is pure pleasure. It begins a week of Hispanic themed Dudamel concerts at the Hollywood Bowl. Tuesday night is Bernstein and Gershwin and Thursday Ravel and de Falla among others.
"I was trying to have an opera and especially with Carmen, it is a youth opera, of course it's tragic, but for the ear it's famous, amazing music because Bizet is a genius."
Well that's one genius who has the back of another; Dudamel is only about five years younger than Bizet when he composed it.
"I love opera," he says. "But I was also thinking a lot in the dance idea. This week we also have jazz, tangos, so I think it is like a little journey through the beautiful music in the cultures that connect everything: America, Argentina, Spain, France."
Dudamel continues to reach out, never resting on yesterday's good will.
With YOLA, his youth orchestra initiative founded on El Sistema and the open rehearsals he is continuing for the parking attendants, cleaning staff and office workers and eventually their families (last year there were three), Dudamel's thoughts are never very far from inclusion.
"This was beautiful. It's a chance to be more connected."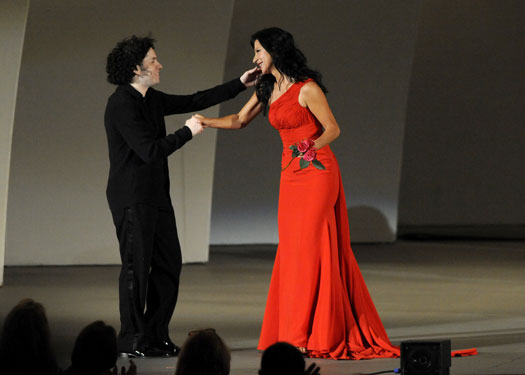 And especially with the orchestra, only a year after the first concert Bienvenido Gustavo last summer. "Now the connection is immediate. They understand my body language, and I understand them. It has been very fast."
Does he hang out with them after work?
"Look, respect is very important, but [also] not to be afraid. I love the contact with people in general, but especially with the musicians because you need them to be happy, to be enjoying and if they are too nervous to come to say something to me...." He shrugs meaningfully. He refers to the old school of Toscanini. "I admire that generation but it's not my style. I love to connect."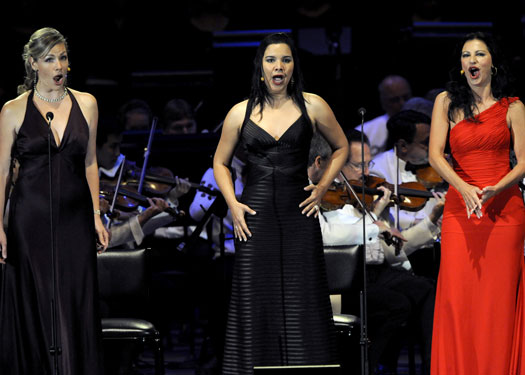 He had help. Sexy Natascha Petrinksky, the red hot Carmen, Maiana Ortiz, (Frasquita) and Jennifer Holloway (Mercedes) strutting out on stage in their clingy gowns like the Supremes and the rest of the cast matched their fiery vocal style, lighting up the stage even though it was theoretically just a concert version. The program notes say, rightly, "inside almost every French composer is a Spaniard who doesn't have to fight very hard to get out."
And at the Bowl you have an extra plus -- the jumbo screens which show Dudamel to be the true star. His facial expressions -- he sings along at times -- and lilting conducting style -- you always imagine he could actually be dancing on the podium -- are in full view as the performance goes on. He is like a Chaplin, using his body as a baton to convey things too.
"Your celebrity is helping to a certain extent, you must admit," I say.
He nods his head quickly, but refers me back to the music -- the real vehicle.
"At the end you are an image. It's beautiful when [the audience] comes and they close their eyes and listen and enjoy. That is the important thing."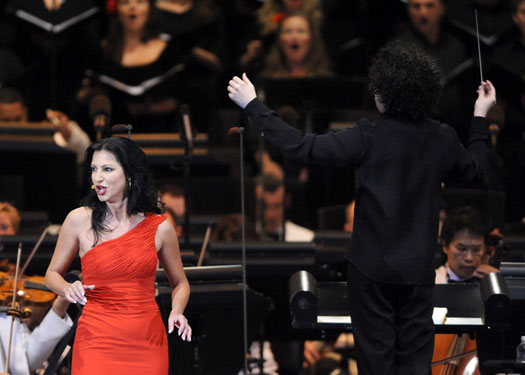 Still, I suggest, it must be tough -- everyone saying he is the savior of classical music. Those are pretty big shoes to fill.
So I ask him to show me his shoes. He laughs and sticks out his chic suede moccasins. Dudamel conducted his Carmen in a black shirt and undershirt and black pants. It's not a bad thing to have a conductor who also has a sense of style.
But this begs a question I have saved for last. I tell him I was a Bernstein baby; I grew up with the image of the music director being politically as well as musically connected.
Is he up to the challenge of using his podium this way, too?
He pauses and reflects very, very seriously.
"Look, Bernstein, was -- how to say in the best way -- this took time for Bernstein to do this kind of thing. For us at the beginning it is very important for us to connect and to build spaces for our future. Of course you have to think and you have to see, but it's very difficult. I think I need more experience and more knowledge about things to do this kind of thing. Bernstein was a wonderful speaker, he was amazing, his words were perfect. I don't have that kind of talent."
Maybe one day, I interject. I know Gustavo Dudamel will be able to do anything he puts his mind to.
"Of course, but you know this takes time. For me, for what I am doing with the music, I think I can speak to the people, [about] the beauty of the art, of the music and the beautiful connection they need to have. You know, now to speak about politics is to talk about divisions and I don't like that. I hate that when somebody tries to tell you something; that is not right. Who was this amazing inventor who says, for us, as human beings, we try to build more borders than to build more bridges. The important thing for us as artists is to build bridges. That is the important thing. "
For the moment -- reaching out to under-served communities, connecting deeply with his musicians and singers, re-introducing us to music we love and introducing us to new music -- he is already building big bridges. Oh, all that, and the kisses he bestowed on both my cheeks as I left!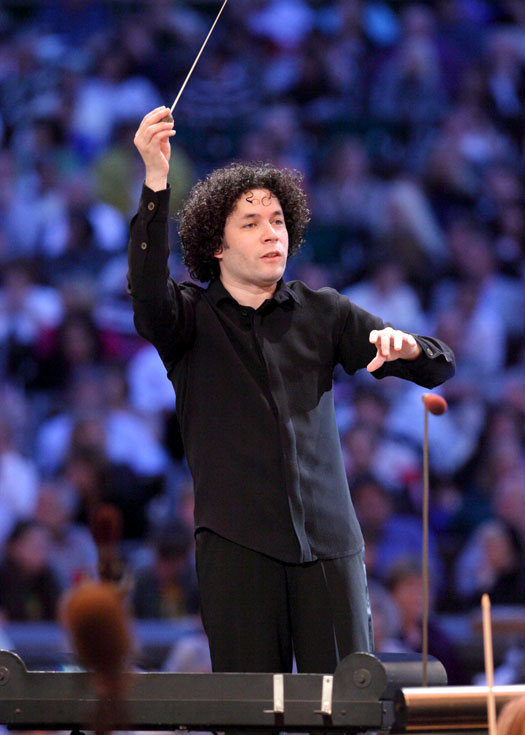 For all things Dudamel check out the LA Phil website: there's a Dudamel app for your phone, a conducting game, and a way to find out about remaining tickets for this week and the upcoming season at Disney Hall where Dudamel will also be conducting many concerts during the year.
REAL LIFE. REAL NEWS. REAL VOICES.
Help us tell more of the stories that matter from voices that too often remain unheard.