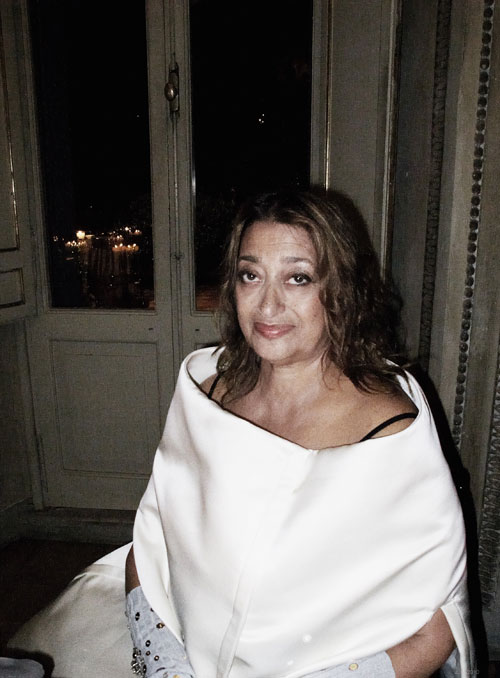 Zaha Hadid at Palazzo Sacchetti in Rome celebrating the MAXXI museum opening. Photo by by Jasmine Bertusi.
Zaha Hadid, the Iraqi-born architect, had built ski jumps, fire stations, train stations, and swim pavilions early in her career. She won the Pritzker Prize for Architecture in 2004 more for what she had only dreamed than what she had seen built. Maybe it was a kind of architectural stimulus package, because soon after that, the major construction work on her design for the MAXXI Museum in Rome (a project with roots in 1998) began in earnest.
With the help of 150 million euros from the Italian government and others, she has wrought in the Flaminia district--once a kind of meatpacking area--a remarkably successful integration of the old military barracks which was its core and the muscular structure which has grown alongside it. It's a sort of architecture-on-Pilates, a dynamic, ramped-up space that makes the extremely carefully chosen things inside look great. It's true there are some areas which do feel like leftovers with art jammed in when there just weren't enough walls to go around. But she has brought out the best in her curatorial collaborators, deputized them and sent them off to create other spaces within hers. If she were a political leader in Washington, we would say she knew how to work the Hill.
It's founders say the MAXXI mission is to be devoted to contemporary creativity, to be a campus for culture, to highlight a new public-private partnership, to put its thumbs under its suspenders and show off its own space while at the same time paying homage to the spaces around it and the things in it, to blur the lines between art and architecture. The curators have taken care to put architectural looking structures on display as art and vice versa. So in building these massive but curvalicious walls, Hadid has in fact helped to tear down these other artificial constructs which often divide art and architecture, to create a space that navel gazes in a good way, forcing you to continually look at the works from new perspectives. Unlike some other contemporary museums that seem to include art as an afterthought, Hadid was not afraid to bow to her colleagues on the other side of the aisle, having been herself an acolyte of the Russian constructivists Malevich and Kandinsky at the Architectural Association school in London.
Hadid is fashionable a sa facon and has a large social as well as architectural footprint. She is not married (let's not get started on how hard it must be to be a starchitecta and not have men be intimidated) and constantly travels the world for her projects from her home in London. Hadid interrupted her far-flung journeys to answer a few questions.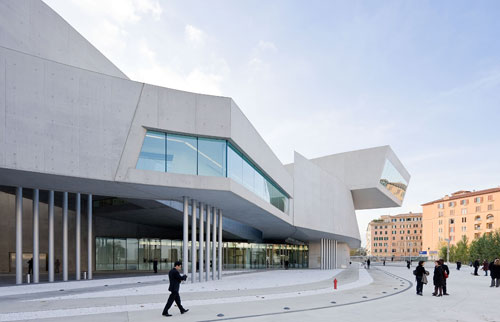 MAXXI Museum. Photo by Iwaan Baan, courtesy Zaha Hadid Architects.
CULTURE ZOHN: You told The New Yorker that you appreciated learning the value of risk taking. As more of your projects get built and the budgets ever bigger, do you find that this sense of risk--or of play--necessarily diminishes? Which projects you are currently working on in design phase challenge this notion?

ZAHA HADID: We are actually finding that clients are increasingly calling for something radical--and from a much broader group of institutions that have strong willingness to innovate. These are vital characteristics that allow an architect to design extraordinary projects. At the very beginning of my career I established a reputation amongst clients for delivering solutions that reinvented the program; of having ideas and interpretations that weren't tied to the form of an institution--as it is not only the form of a building that interests us, but we also research new and better ways in which people can use a building. So with our work, there is always a coherent underlying logic which we follow throughout all stages the project. Of course, there is a difference between avant-garde and mainstream architecture. Mainstream projects must be judged in providing solutions to a given brief. Whereas the originality and innovative potential of avant-garde projects could be considered more important than the actuality of its performance. True avant-garde architecture does not follow fashion or economic cycles--it follows the inherent logic of cycles of innovation generated by social and technological developments.

CZ: The neighbors in Rome's Flaminia district where the MAXXI is located were said to have been quite disgruntled as the building was going up. The Beaubourg also faced such challenges in Paris. In a project such as this one in the heart of an old city, how do you take this human element into account or do you? ZH: It's a very thin line between saying to people that 'everything must be preserved' and yet one also believes in new things. I don't believe cities should be like Venice and not grow or change at all. It is important to intervene in a contemporary way--but you must do it in a very precise manner. In cities, you need places where things can shrink and expand--you need to allow and plan for an organic kind of growth to occur. This organic growth over many centuries has made the urban fabric of our cities so rich. We are always interested in expanding our repertoire and doing different things in different contexts, with each project responding to its brief and context in a totally unique way--but in all our work, we first investigate and research the landscape, topography and circulation of the site. Then we draw certain lines of connections with the local environment and lines of circulation and movement through the site that become evident from these investigations, and use these lines and forces to inform our design. This "embeds" the design into its surroundings--ensuring each project has the strongest possible relationship with its unique context. This is certainly the case with the MAXXI, where the design originates directly from the geometry of the immediate urban context surrounding the site where two existing urban grids converge.

MAXXI Museum. Photo by Iwaan Baan, courtesy Zaha Hadid Architects.

CZ: The system of competitions, once an exclusively European way of choosing an architect, is more prevalent now in the US. It's hugely expensive to compete. Don't you think governments and private trustees whose function it supposedly is to adjudicate could simplify the process merely by choosing the architect they prefer, especially as the economy is so threatened? ZH: We still actually get most of our work through competitions. This system gives everyone an opportunity to work hard and succeed. What is interesting in a competition is that you start with a larger theme, and working within a strict timeframe, this continued research and constant improvement helps to refine a project. I think many of the world's best projects have resulted from competitions. In the period in 1995 to 1998, we did one competition after the other--and we didn't win any... but all these unrealized projects related to ideas of topography and landscape. They were very powerful projects and interesting in their complexity--that gave us this very diverse repertoire of work and research. We still refer to this knowledge today.

CZ: As you lecture and teach around the world, do you find the Architectural Association still the gold standard by which to judge architecture school? You were mentored by Rem Koolhaus. Do you think a mentor is a crucial aspect of the learning curve for young architects? ZH: The Architectural Association is a great school doing very interesting work. My students at the Vienna Institute of Applied Arts--and my students at the studio I recently taught in at Yale--have also done some great work. We encourage the students' ambition to improve the project's impact on society and you never know what can come out of the students and the new staff in the office when they're given opportunity. They just need to be given confidence to do their best--with a degree of freedom. I think that's why people like to work in our office--their only obligation is to work hard and do their best. They feel they're part of the process, and of the progress we make. You need to let people grow, and it's exciting to see them and their work mature, contributing to the development of a project.

The MAXXI Museum. Photo by Iwan Baan courtesy Zaha Hadid Architects

CZ: There is often a tug of war between architects and curators, the ones eager for a place to display their collections, the others eager for a place to display their mastery of line and form. At the top of the MAXXI there is a space I was told was adjusted after the fact to display paintings and drawings. Does it ever concern you that traditional media might not have a place in your buildings or do you think that your buildings do accommodate them?

ZH: Contemporary society is not standing still and this is reflected in its art and architecture. MAXXI stands for "Museum for Arts of the XXIst Century"--and its art is all about experimentation with new media that reflect new social phenomena and ideas. So contemporary art centers like the MAXXI must provide a opportunity for the unknown and untested, and for new technologies and media to be explored--a catalyst for instigation and exchange of ideas. The story of the museum has changed a great deal--it's no longer just an awful lot of rooms which connect sequentially as in a palace. It's become a place where you can experiment with the idea of galleries, with light and movement, with the idea of mounting simultaneous shows that cater for many people. I think it's positive as this connection between culture and public life is critical. The client is no longer just one patron. The client is the mass, it's many people. So this has been really exciting. There is the discussion that questions this idea of the museum as a "white box," and whether the white box gives you the most flexibility. These days, it is important to have variety--the variety of space--because curators make so many different interpretations of space when designing exhibitions. In museums, it's not only a question of how you exhibit the art, but also about how, through complexity, curators can interpret different leads and different connections. This ability to see different perspectives and different relationships all at the same time is very important.

CZ: You are an Iraqi woman from a politically engaged family. Do you stay involved in politics and do you think it is important for leading figures in the arts to do so? ZH: As in so many places in the developing world at the time, there was an unbroken belief in progress and a great sense of optimism. If you look back to the 60's in Iraq, when I was growing up, it was a moment of nation-building, so there was a lot of emphasis on architecture, not only in the Arab world but also in South America and Asia. It was a similar moment to what it is now--there was a renewed pride in the structure of the city. These ideas of change, liberation, and freedom of this era were critical to my development. There was incredible moment of social reform everywhere. This ideology was important to me and it's not appropriate in this day and age not to be liberal and socially aware.

The MAXXI Museum. Photo by Simone Cecchetti courtesy Zaha Hadid Architects

CZ: You have been called temperamental, eccentric and tempestuous. Is this just a way of saying you are a woman in a man's world? Do you think your ascent into the pantheon of architects has made it any easier for other women to follow? (N.B. Hadid had told The New Yorker last year, "I think they can't stand the idea of a strong woman. I don't know why. Maybe it's because they have small willies.") ZH: They certainly would not talk about my rings or about my clothes if I was a man. Now I've achieved the success, but it's always been a very long struggle. In the early days we were all workaholics at that office and worked day and night. This required incredible focus and ambition and this determination was not only because I am female. In practice, I still offer resistance all the time, and I think that keeps you on the go. It's not as if I just appear somewhere and everybody says yes to me--it's still a struggle, despite having gone through it a hundred times. It's not necessarily always great, but it keeps you in place, and it also makes you think about and do things in a different way. But now we do see more established and respected female architects all the time. That doesn't mean it's easy. Sometimes the difficulties are incomprehensible. But in the last fifteen years there's been tremendous change, and now it's seen as normal to have women in this profession.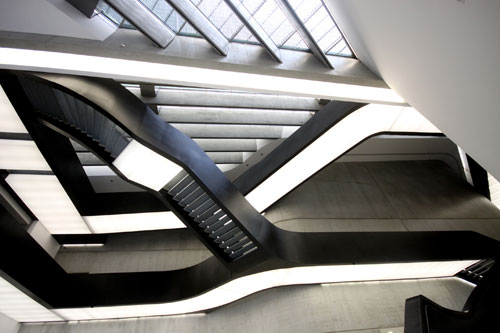 The MAXXI Museum. Photo by Simone Cecchetti courtesy Zaha Hadid Architects
The inaugural installations in the museum spotlight this connection between art and architecture and there are many things which will draw your eye. But for my money, nothing compared to the outstanding exhibition of the work of architect Luigi Moretti, designer of the Watergate complex in Washington, which showed that a visionary could care about simple things, that architects are among the most gifted multi-disciplinarians and that there are really good people in this world who have not been hyped to death who are worthy of our closer attention. Moretti is an example of an architect who burst out of the artificial boxes that we've created for architects and artists, a man who got up in the morning and clearly was stimulated by everything he saw around him. In that, decades later, he has good company in Zaha Hadid.
The MAXXI Museum is now open. While you are there, get a ticket to one of the many performances in Renzo Piano's nearby Auditorium, see the Gagosian Gallery's new-ish space, the excellent Philip Guston show at the Museo Carlo Bilotti in the Borghese Gardens, the William Klein photographs stuffed in amongst the ruins at the Roman Forum museum and the Garbo collection at the Ferragamo Foundation. Viva Roma!
Calling all HuffPost superfans!
Sign up for membership to become a founding member and help shape HuffPost's next chapter