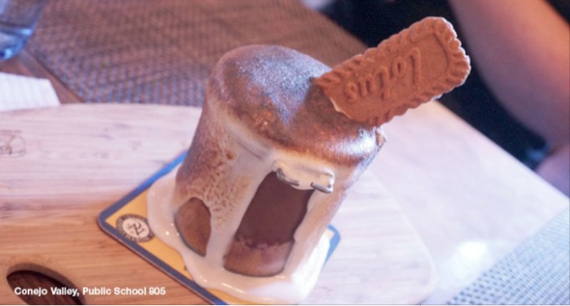 Sure, it's fun to book a weekend in popular American cities like Miami, New York and Los Angeles. But some of my favorite jaunts are in cities you might not expect. So I've curated a list of some incredible off-grid getaways to take in across the U.S.
Kansas City is famously separated by the Missouri river -- leaving half in Kansas, and half in Missouri. And the rivalry between the two sides runs deep! The Kansas side has a bit more of a historical charm, while Missouri's has a vibrant cosmopolitan feel.
Oklahoma Joe's BBQ: True barbecue lovers will gladly stand in line if it means indulging in the best southern eats in Kansas. Despite its gas station (seriously!) location, diners start lining up here early for lunch to get their hands on tender brisket, pulled pork and ribs with all the right sauce, smoky flavors and plenty of southern sides.
National World War I Museum: Located at Liberty Memorial in Kansas City, the museum was created to honor those who served their country and made the ultimate sacrifice during World War I. Crowned the nation's official World War I museum, there's a portrait wall, a theatre, research center and fascinating interactive exhibits and collections on display.
Schlitterbahn Water Park: From rivers to rafts, coves and a zipline, there's something for everyone at this seasonal (gotta wait for spring for this one), family-friendly water park and resort attraction in Kansas. Verrückt, the world's tallest water slide, finally got up and running this year, and it's so popular that there's a reservation system just to ride it.
Negro Leagues Baseball Museum: This non-profit, privately funded museum in Kansas City is dedicated to preserving the history of the Negro League and African Americans in baseball. Check out the signed baseballs, historic photographs and artifacts that date back to the 1800s, or take a peek at the multi-media exhibits. Cool fact: It shares space with the American Jazz Museum.
The Nelson-Atkins Museum Of Art: At this nationally heralded Missouri museum (with free admission!), more than 33,500 pieces of fine art highlight its vast, incredible collection. Aside from the frequent exhibitions, don't miss Donald J. Hall Sculpture Park, complete with a Glass Labyrinth and an installation of large badminton birdies.
Sure, Silicon Valley is the tech capital of the world, but there's so much more to the South Bay than the Google campus. San Jose, which has about 150,000 more people than its more famous neighbor San Francisco, is thriving -- as are the other towns of the Bay Area's Peninsula.
Winchester Mystery House: This house is so haunted that it was the only spook-laden venue in history that AMC's Ghost Hunters didn't last all night in. Before dying in 1922, owner Sarah Winchester spent 38 years fighting the ghosts of the people killed by Winchester rifles. To keep them at bay? She kept carpenters working on the house 24 hours a day -- adding a few dozen bedrooms, confusing staircases, a séance room with trick exits, strange windows and a second-story door that opens straight to the outside. Don't step through.
San Jose Museum Of Art: Creative multi-media exhibits show off art as only Silicon Valley can inspire. The current wow factor: Momentum, which has artists of all mediums, from dance to stand-up comedy, offering their take on works already in the museum's gallery.
San Pedro Square Market: Northern California loves its foodie markets (see Oxbow in Napa and Ferry Plaza in San Francisco), and you can't visit downtown San Jose without visiting its bustling San Pedro. From yummy carnitas tacos and mouth-watering pizza, to sushi and specialty potato dishes, there's something for everyone.
SoFA District: San Jose led the country in "phantom galleries" after the 2000 dot-com bust -- the tech-fueled city was plagued with empty storefronts after its economy took a beating, so artists began beautifying the eye-sores with mini-exhibitions. That artistic spirit continues to this day, via KALEID Gallery, which supports local artists such as Al Precidio, and the prestigious Anno Domini, which is now showing In the Cave We Dance, a striking charcoal and gold leaf series by Joseph Loughborough, and the haunting Bride Series by the artist Cake.
Donato Enoteca: Redwood City, between San Francisco and Palo Alto, has many gems in its charming downtown. Not to miss: Donato Enoteca, which serves up an almost sinful Italian menu with specials like homemade bigoli pasta with Nebbiolo-braised oxtail, and pan-roasted Mediterranean bass in a Soave wine sauce. And you must try their Negroni, made with a special vermouth di torino that's barrel-aged for 60 days.
"I love New Mexico -- Santa Fe is spectacular!" Yes, well, Albuquerque is pretty cool, too. Eat a few meals in my hometown, and you'll understand my obsession with hot ("don't you have anything spicier?") salsa. And then there's Breaking Bad...
El Bruno: El Bruno's original location in Cuba, New Mexico was so popular that there's now an Albuquerque one, too, dishing out authentic New Mexican flavors in its family-style restaurant. Tableside guacamole, specialty chile dishes, generous portions and an amazing outdoor patio dining are good enough reasons for me.
Vernon's Hidden Valley Steakhouse: Ideal for date night or a special occasion, upscale Vernon's has a jazzy, speakeasy vibe reminiscent of the Prohibition Era. Think dark lighting, a unique cocktail menu and all the traditional steakhouse favorites--well done.
El Sabor a Juarez: This family-owned spot for those "in the know" may look like a hole-in-the-wall diner across from the Kirtland Air Force Base. But the crowds of locals tell a different story. The menu at this hot spot is huge, so choose wisely and expect some of the best Mexican food you've ever tasted, from savory stuffed sopapillas to enchiladas and burritos.
Breaking Bad RV Tours: Fans of the television mega-hit Albuquerque-set show Breaking Bad will appreciate this scenic, interactive tour to 17 of its most popular filming locations. As you're transported around in an RV, expect stops at many of the restaurants, houses and shops seen on the show, and the carwash, of course.
Sandia Peak Tramway: Enjoy Albuquerque's majestic natural beauty with a ride on the world's longest aerial tram ride. As you arrive nearly three miles into the mountains, the ride hits the 10,000-foot peak of the Sandias, named after their watermelon-like hue come sunset. Whether you step into the mountaintop restaurant or just take photos while savoring the view, it's an ideal family outing.
A smaller, but equally cultured city to its northern neighbor, Dallas, Fort Worth offers a true downtown scene coupled with the scenic Trinity River and plenty of arts, museums, music, and city life.
Texas Ballet Theater: This professional classic ballet company brings world-class dancing and training to northern Texas. Many of the year's superb production performances are held in the historical fine arts center that's also home to the Fort Worth Symphony, Bass Performance Hall.
Fort Worth Botanic Garden: Filled with water features, exotic plants, flowers and a Japanese garden, this free attraction makes for a lovely, serene afternoon with plenty of photo opps. The rose garden is especially picturesque, and the summer concert series attracts tons of locals.
Reata Restaurant: Combine excellent Tex-Mex fare with a dreamy location (plus a rooftop patio!) looking out on Downtown Fort Worth, and you've got the renowned Reata. Don't let its casual cowboy décor and live country music fool you -- the spicy taste of Texas here is top notch.
Fort Worth Zoo: Boasting more than 5,000 native and exotic species of animals and sea creatures, it's no surprise the Fort Worth Zoo is continually awarded as one of the top zoos nationwide. With more than 100 years of history and added attractions, don't miss the rock climbing wall, tornado simulator, 12 exhibit areas and the Museum of Living Art -- the country's premiere herpetarium for reptiles and amphibians.
The valley north of Los Angeles is less glitzy than Hollywood but is seeped in movie culture just as well -- and has some charming finds sprinkled throughout. Plus, it's big on the outdoors and is a great gateway to quirky, celeb-soaked Malibu.
Paramount Ranch: The stunning national recreation area in Agoura Hills is home to 2,700 acres of trails winding through the Santa Monica Mountains. It also boasts a ghost town used as a set for westerns (Kurt Russell was filming while I was there).
Public School 805: A visit to this unassuming restaurant reveals amazing food set to a fun school theme, down to the composition book menus. Also on the table? Ridiculous cocktails with savory ingredients, magical deviled eggs, tuna tacos -- and a whiskey-fueled s'mores for dessert.
Ronald Reagan Presidential Library: Not technically in the Conejo Valley, but it's so close, and it's so moving, that I absolutely had to include. No matter your politics, visiting the museum is a must. Walk down the aisle of Air Force One, sift through the President's index cards he used to jot down ideas, view a piece of the Berlin Wall -- and pay your respects to an American President, who chose that breathtaking piece of land for his final resting place.
Rabbit Hole Café: You'll fall in love with this quirky little café, which offers gluten-free, vegetarian and vegan options for hearty breakfast, lunch and dinner. Specialties include breakfast bowls, gluten-free wraps, and a "toona" melt. And dessert -- don't forget desert. A case of delectable goodies-to-go taunts customers on the way out. You've been warned!
Nashville makes my "off-grid" list, because everyone I know seems to think it's only worth a visit if you love country music (like I do). But the "Music City" features countless attractions, tasty southern food and plenty of places to explore. ABC's soapy nighttime drama, Nashville has only further piqued interest in the famed city.
Music's most historic performance hall and stage show is one of Nashville's deeply treasure gems. All the greats have performed here, dating back to its opening in 1925. Concerts are held weekly, and backstage tours are offered in three ways: pre-show, post-show, and VIP.
Bluebird Café: Everyone from "the next big thing" to country legends have set foot on the Bluebird stage at one time or another, and many big stars pop in to this day. The Nashville haven is a famed listening room and songwriter haven, so make a dinner reservation to catch the next playing act.
Country Music Hall Of Fame And Museum: All music fans enjoy the activities, tours, exhibits and displays of memorabilia at this multi-story museum. Whether you love Johnny Cash, Dolly Parton, Garth Brooks or Elvis Presley, the two million artifacts, award show gowns, plaques, photographs and history lessons can keep you here for hours.
Pancake Pantry: Though it's been open more than 50 years, the lines still stretch around the corner to get some plate-sized pancakes. The landmark features unique twists on the popular breakfast dish, such as sweet potato, orange walnut, and Georgia peach. It's also where Taylor Swift took two different boyfriends when showing them around town: Taylor Lautner, and a few years later, Conor Kennedy.
This beach town gem tucked between Jacksonville, FL and Savannah, GA is known as both a romantic getaway and quaint seaside town to get in some relaxation. It's a popular spot for golf, fishing, shopping and stand-up paddleboard.
The King and Prince Beach & Golf Resort: Looking for an ocean view? This hotel boasts the only one on the island, plus accommodations are available in the form of hotel rooms, condos and homes. Aside from getting sporty at the four pools and tennis courts, play a round at The King and Prince Golf Course.
The Crab Trap: Consider it the perfect casual outing of fresh seafood. Classic sides of hush puppies and cheese grits pair well with heaping portions of oysters, shrimp, scallops, crab soup, and fried and grilled seafood here.
The Village Inn & Pub: Located in the island's village area within walking distance to many shops, restaurants and the fishing pier, this inn has more to offer than just charm and wild oak trees. While exploring this adorable bed and breakfast, stop in at the cute pub and listen to live music.
ECHO: The only oceanfront dining on the island doesn't disappoint. The upscale digs inside The King and Prince Beach Golf & Resort make this a fine dining hot spot with a menu featuring many local ingredients and coastal dishes.
Read more about planning your retirement and lifestyle issues personalized for Americans 50+ at http://nowitcounts.com
PHOTO GALLERY
10 Trips You NEED To Take In Your 50s
REAL LIFE. REAL NEWS. REAL VOICES.
Help us tell more of the stories that matter from voices that too often remain unheard.