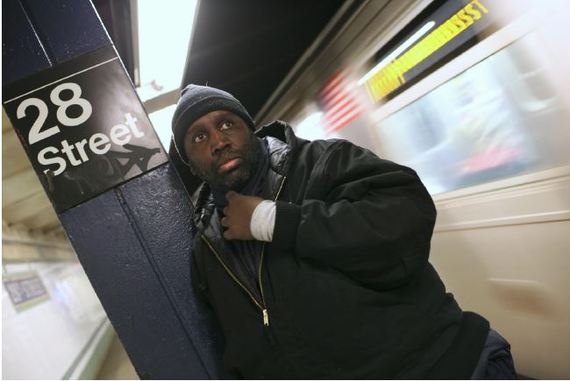 After almost 40 years driving New York City buses and subways, Darius McCollum has become the "master" of the Metropolitan Transportation Authority.
It's more than just a "calling" for him. It's an obsession. Someone created a Wikipedia page about it. Jude Domski wrote a play about it. There's a feature film in the offing about it -- with Julia Roberts in a lead role.
There's just one slight problem.
"I've never been an employee of any of these agencies," he admits in an early scene.
That's right. You see, as chronicled in director Adam Irving's heart-rending new documentary Off the Rails, McCollum sort of, well, "hijacked" those buses and trains.
"I might be doing a train operator today, I might be doing a bus operator tomorrow, I may be doing a token booth the next day," he explains. "They took it on face value. 'He knows the lingo, he's got the uniforms, he must work here somewhere.'"
Yes, he knew he was committing a crime every time he donned those stolen uniforms. He has, in fact, spent most of his adult life behind bars for stealing over 500 buses and trains.
"But what do we do about the diagnosis that made me commit the crime?" he asks.

That's where things get a wee bit complicated. McCollum has been diagnosed with Asperger's Syndrome, described in the movie as "an autistic disorder characterized by high intelligence, social impairment, and intense interest in one subject."
"I'm really good with trains. But I can't seem to figure out people," McCollum explains. "I'd like to compare myself to Superman. His weakness is Kryptonite. My weakness is the third rail."
But the film proves that there is much, much more to his story than that diagnosis. McCollum's happiest childhood memories begin and end with subway rides. His doting mother says she "loved to take that boy anywhere. We rode the trains all the time."
"I was her golden child," McCollum concurs. And she noticed his intense interest in those trains early on. By the age of eight, he had memorized the entire system, and knew the purpose of every button, lever, wheel, switch.
Charmed transit workers gave him odd jobs and even let him open and close train doors and assist conductors. He says he began to feel "more and more important. The people down there were my friends."
And he needed friends. Desperately. Bright and well behaved at school, he was mercilessly bullied and finally near-fatally stabbed with a pair of scissors that punctured a lung and came perilously close to piercing his heart.

After that, McCollum's behavior changed radically. He became belligerent, uncontrollable, overturning desks, even pulling fire alarms when he felt threatened.

He was eventually committed to Elmhurst Hospital, where, "I would be sitting there just drooling at the mouth."
After escaping from there, "The subway became my new school," he asserts. And his friends in the transit system welcomed him home, eventually allowing McCollum to drive trains on his own.
He was good at it, too. Better, some thought, than the "real" drivers.
"My announcements are more enthusiastic," he explains. "Sometimes you need to hear that pleasant voice. You need to hear that voice that's going to make your day. I'm making people laugh, I'm making people feel like 'Alright, it's not just a train ride anymore, it's more like an adventure.'"
But the MTA isn't about "adventure."

"You've got maybe 1000 people packed into a train. If you do something stupid, you could hurt a lot of people," one subway worker asserts. "Railroads are like a military system. You cannot just do what you want. And that's what Darius does. He does whatever he wants to do when he wants to do it. We've got a big rule book and the rules are written in blood. Every rule is down here because someone got hurt."
He was repeatedly banned from the system entirely as a condition of parole. But he slipped back in, sometimes even sleeping in the subway tunnels and train yards.
There was one brief moment of hope between prison stays -- a romance that blossomed into marriage. But then McCollum started to "disappear" for days. He had returned to his old obsession, impersonating a subway conductor.
Challenged to choose between his marriage and his trains, he bluntly replied, "If I have to pick one, I have to go with the trains."
His ex-wife cries at the memory on camera.

Director Irving sees McCollum as, "an example of how broken the U.S. criminal justice system is -- a system that has put a non-violent man in prison cumulatively longer than many convicted murderers."
"I wanted audiences to think about mental illness with more nuance," he says. "To get beyond the image of the twitching, mouth-foaming psychopathic killer to see that mental illness can present as someone like Darius. A gentle, considerate man, who fell through the cracks of a criminal justice system unable to rehabilitate him."
Remarkably, by the end of the film, McCollum's luck seems to be changing. He has been released from prison with no restrictions on where he can go or what he can do, save one very, very big one: if he's caught impersonating a transit worker again, it's 15 years to life. Period.
Is this the proverbial light at the end of the tunnel? You can find out by seeing Off the Rails at a festival near you. Current bookings include:
Full Frame Documentary Film Festival, Durham, N.C., April 7
Sarasota Film Festival, Sarasota, FL, April 9,10
RiverRun Film Festival, Winston-Salem, NC, April 10,11
Newport Beach Film Festival, Newport Beach CA, April 24,25
Hot Docs Canadian Documentary Film Festival, Toronto, CAN, May 4,6,8.
Photo credit: With permission from Adam Irving
Calling all HuffPost superfans!
Sign up for membership to become a founding member and help shape HuffPost's next chapter