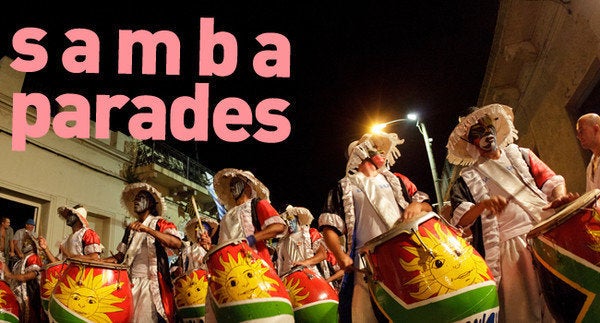 Arguably the greatest party on the planet, Rio's Carnival falls right at the top of every partier's puke bucket list. Every February or March, from the Friday until the Tuesday before Lent, thousands of bodies flock to join Rio locals (called cariocas) for this five-day exhibition of excess. (This year, it's Feb. 17-21.)
It's easy to get lost in the chaos of colors, parades and street parties. OTP's warm sticky hand is yours to hold as we guide you through this blur of sexy samba.
Prepare
Coming from the USA, you'll dish out at least a grand for your high season flight down to the "Marvelous City." Hotels and hostels in Copacabana and Ipanema shake you down for at least quadruple their normal rates and often demand full-week stays. You might do better on apartment rental sites like Airbnb, but unless you're lucky enough to score a couch to surf, expect to pay a pretty penny for the very little sleep you'll get. To avoid sleeping alongside the bums on N.S. Copacabana Avenue, booking early is mandatory. You'll even notice the restaurant prices are all written in chalk so owners can jack them up during the festival. There's no way around it: Carnival is expensive. You may have to finally take a hammer to your piggy bank, but trust us, it's worth every one of those pennies. Now let's get you a party plan.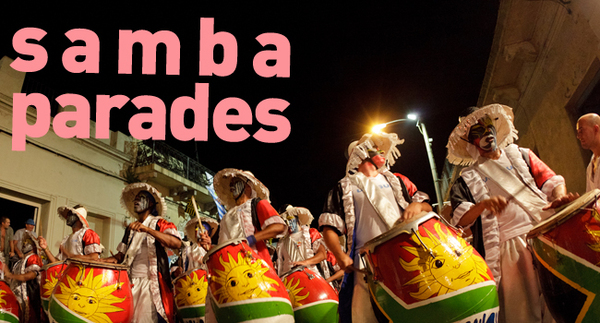 Samba Parades
Massive, mind-boggling floats, "Who comes up with this madness?" costumes, gyrating g-stringed booties and all the samba music your ear drums can handle await you in the Sambadrome -- the half-mile long permanent parade grounds. If you've seen pictures of Carnival, chances are they were taken at these neighborhood camps known as "samba schools" during the parades where cariocas somehow manage to simultaneously wear extravagant costumes while staying relatively naked. From Saturday to Tuesday, a year of preparation culminates in a 90-minute march where samba schools fiercely compete for the awe of fans and the votes of judges. The best of the best are in the "special groups," which parade on Sunday and Monday. Unfortunately, a glimpse at one of those will run you several hundred dollars. If expensive people-watching isn't in your budget, don't worry, the real party is out on the streets and won't cost you a dime.
Street Parties
Skip the pricey, Viagra-popper infested, black tie balls; the street parties are way more fun. In the center of these bandas and blocos, a percussion circle pumps out non-stop samba music. Brazilians shuffle their feet and shake whatever jiggles as vendors wheel around rickety coolers of cheap beer and caipirinhas. There is no dress code, so dress up, dress down or barely dress at all. Pick up a few samba steps and join the masses. Check out Simpatia é Quase Amor in Ipanema, then head out to the Lapa neighborhood for a street party that outlasts the night.
Hook Up!
These street parties are a saliva Swap-O-Rama. Young cariocas routinely make out with dozens of drooling hopefuls in a single night. All it takes is eye contact, an approach and a few words before you are familiarizing yourself with some hot Brazilian's taste buds.
OTP Fun Fact: The Brazilian government distributed 84 million condoms last Carnival.
Just Can't Swing It?
If Rio's Carnival just isn't in the budget, fret not. Carnival is not just a Rio holiday; it's a national holiday, celebrated throughout Brazil. Street parties pop up in towns across the country with less tourism (which means lowered costs).
If timing is the issue, you can still get a Carnival teaser at a samba school rehearsal. Starting in August, the schools rehearse on weekend nights where the band practices their samba beats and the crowds warm up their shuffling feet. The entrance and drinks are cheap, and the cariocas are all too willing to welcome their new gringo friends with beijos.
OTP Tip: Starting on weekends in January, blocos and locals pack the streets for some pre-Carnival foreplay.
Detox
When the last of the confetti is swept up, it's time for detox. Grab a coconut or açaí (a slushy berry beverage) for the ultimate hangover cure. Take your drink down to Posto 9 on Ipanema beach for some sun, swim and skin. If you're looking for eye candy, this is your Halloween. Don't forget your tinted sunglasses because a passing glance won't do these cariocas justice. Michelangelo couldn't sculpt better bodies, and the amount of floss on display would make your dentist proud. Pull up your chair to a group of sexy cariocas because there is no snooze button on their party clocks. When you're ready to retox, flag down one of the many vendors and start the show all over again.