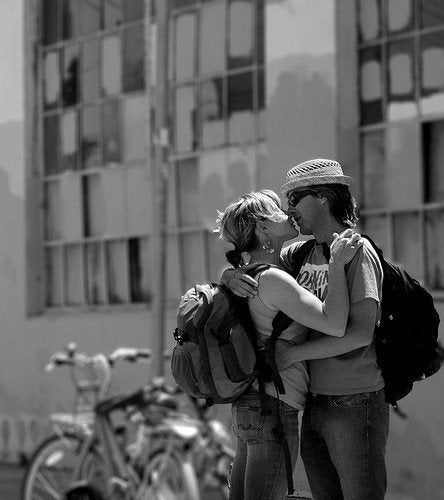 When it comes to ultimate honeymoon agendas, luxury trips to tropical destinations like Hawaii and St. Lucia typically lead the pack. But for those couples looking for alternatives to the ordinary resort getaway, consider these six unique ideas still bound to provide the getaway of a lifetime.

Mini-Moon
Mini-moons are quickly becoming a popular honeymoon alternative for newlyweds. Ideal for honeymooners with budget limitations, timing constraints, or little vacation time set aside, a mini-moon still enables couples to experience an unforgettable destination for a few days, even if it's not Paris or Hawaii. Typically, a mini-moon consists of a destination within driving distance or a short flight.
Mini-moon hotspots: New York City, Las Vegas, Miami, and San Francisco.

Volunteer Honeymoon
Whether clearing trails in a scenic national park or building homes in a developing nation, a volunteer honeymoon allows newlyweds to travel the world while giving back to individuals, communities, and organizations in need. This is truly a memorable travel experience, one that will certainly make an impact on you, but also the people and projects that you decide to help out. What a remarkable way to start your new life together.
Looking to explore and learn about some of the world's most diverse ecosystems? If the answer is a definite yes, then consider an eco-honeymoon for your upcoming trip.
Ecotourism is an increasingly popular form of travel that focuses on visiting natural or protected areas of a destination while minimizing overall impact. In fact, it has quickly become one of the fastest growing areas in the travel industry. From wildlife viewing in the heart of the African savannah to whitewater rafting down glacier-fed rivers, the options are practically endless for eco-adventurers.
Eco-Ideas: Drop your bags at Tortuga Lodge & Gardens in beautiful Costa Rica. Located in the lush northeastern section of the country, this remote property offers luxury accommodations and a variety of unforgettable eco-activities, including boat tours through stunning Tortuguero National Park and private turtle nesting expeditions.
Camping or National Parks Getaway
Outdoorsy couples may want to consider a national park honeymoon to experience America's greatest natural wonders. Whether you explore just one destination or decide to mix and match, your honeymoon is guaranteed to feature scenic drives, soaring mountain vistas, gorgeous backcountry hikes, and other incredible once-in-a-lifetime experiences.
Meanwhile, with properties such as Ahwahnee Hotel to choose from, couples don't have to sacrifice comfort to get up close and personal with some of the country's most extraordinary parks.
A cruise along one of Europe's famous rivers can provide newlyweds with an intimate, relaxing, and overall exceptional experience. Demand for European river cruises is now at an all-time high -- especially among American travelers -- and it's easy to see why. Travelers can sail past picturesque countryside, discover historic cities, view gorgeous hilltop castles, and easily embark on new experiences and activities along the way.
Popular European routes include the Danube, Rhine, Po, Seine, Rhone, and Moselle rivers. Memorable city stops feature Vienna, Berlin, Prague, Budapest, Paris, and Amsterdam, among countless others.

Ride the Rails
Leave behind the hassles of airplanes and car rentals on your upcoming honeymoon. With the ability to experience luxurious accommodations, top-notch cuisine, and breathtaking scenery, plus the chance to hop on and off at some of the world's most iconic destinations, train travel can be immensely rewarding, romantic, and eye-opening. Arguably, it can transport you to places -- and even eras -- better than any other mode of transportation.