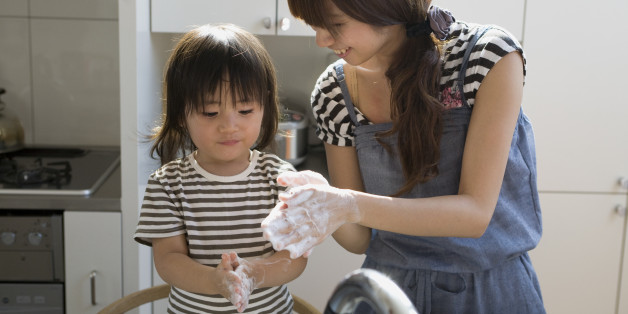 Think about the last time you stayed overnight in a hotel room.
Chances are, you got up the next morning, took a shower, got dressed and checked out of the hotel to attend meetings, visit friends or just see the town. Did you ever wonder what happens to the once-used and quickly forgotten bar of soap you left in your shower?
Soon after you checked out, all the room's toiletries (soap, shampoo, conditioner, etc. -- at least the ones that didn't somehow magically end up in your suitcase) were gathered up by the hotel's cleaning / maintenance staff and promptly thrown away.
In Nevada, we know something about the hospitality industry. Las Vegas is home to almost 125,000 hotel rooms -- each with their own carefully packaged set of toiletries. That's almost 7.5 million bars of soap filling up Las Vegas dumpsters each year. And add that to nearly a half billion discarded bars of soap in landfills throughout the rest of the country.
Turns out, all that wasted soap not only has an impact on trash collectors, landfills and the environment; it also has an impact on global health.
That's right. Discarded soap could be a matter of life and death.
Each year, two fatal diseases -- acute respiratory infections (pneumonia, influenza, respiratory syncytial virus) and diarrheal disease -- account for more than 6 million deaths, and are the top two killers of children less than 5 years-old (nearly 3 million children). Global health authorities say the simple act of hand washing with soap can cut morbidity rates from these causes of death by nearly 50 percent.
Here at home, the viral outbreak designated Enterovirus 68 by U.S. health officials, has prompted hundreds of families in more than 12 states to seek medical care in recent weeks. Officials at some Midwestern hospitals report they were treating up to 30 patients a day, and doctors have placed nearly 10 percent of the children affected by the virus in intensive care.
So what do medical experts recommend to prevent children and others from catching this harmful bug? A new vaccine? Some specially engineered anti-virus medication, perhaps?
Nope. U.S. Health experts, like their global counterparts, say one of the best ways to significantly reduce the transmission and spread of Enterovirus 68 is -- you guessed it -- washing with soap and water.
Think of it. That's 3 million people around the world and thousands here in the U.S., many of them kids, whose lives could be changed by a little bar of soap.
That's why the two of us have invited our colleagues in Congress from both parties, to join us in an effort led by the not-for-profit organization, Clean the World, to address this problem.
Clean the World is a non-profit founded in 2009 centered on a simple idea: recycling soap and saving lives. This organization distributes recycled soap and hygiene products from more than 2,150 hotel and resort partners to children and families at risk for acute respiratory infection and diarrheal diseases.
Clean the World operates several soap recycling operation centers in around the world -- including one in Las Vegas. There, partially used bars of soap undergo a sterilization process, and are re-shaped and re-packed.
Since it was founded, Clean the World has distributed more than 20 million bars of soap to children and families in 96 countries worldwide and diverted more than 5.1 million pounds (2,550 tons) of hotel waste from polluting local landfills. Over the years, Clean the World has involved more than 9,100 volunteers in the organization's mission. In a few days, we will be adding to that total.
On Wednesday, September 17, we are sponsoring a Capitol Hill Hygiene Kit Initiative. Members of Congress and congressional staffers will gather in the U.S. Capitol building to assemble hygiene kits as part of a national soap recycling and hygiene initiative. Approximately 500 hygiene kits will be assembled this Wednesday, and the Capitol Hill event kicks off a blitz of similar events across the country in the lead up to Global Handwashing Day on October 15th.
Over the course of the next 30 days, Clean the World and its partners will be assembling hygiene kits at events across the country. The goal is to assemble a total of 50,000 kits, with the assembled kits being donated to relief organizations throughout North America -- especially those helping the very poor and those who are homeless, including military veterans.
We know what we are doing is just a small part of a larger national effort, but it is important. We hope you will join us in this simple, but powerful, initiative.
If you would like to get involved in a Clean the World hygiene kit build near you, you can find more information on their website here.
Calling all HuffPost superfans!
Sign up for membership to become a founding member and help shape HuffPost's next chapter