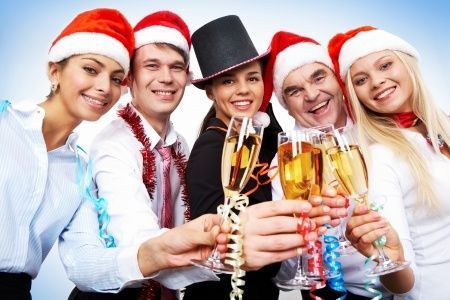 Remember the guy at last year's office holiday party who put his foot in his mouth when he was overheard bad mouthing his manager who stood right behind him? Or the woman everyone was talking about because she showed up scantily dressed as if she were going clubbing?
Although the razzle and dazzle of the office holiday party has been toned down over the years, its potential ramifications for your career have not diminished.
Following are 4 "Do's" and 4 "Don'ts" for your work holiday party that may influence your career -up or down the corporate ladder.
1. Go! Whether you love them or hate them, it will serve you well to be seen at them. For many companies, this party is not really a party as much as it is a glorified work event. Even if attendance is touted as optional, that doesn't mean it really is.
Seize the opportunity to socialize with people you normally don't get a chance to interact with outside office hours. You might be surprised how much you enjoy your colleagues presence outside the constraints of the corporate setting.
2. Network. It's not good enough to just show up. Since many of the movers and shakers in your company may be in attendance, take advantage of it.
Yes, the office holiday party can be a great way to network with management and executives whom you would otherwise might rarely have access to. If you already have a relationship with them, make sure you say hello. If you have never met them before, briefly introduce yourself.
In a subtle and very politically correct way, let all the key players know you are there, without being a nudge. (You took the time to go- you might as well make the most of it).
3. All behavior in moderation. Don't be seduced into thinking you are out with your buddies or girlfriends just because the wine is flowing, the music is blaring and the food is delicious. Be polite, cordial and friendly to everyone.
At the risk of sounding repetitive, this is, in reality, a work function, masquerading as a party.
The people you are "partying" with are still your colleagues, subordinates and supervisors. This fact doesn't change after the fifth drink. Don't be lured into a false sense of camaraderie.
4. Dress appropriately. Now is not the time to come slinking in with a low-cut dress or way too high skirt.
If casual dress is an appropriate option, avoid ripped jeans or a sweatshirt with your favorite brand of beer blazing across its front.
Rule of thumb -- the venue dictates the dress code. If you are in doubt, ask someone who knows. Every office has that "someone" who knows these things.
1. Don't drink too much. Nobody fondly recalls the person dancing on the bar with a lampshade on his or her head the next day.
2. Don't overeat. This prevents you from talking with a mouth full of food and /or having meatball sauce dripping down your chin staining your tie or shirt.
3. Avoid talking too much -- about anything -- especially yourself. No one wants to hear you ramble on about how brilliant your 6-year-old daughter is or your upcoming ski vacation.
Note: Minimize talking about your work. This may be difficult to do because the one thing everyone in attendance shares is work.
Therefore, if you are asked about your job, keep your response short and sweet. Remember- less is more. Don't bore others with the detailed nuances of your work or achievements. Nobody really cares.
If you're an introvert and find it difficult to strike up a conversation, ask people about themselves. This will get you off the hook because most people love to talk about themselves (even though this contradicts what I just said you shouldn't do!)
4. Do not be offensive in anything you say or do -- to anyone!
Don't say anything to anyone that you would never dream of saying in a professional environment.
Do not engage in any gossip -- at all! (Especially in the bathroom -- you never know who is in a stall -- ladies, you know exactly what I'm talking about)!
Avoid all conversational landmines, i.e., politics, religion, any emotional "hot" buttons. Now is not the time to solve world hungry or create new domestic or foreign policy.
Be complimentary while being genuine. There must be at least one kind word you can say to everybody!
The office holiday party is a great opportunity to socialize with people whom you spend the better part of your day with. It can as easily help your climb up the corporate ladder as it can push you down.
Enjoy yourself while being responsible. As I tell my kids, there are no do-overs!
To learn more about Dr. Patty Ann visit:
Calling all HuffPost superfans!
Sign up for membership to become a founding member and help shape HuffPost's next chapter