A company in Japan seems like it's pretty much purr-adise for cat lovers.
Not only does Ferray, an IT Firm in Tokyo, allow employees to bring their cats into the office, but the company gives workers a bonus if they adopt a cat.
Fukuda has been welcoming office cats since 2000, when one of his employees asked to bring a pet cat to work. Currently, nine cats hang out in the office regularly.
The feline-friendly polices have made the news before, photos and videos of the adorable office aides are making the rounds again this week. Looking at pictures and video of this office, it's not hard to see why people are sharing these images once again.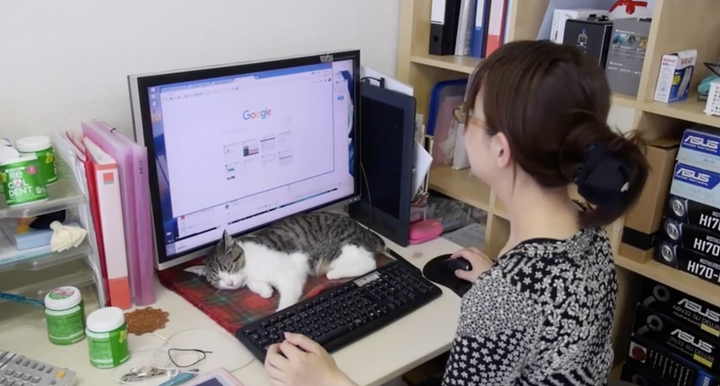 The office cats also have their own excellent Twitter account, @v_ume, AsiaOne reports. Even if you can't read Japanese, it's a pretty good account for the photos alone.
By promoting a cat-friendly workspace, the company aims to counteract stress, a plan that has some solid reasoning behind it. Researchers have found links with animals can improve a person's mood and counteract loneliness. Some studies have even found a link between pet ownership and decreased blood pressure and cholesterol. And most people who have ever pet a purring cat can attest that the act has a pretty soothing quality.
Of course, having cats around the office isn't always ideal for productivity. Fukuda told the AFP that the company has a slight problem with cats sometimes shutting down the computers by stepping on the switches.
Maybe that's just their way of telling people it's time to take a break.
REAL LIFE. REAL NEWS. REAL VOICES.
Help us tell more of the stories that matter from voices that too often remain unheard.
BEFORE YOU GO
PHOTO GALLERY
Cats In Boxes