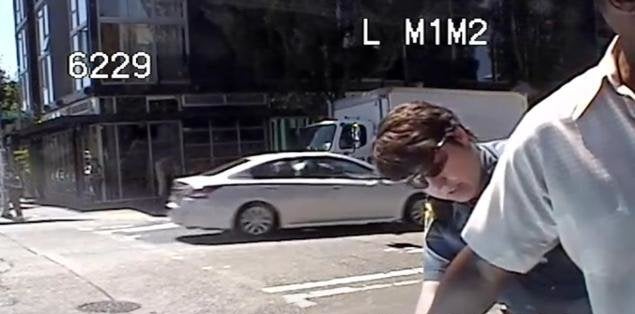 Seattle Police Officer Cynthia Whitlatch was fired Tuesday for showing racial bias and a lack of remorse when she improperly arrested a 69-year-old black man who was using a golf club as a cane.
"I was disappointed by your failure during your Loudermill hearing to take any responsibility, or show any understanding that your conduct at issue here was inappropriate," Seattle Police Chief Kathleen O'Toole wrote in her decision to fire Whitlatch. "In particular, when I asked you what if anything you would do differently in retrospect, you stated that you would do nothing differently."
In July 2014, Whitlatch arrested William Wingate, then 69, claiming he had swung a golf club at her patrol car. He was convicted of unlawful use of a weapon, under a plea deal in which the charge would be dismissed if Wingate had no other offenses for two years.
However, the Seattle Police Department released video of the incident in January 2015 that showed Whitlatch's claims to be false. The video indicates that Wingate was merely leaning on the club, which he claims to have used as a cane for years. The police department apologized to Wingate and worked with the city attorney's office to get the charges against him dismissed early.
Whitlatch was reassigned to desk duty and given counseling, and the department deemed the case resolved. Later in the year, though, O'Toole was made aware of troubling racial comments that Whitlatch made on her Facebook page in the aftermath of the riots in Ferguson, Missouri. She said she was tired of "black peoples paranoia" and wrote of "chronic black racism that far exceeds any white racism in this country."
In response, the Seattle Office of Professional Accountability launched a probe against Whitlatch, eventually finding that she had violated department policy in her arrest of Wingate. O'Toole signed off on that decision and filed the termination order Tuesday.
The police chief wrote in her decision that Whitlatch refused to take accountability for her actions in hearings on the incident.
"Considerable circumstantial evidence indicates that these deviations and your approach to the civilian were motivated by bias," O'Toole wrote.
"Your inability to understand, even in hindsight, that your behavior was unnecessarily aggressive, an abuse of discretion, and negatively impacted the community's confidence in this police service, offers me no pathway to confidence that your behavior will improve or change," the decision continued. "Without this ability to learn from your mistakes, understand how you can improve and do better, and recognize your own errors, you are unable to effectively function as an officer."
O'Toole also slammed the officer for assuming that officials mistreated her based on her race, noting that Whitlatch believed a black judge and black deputy chief dropped Wingate's charges because she was white.
After Wingate's arrest and during the hearings, Whitlatch denied any racial bias or misconduct.
The Seattle Police Department declined to comment further, telling The Huffington Post that Tuesday's termination order "speaks for itself."
The Seattle Police Officers' Guild is expected to appeal the termination, according to The Seattle Times. Guild officials didn't immediately return calls for comment.
Wingate, a veteran and retired bus driver, sued Whitlatch and the city of Seattle in April, alleging race discrimination, false imprisonment and violation of his civil rights, the Times reports.
Popular in the Community