During the big ride today we had a law enforcement officer, that looked as if he was pulling over a truck, stepped out of his vehicle with mace in hand and began spraying it towards the riders with intention of causing an accident!!! This is a video EVERYONE NEEDS TO WATCH!! Law enforcement is here to protect and serve, not intentionally try to harm others... Please, share this video with others to raise awareness about these particular behavior's being displayed by many of our local law enforcement employees.***THIS WAS BEYOND DANGEROUS***

Posted by Chase Stone on Monday, March 14, 2016
Update Mar. 15: A Texas police officer has been removed from uniformed patrol duties after video surfaced Monday showing him appearing to pepper spray passing motorcyclists.
The Fort Worth police officer, only identified by his last name of Figueroa, is a six-year veteran of the force, his department said in a statement Monday night.
"He has been placed in an administrative capacity pending the investigation. The Fort Worth Police Department takes any complaint of officer misconduct very seriously and this incident will be investigated thoroughly," the department said.
A body camera and a dash cam from the patrol car were both recovered and will be reviewed as part of their investigation. They are also working to locate witnesses and identify all people involved, the department said.
In the 30-second video posted to Facebook Monday, a Fort Worth police officer gets out of a marked cruiser and appears to spray something at passing bikers while parked on the side of a highway.
Chase Stone, who claims to have shot the footage Sunday, uploaded the video.
"Law enforcement is here to protect and serve, not intentionally try to harm others," Stone wrote in the Facebook post.
Fort Worth police confirmed to The Huffington Post that the department is investigating the video.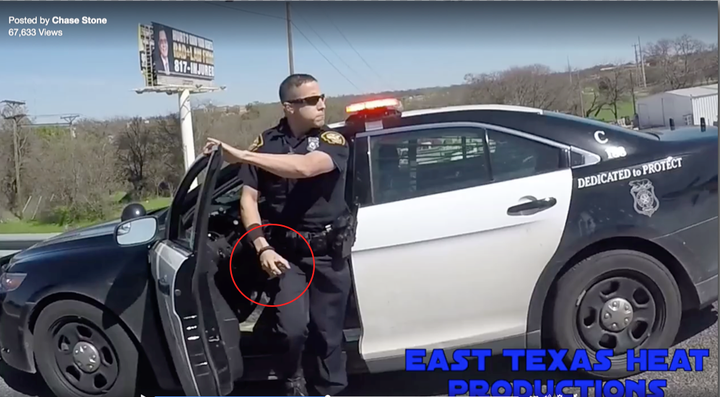 A police spokesperson told WFAA that the department has not yet been able to reach Stone. Fort Worth officers do carry pepper spray, the department said.
As of Monday afternoon, the video has been viewed more than 67,000 times and shared more than 2,300 times.
Several Facebook users have pointed out that by law, the bikers should have moved one lane over from the officer, who appeared to be making a traffic stop of a pickup truck parked directly ahead of him.
In a situation like that, if a driver is unable to exit the lane closest to the officer in time, they must reduce their speed by 20 mph. This so-called Move Over law is effective in all 50 states.
Stone did not immediately respond to a request for comment.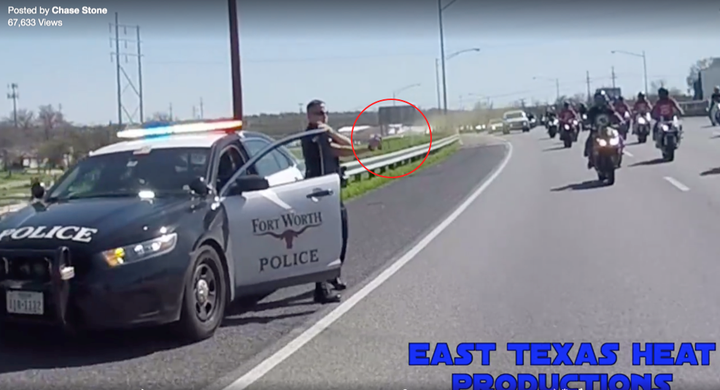 Calling all HuffPost superfans!
Sign up for membership to become a founding member and help shape HuffPost's next chapter
BEFORE YOU GO