A Fort Lauderdale police officer was suspended after footage emerged in which the cop appears to slap a suspect in the face.
Ramirez takes hold of his arm, then Laclair, who is dressed in a gray hoodie, falls to the ground. It's not clear from the video if Ramirez pushed him down. Laclair swears at the officer, then tells him he wants to "go pee."
"Relax," Ramirez says, pointing at Laclair, who remains on the ground. "I'm telling you right now what is going to happen. You're not supposed to go pee here."
"I'm not f***ing around with you!" Ramirez says to a stunned Laclair. "I tell you what to do and you do it. It's that simple."
Laclair was arrested on trespassing charges. He was released from jail Monday evening.
The Fort Lauderdale police are investigating the incident. Suspension with pay is standard procedure when an officer comes under investigation.
The video comes amid an ongoing national conversation about the use of force by police.
Captain Frank Sousa tried to distance the department from Ramirez's actions. "If the officer is wrong, I can assure you and the public that this agency and this department is going to do whatever it needs to do to assure that that doesn't happen again, and it's not a reflection of the men and women in this agency," Sousa said.

Like Us On Facebook |

Follow Us On Twitter |

Contact The Author
Related
Before You Go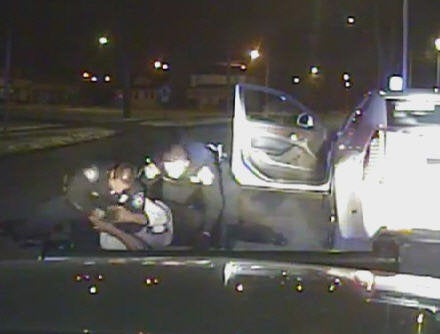 Police Brutality Incidents
Popular in the Community