A federal investigation is looking into the police shooting of Terence Crutcher in Tulsa, Oklahoma, which has also prompted a deeper probe into the history and past conduct of the cop involved in his death.
The shooting, which is one of the latest in a string of police killings of black men and women, has gained nationwide attention. That has put Shelby's work history under heavy scrutiny. More information released this week on her professional background and personal life, some disclosed by her attorney Scott Wood, could help to paint a more complete picture of her. Information of this sort is routinely presented by law enforcement and repeated by the media, often with the effect of unfairly characterizing suspects as "thugs" predisposed to commit crimes. Shelby's background is reported here to highlight this double standard in how we talk about the character of cops in contrast to civilian suspects of color.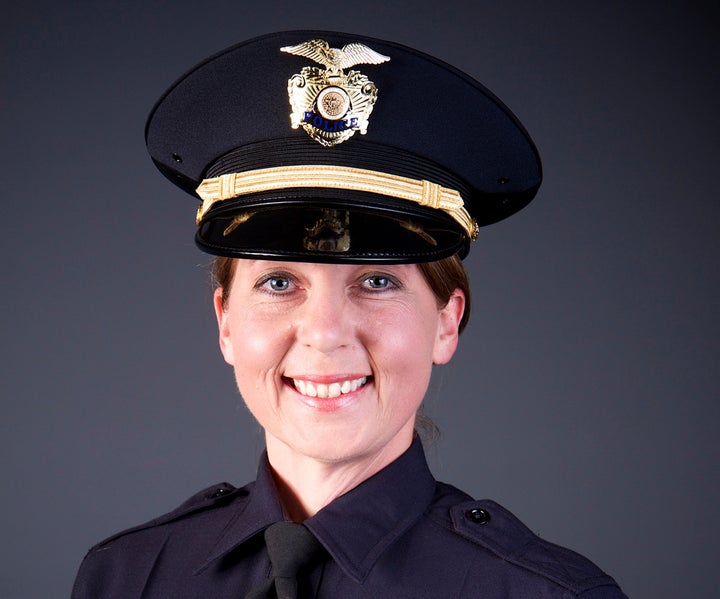 Shelby joined the Tulsa police force in 2011 after having served as a deputy in the Tulsa County Sheriff's Office since 2007, according to NBC News. Her husband is also a police officer and was on duty the night Crutcher was shot. In fact, Dave Shelby was in the helicopter that flew overhead and recorded the moments leading up to the shooting. In that video, released by the Tulsa Police Department on Monday, an officer is overheard describing Crutcher as a "bad dude." However, a Tulsa police spokesman said Dave Shelby did not make the comment.
Betty Shelby has divorced and remarried at least once. According to the job application she submitted to the sheriff's office in 2007, her ex-husband's new wife filed a protective order against her in 2002 to put an end to harassing phone calls the new wife claims Shelby made. The order was eventually denied and Shelby maintained her innocence.
Nearly a decade earlier, Shelby noted on the same application, a breakup with her then-boyfriend led to the two damaging each other's cars. Temporary restraining orders were filed and eventually tossed out.
Shelby is now a drug-recognition expert, which Wood said she received training for. She said she believed Crutcher was under the influence when she encountered him. Police said they later found PCP in Crutcher's car, but he is not the only one in the case who reportedly has a history of drug use. In the same job application where Shelby noted various domestic disturbances, she marked "yes" under a prompt that asked whether she had "possessed and used illegal drugs" in the past. Shelby said she used marijuana twice when she was 18 years old.
Shelby also has two excessive force complaints, according to KJRH. Both of those cases were held to be unfounded. KJRH also reports that Shelby has four letters of commendation as well as an Oklahoma meritorious service award.
More information on the shooting case is expected to be released as the investigation continues.
Shelby, who is currently on administrative leave, is now a rightful target of the same scrutiny and investigation that many minority victims of police shootings have experienced. Sure, Shelby's previous admittance to drug use as a teen probably isn't relevant to this case, but minor infractions ― like marijuana use ― are never left out of a black victim's narrative, no matter how irrelevant. Let's be clear: Incidents like these do not have a bearing on one's guilt or innocence in a specific incident but if we are to put emphasis on the background and history of victims of police shootings, it's only fair to highlight those of the officers who killed them.
As for Crutcher, those who knew him best are able to truly tell the story of who he was and what he stood for.
"You all want to know who that big bad dude was? That big bad dude was my twin brother," Crutcher's sister Tiffany said at a press conference following his death. "That big bad dude was a father. That big bad dude was a son. That big bad dude was enrolled at Tulsa Community College… That big bad dude loved God. That big bad dude was at church singing with all his flaws every week. That big bad dude, that's who he was."
Correction: An earlier version of this story incorrectly described the position of Crutcher's hands during the encounter and when he was Tasered. His hands were raised in the moments before he was shot. Another officer deployed his Taser before the shot was fired.
Before You Go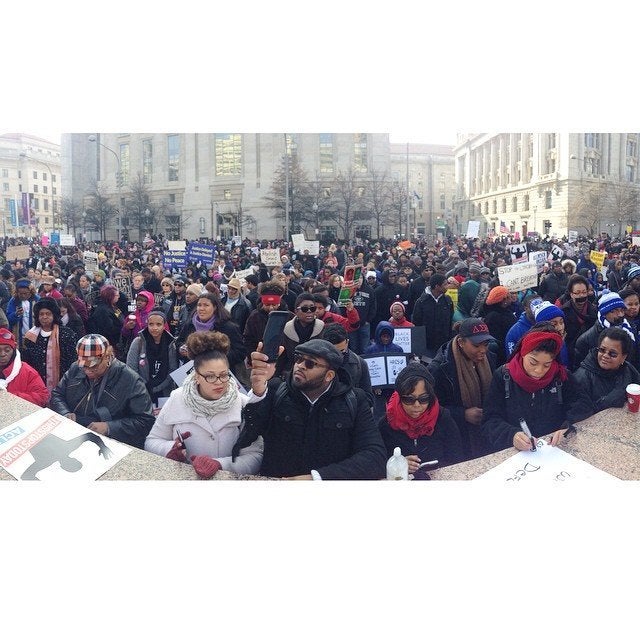 Powerful Black Lives Matter March In Washington
Popular in the Community