The Barack Obama Inaugural Committee is releasing an official inauguration poster playing off past themes and marking the history of January 20th in a uniquely Obama fashion.
Designed by famed street artist Shepard Fairey, the print, created especially for the 2009 Inauguration, boldly declares "BE THE CHANGE."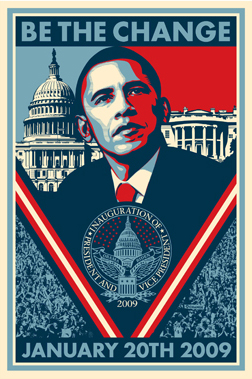 It is the next step in the branding of the presidency -- a development that is not unique to Obama but one that he has used better than any other politician in recent memory.
Fairey's initial design -- a guerrilla style, dark-colored portrait of the then-candidate -- proved to be a political and cultural phenomenon during the campaign. The current edition plays heavily off those themes and it seems likely to be a major symbol during the inauguration festivities. The image will be available on buttons, lapel pins, stickers and t-shirts.
Popular in the Community