Under the basketball backboard in the gym of the Sunset Park Recreation Center, the District Attorney of Brooklyn, Eric Gonzalez, wiped his forehead and peered over his shoulder as Hertencia Petersen spoke about the false promises of politicians.
Petersen, the aunt of Akai Gurley, murdered by a police officer in Brooklyn's Pink Houses in 2014, wanted to know if Gonzalez, running for re-election this year, agreed with the decision of the late Ken Thompson, the former Brooklyn DA, to not seek jail time for Gurley's killer, Peter Liang. While Public Advocate Tish James, who, along with Gonzalez, agreed to participate in our most recent town hall on Broken Windows policing, said she disagreed, Gonzalez doubled down on the controversial move.
That might've been all anyone needed to hear to figure out how seriously a prosecutor wants to reform a system that more and more people say is fundamentally broken.
While the will to hold police officers accountable apparently hasn't changed in Brooklyn, there were, however, rhetorical gestures about lessening the impact of low-level police enforcement. Gonzalez, whose office this year announced that they'd try to alter prosecutions of undocumented New Yorkers, said he agreed with the announcement of his Manhattan counterpart, Cyrus Vance Jr., earlier that day that signified Manhattan prosecutors would attempt to divert fare-beating arrests into "decriminalized" outcomes – like programs or community service (note: we're not impressed).
After decades of criminalization for Broken Windows, or quality-of-life, offenses, prosecutors were parroting the talking points of activists and advocates by pointing out that the criminal justice system was unjustly punishing New Yorkers (overwhelmingly of color) for, well, bullshit things like jumping a turnstile.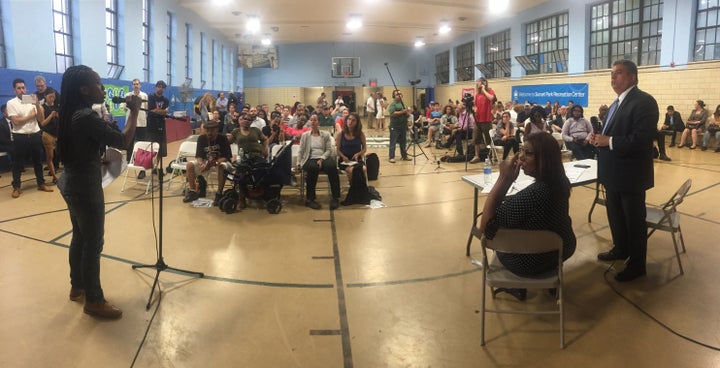 A few thoughts, of course, quickly come to mind: are they trying to co-opt a grassroots movement? How can Gonzalez, whose office, as public defenders point out to us, continues to mercilessly prosecute and seek bail against farebeaters, be against Broken Windows? If James was one of the loudest voices in 2014 to ask for more police officers be added to the NYPD, how can she talk about a criminalization problem with a straight face?
There have been other local elected officials circling the wagons around Broken Windows, perhaps the country's most celebrated policing philosophy. Councilmember Rory Lancman has tried repeatedly to position himself as a key Broken Windows critic despite also clamoring for more cops in 2015. Councilmembers Ritchie Torres, Carlos Menchaca and Antonio Reynosealso wrote in April that Broken Windows, which they described as discriminatory, needed to be ended if New York City is to be a real sanctuary city (which sounded an awful lot like what we, ICE-Free NYC and others were screaming in the streets back in February).
Everyone seems to say they want to end Broken Windows. But do they actually want to end it or just take some of the edge off of it?
While it's a safe bet that prosecutors and politicians aren't going to solve the problems themselves, engaging and pressuring them might help turn the tide even further. One important piece: don't ask for Broken Windows offenses to be "decriminalized" which could mean a civil summons instead of a criminal summons. A fine, even a civil fine, is still a fine. It's punishment, often for things that don't need any sort of sanction whatsoever, like street vending, spitting or being too poor to pay the increasing subway fares.
Check out our evolving "People's Agenda to End Broken Windows" for real community-based solutions. We need more input from New Yorkers of color who are the primary targets of this type of police enforcement. We're the answers to police problems. Politicians like Mayor Bill de Blasio who continually defended Broken Windows (again and again and again) need to sweat as they hear our voices.
Last week, at a press conference the morning before the town hall, de Blasio, who has refused to fund subsidized Metrocards for low-income New Yorkers, sided with the NYPD on enforcement, telling reporters "there's no way in hell anyone" anyone should be avoiding the fare "based on what mood they're in or what they had for breakfast." Apparently the most allegedly progressive Mayor in America thinks people hop the turnstile for the fun of it.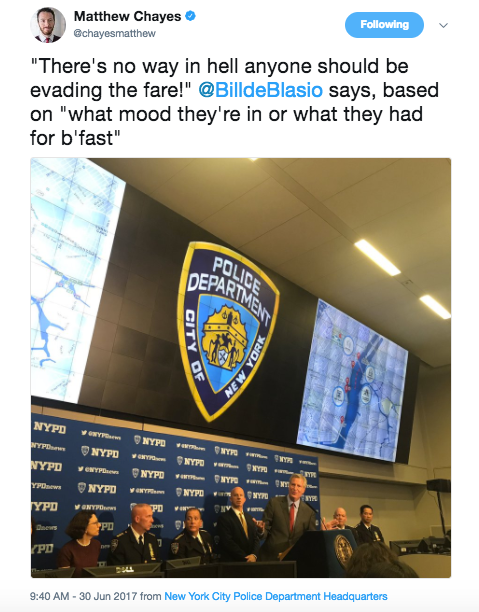 Related
Popular in the Community