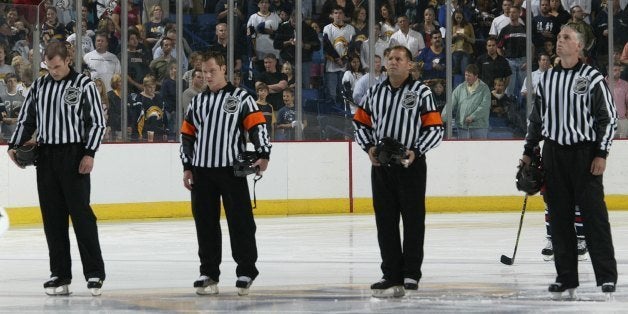 Back in the mid-1990s, the National Hockey League made a decision to take officials' names off the back of their sweaters. In more recent years, even the numbers on the sweaters have shrunk in size. Little things like the NHL never publicizing that a certain official is working a milestone game such as his 1,00th or 1,500th are also part of today's reality.
I understand why these things were done. I strongly disagree with it. But I understand it.
Ostensibly, the reason for why it was done was that there were a lot of young referees breaking into the NHL, and commissioner Gary Bettman hoped that by removing the names off the back, it would reduce the chance for criticism. The veteran guys like myself, Kerry Fraser, Don Koharski and Bill McCreary were able to deal with that aspect of the job but there was a fear that many of the young officials would be overwhelmed.
There were other things at work, too, in all likelihood. In 1993, not long before the Players' Association locked horns with Mr. Bettman -- who is very good at the job he was hired to do, and is someone who already treated me kindly on a personal level, but is as hard-nosed of a negotiator as you will find anywhere -- the NHL Officials Association had a contentious go-round with the League that some readers may recall.
I have no doubt that part of the NHL's original motivation in making its officials nameless stemmed in part from the League wanting more of an upper-hand in the future negotiations. Mr. Bettman is someone who definitely thinks in long-range terms.
At the time the decision came down to remove the names, a frequently raised point from those in favor of doing so was that no other sport in North America had its officials wearing their names on their uniforms. My rebuttal to that was that hockey isn't like any other sport.
In hockey, there was always a certain intimacy between the flow of play and the officials overseeing it while also enforcing the rulebook. We are in constant motion with more individual and collective decisions.
In baseball, only the home plate umpire has frequent decisions to make over the course of the game. However, there is a significant time lapse between each decision as the pitcher and catcher agree on the next pitch and the pitch is delivered. The umpires on each base have lesser volumes of calls to make. In any given game, the third base umpire may not have a single safe/out to make and just one or two fair/foul calls on a ball hit down the line.
In football, the officiating crews are much larger in number than in hockey -- with each of the officials watching a certain area of the field of play -- and also lengthy delays between calls.
Basketball has its refereeing teams in motion quite a bit but there is a somewhat lesser array of calls to make and the foot-traffic game does not move quite as fast as the skate-propelled game on ice.
I say this with a huge amount of respect for officials in all sports. We all have difficult, thankless and often lonely jobs out there. My own family has been involved in officiating multiple sports. For example, apart from his NHL refereeing and Stanley Cup-winning coaching success that made him a member of the U.S. Hockey Hall of Fame, my granddad, Bill Stewart Sr., was a highly decorated National League umpire in Major League Baseball for decades and worked a slew of All-Star Games and World Series during his career in that sport.
I mean no disrespect to my brethren in other sports. I just think that hockey is the toughest of all the sports to officiate.
In hockey especially, it is hard for an official to truly be inconspicuous out there nor should he be afraid of the attention that inevitably comes from making tough and controversial calls. A truly good official has to project fearlessness and not be afraid to be part of the game. Be aggressive and be yourself. Treat it like the Peace Corps motto and make it the toughest job you'll ever love.
Over the years, many of my critics -- including the supervisors who took over after John McCauley's death -- said that I "tried to be the show" when I officiated. I strongly object to that characterization. I was exuberant, aggressive and fearless, but I cared only about the game and not getting my name or face on television or the newspapers.
In more recent years, the NHL has tried to make its officials voiceless as well as nameless and faceless. Officials are not allowed to have a presence on social media (yet the league and teams actively promote players' Twitter pages and the like). Officials are also banned from being quoted in the media.
During my active officiating days, I willingly spoke with the media. In fact, I used to catch flak for talking to newspaper reporters after games (or at post-game hangout spots, because any reporter worth his salt knew where he could find us when we left the arena). I never put myself out in the media for the sake of personal publicity, no matter what some people claimed. I talked to the public because I believed then and now that when there is a tough call that was made, people deserve an explanation of the call. Whether they agree with it or not, I put the explanation out there.
Quick tangent here: I hate "makeup calls" and I did not believe in them either as an active referee or in my later positions as an overseer of officiating. Hell, I didn't even like even-up calls when I was a player. My parents always taught me that two wrongs don't make a right. Making a second bad call to "atone" for a previous one is not good officiating.
Make a mistake? Own up to it, and say that it wasn't your best call. Then move forward and work even harder to get the next set of calls right. I always tried to live up to that ideal whenever I was on the ice. Maybe I didn't always succeed -- just as a player who turned over a puck might have another turnover a few shifts later -- but that was always the objective.
Something that very much worked to my benefit in the early part of my refereeing career was that I unfailingly felt that my supervisors and League bosses were invested in seeing me succeed. Sadly, in the last quarter century the NHL has made failure a self-fulfilling prophecy through outdated recruiting practices, poor coaching, overemphasis on negative reinforcement and an almost paranoid fear of criticism.
National Hockey League officials are paid to judge, yet they are increasingly discouraged from using their judgment in a misguided attempt to create uniformity. The unseen replay officials in Toronto have increasingly taken over making the rulings. In the meantime, there is frequent confusion about what is even reviewable and when a coach can ask an official to take something to replay.
It is hardly uncommon for an on-ice official to be badgered at the scorer's table into sending something to the replay folks in Toronto only for the situation to be punted right back because it's not a reviewable play -- which the on-official knew and said in the first place. All the while, more and more time is wasted.
Meanwhile, on a macro level, officials receive faulty coaching, being instructed to put themselves in less-than-ideal position to see crucial plays. This is because the powers-that-be places prime emphasis on minimizing the risk of getting caught up in the play rather than maximizing the chance of the right call being made. They are given a set of inconsistent and poorly worded rules (in which they have no voice in creating or refining).
Basically, it's officiating by bureaucracy and not through expertise and judgment. The NHL conditions its officials to fear the game and to avoid criticism.
All this goes with the turf of being an official in today's NHL game. Rather than constantly tearing down officials, I think more people should recognize just how difficult their job is. I also think that putting an official's name on the back of his sweater is a way of putting his signature on his work. The more nameless, voiceless and faceless that officials are made in steering their own profession, the further we move away from the ideals that everyone says they want.
Paul Stewart holds the distinction of being the first U.S.-born citizen to make it to the NHL as both a player and referee. On March 15, 2003, he became the first American-born referee to officiate in 1,000 NHL games.
Today, Stewart is an officiating and league discipline consultant for the Kontinental Hockey League (KHL) and serves as director of hockey officiating for the Eastern College Athletic Conference (ECAC).
The longtime referee heads Officiating by Stewart, a consulting, training and evaluation service for officials. Stewart also maintains a busy schedule as a public speaker, fund raiser and master-of-ceremonies for a host of private, corporate and public events. As a non-hockey venture, he is the owner of Lest We Forget.
Stewart's writings can also be found on HockeyBuzz.com every Monday, Tuesday, Thursday and Friday. He is currently working with a co-author in writing an autobiography.
Popular in the Community