Rapper Offset faces an ongoing social media backlash even after apologizing for homophobic lyrics.
The Migos member was featured on YFN Lucci's new song "Boss Life," in which he delivers the line, "Pinky ring crystal clear, 40K spent on a private Lear / 60K solitaire / I cannot vibe with queers."
The song came out in December, but criticism of the lyrics grew this week. While many LGBTQ people have moved to reclaim the word "queer" in recent years, the way Offset used the word has many people furious.
Offset said he was sorry Thursday on Instagram, insisting that he hadn't intended to offend anyone. His post included a screenshot showing some of the dictionary definitions for "queer" and a lengthy explanation of why he chose the term.
"When I wrote that I was thinking of words that could rhyme with others (here, lear, solitaire, bear)," he wrote. He added that by "queer," he didn't "mean someone who's gay."
Offset said "queer" just so happened to rhyme with the other words he was using. He claimed that he was actually referring to paparazzi and "lame people who film you, post it and stalk you."
He also apologized on his Instagram story, saying he loves his fans regardless of race or sexuality.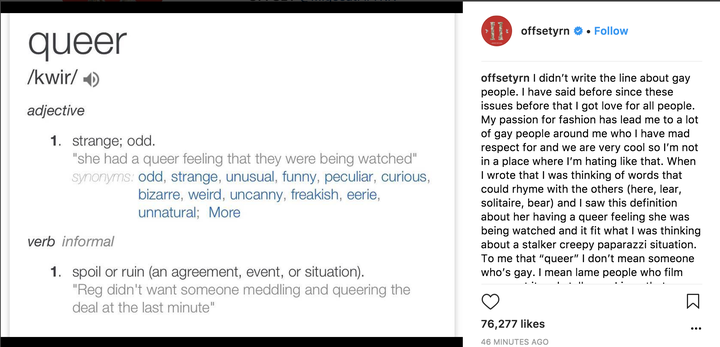 Some people on Twitter pointed out that Offset's response focused on alternate uses of the word "queer," rather than his own lack of sensitivity and the most obvious interpretation of his lyrics.
This is also not the first time the Migos trio has riled the LGBTQ community.
In a 2017 Rolling Stone interview, Migos member Quavo seemed to condemn openly gay rapper iLoveMakonnen for coming out when he said, "The world is fucked up."
Following media condemnation, Quavo gave an apology similar to Offset's, saying that his comment was taken out of context. He claimed that the world's prejudice, not Makonnen, was the subject of his disdain.
Support HuffPost
Every Voice Matters
Popular in the Community