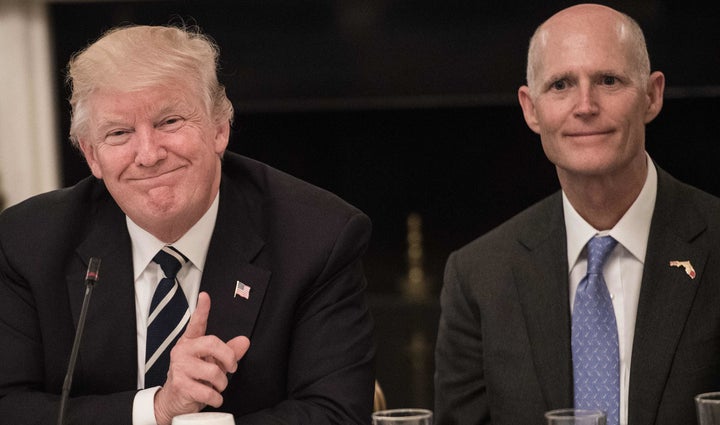 WASHINGTON — Three months before Florida Gov. Rick Scott (R) announced his bid to unseat Sen. Bill Nelson (D), the Trump administration handed its longtime ally and soon-to-be Senate candidate a political victory.
Zinke's seemingly arbitrary decision came less than a week after Trump and his team unveiled the sweeping plan, which would open nearly all U.S. waters to oil and gas drilling, just two days into a 60-day public comment period and amid the administration's push for "energy dominance." The trip, which POLITICO Florida revealed was orchestrated well in advance, seemed aimed at helping Scott garner support among environmentalists and boosting his chances against Nelson in November.
Florida Republican strategist Mac Stipanovich told HuffPost that if the administration has indeed taken Florida off the table, Scott would stand to benefit in this year's race. But no one is quite sure that's the case.
"It appears to have been an attempt to inoculate Rick Scott against his previous pro-drilling stance — an attempt that has gone somewhat awry and left a lot of ambiguity and unanswered questions," Stipanovich said.
In its effort to help Scott, the Trump administration has walked into a legal mess, which likely explains Zinke's sudden change in tone. In a February letter to the interior secretary, the attorneys general of 12 states threatened legal action if the administration did not terminate its proposal or drop areas off their respective coasts from consideration. And last week, Rep. Raul Grijalva (D-Ariz.) called on the United States Office of Special Counsel to investigate whether Zinke's Florida trip violated a federal law prohibiting government employees from engaging in political activities.
That an administration hell-bent on boosting domestic fossil fuel production chose to wade into the race on this particular issue is surprising. And it's hard to see how the potential benefit to Scott was worth the trouble the administration created for itself.
Stipanovich said he expects Nelson's campaign and the green lobby will continue to point to Scott's support for expanded offshore drilling during his first campaign for governor in 2010, in the wake of the Deepwater Horizon explosion. (PolitiFact declared Scott's recent reversal a "Full Flop.") But with both candidates now publicly opposing offshore drilling, Stipanovich doubts it will become a hot-button issue in the race.
""It appears to have been an attempt to inoculate Rick Scott against his previous pro-drilling stance — an attempt that has gone somewhat awry and left a lot of ambiguity and unanswered questions.""
Steve Schale, the Democratic strategist who helped former President Barack Obama carry Florida twice, said Scott's campaign style is to take potentially contentious issues off the table.
"In Scott's world," he said, "getting to a push on oil drilling is a good thing."
Scott — who rejects the scientific consensus that climate change is caused by humans and as governor slashed the budget of the state's Department of Environmental Protection — has apparently realized that environmental issues could play big in the Senate election. In October, he proposed increasing funding for Florida environmental projects by $220 million, to $1.7 billion. And in a statement swinging back at the Trump administration's offshore drilling proposal, Scott said his "top priority is to ensure that Florida's natural resources are protected."
Schale said that the election will likely be decided in the margins and that oil and gas development could be a significant conversation point among moderate swing voters, in particular in the western part of the state. But he added that important issues during a conventional election — in this case, oil drilling or gun control — could nonetheless be completely sidelined by a referendum on Trump.
"I'm just not sure any of that matters anywhere near as much as" Trump's approval come November, Shale said.
Scott officially announced his Senate candidacy Monday, saying it's time to "stop sending talkers to Washington" and promising to "shake up" the nation's capital. He made no mention of offshore drilling, but on his campaign website he notes that Florida has made "historic investments" in the environment under his watch.
Nelson, a three-term incumbent, has fought for years to prevent new drilling off the Florida coast and notched a 95 percent on the League of Conservation Voters' 2017 scorecard. He has repeatedly skewered Zinke over the Florida decision, calling it a "political stunt."
On Sunday, a day ahead of Scott's official announcement, the League of Conservation Voters launched a campaign called "Rick Roll Rick Scott." In a blog post on Medium, the advocacy group accused the Florida governor of "attempting to deceive Floridians about his record on offshore drilling, climate change, and protecting the beaches and other special places that drive Florida's tourism economy."
The race between Scott and Nelson is expected to be both contentious and expensive. Politico reported Monday it could cost up to $200 million, which would top the record $180 million spent on the Pennsylvania U.S. Senate election in 2016.
Popular in the Community