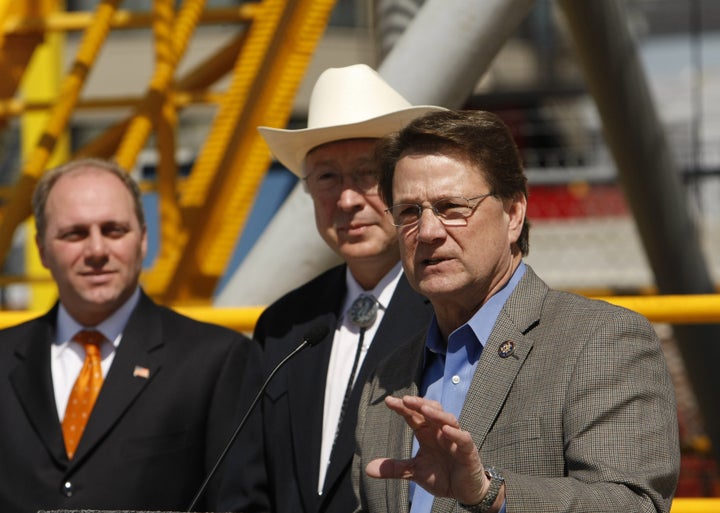 Louisiana Rep. Charlie Melancon has a message for Sen. David Vitter: you're a liar.
Melancon, a Democratic congressman from the state's third district who is vying to capture Vitter's Senate seat, said exactly that about his opponent this week after Vitter asserted that Melancon supports the Obama administration's moratorium on offshore drilling.
"He's out there doing what David Vitter does all the time and that is lying," Melancon said during a conference-call-turned-vitriolic-rant on Wednesday. "First, he sent out a solicitation which was a lie. Second, he started robocalling people around the state basically perpetuating the same lie... I want it out that David Vitter is doing another David Vitter!"
The moratorium puts Melancon in a tough spot: He wants to portray Vitter as being in the pocket of BP, but he doesn't want to support the moratorium which is hugely unpopular in Louisiana where residents rely heavily on the oil industry for jobs.
A recent estimate by the Louisiana Oil and Gas Association shows that up to 75,000 workers in the Gulf Coast area may lose their jobs as a result of the moratorium, and HuffPost's Laura Bassett reports that for each rig idled by the work stoppage, up to 1,400 jobs are at risk.
"Charlie Melancon couldn't be any clearer: he opposes the President's moratorium on offshore drilling," Jeff Giertz, a Melancon spokesman said in an e-mail to the Hill. "David Vitter's just trying to distract attention from his efforts to bail out BP by lying about Charlie's record -- Vitter's lied to Louisiana once, and he'll lie again."
Vitter has taken some heat for seeking to limit BP's legal liabilities related to the spill, but he has vocally opposed Obama's six-month moratorium on deepwater drilling. The incumbent senator has also sought to link his challenger's position with Obama, who is unpopular in Louisiana.
In a recent email to supporters Vitter wrote: "Charlie Melancon's support for President Obama's offshore moratorium will kill Louisiana jobs."
That accusation and others have enraged Melancon, who announced to reporters on Wednesday: "He hasn't accomplished much and he's not respected, so his way of trying to make himself look good is to find a way to make other people look bad."
Melancon walked a fine line as he explained his position on deepwater drilling. "We need to find a place between 'Drill Baby Drill!" and the moratorium," he conceded. "But I also start out by saying I don't support the moratorium and I've been consistent on that."
Calls to Vitter's office were not returned.
Calling all HuffPost superfans!
Sign up for membership to become a founding member and help shape HuffPost's next chapter