The company behind North America's first offshore wind farm unveiled plans this week to bring seaward turbines to Massachusetts.
If the Bay State regulators give Deepwater Wind their blessing to build a massive wind farm in the waters between Massachusetts and Rhode Island, the burgeoning wind industry could finally break the curse of Cape Wind, the failed 24-square-mile project first proposed off Cape Cod 16 years ago. Renewable energy skeptics have long used Cape Wind's failure as proof that turbines were too costly, dangerous and unpopular to serve as a top power source for the country.
Rhode Island-based Deepwater Wind has already succeeded in getting a five-turbine wind farm up and running off Block Island that began producing electricity last November. It's also built or gained approval for farms in New York and Maryland. Now the company plans to submit an official bid next year to build its fourth wind farm, off the coast of southern Massachusetts.
Named Revolution Wind ― a heavy-handed reference to turbines in a state culturally obsessed with its colonial past ― the proposed project would have 144 megawatts of electricity-producing capacity, with the option of going bigger with 288 megawatts or smaller with 96.
The firm plans to pair the turbines with a 40 megawatt-hour Tesla battery storage system that would collect excess energy late at night, when the wind blows but fewer lights are on, and deploy it during peak hours of the day, offering the kind of reliability that burning fossil fuels provides.
"This battery-offshore wind storage combo, we've seen it in some projects pairing batteries with solar and a few with batteries with onshore wind," Deepwater Wind CEO Jeff Grybowski told HuffPost by phone. "But we've proposed here the biggest offshore wind-battery combo in the world."
It's an ambitious plan, especially in Massachusetts. Cape Wind's failure to build its namesake project, after applying for its first permits in 2001, came to symbolize the renewable energy industry's woes and set the offshore sector back years, even as wind turbines proliferated off the shores of Europe and East Asia.
Cape Wind sought to put 130 turbines in Horseshoe Shoal, part of Nantucket Sound. That drew opposition from rich people with last names like Kennedy and Koch, who didn't want windmills obstructing their beachfront views. Environmentalists, too, feared that noise from the construction would disturb migrating whales and that the blades would kill seabirds.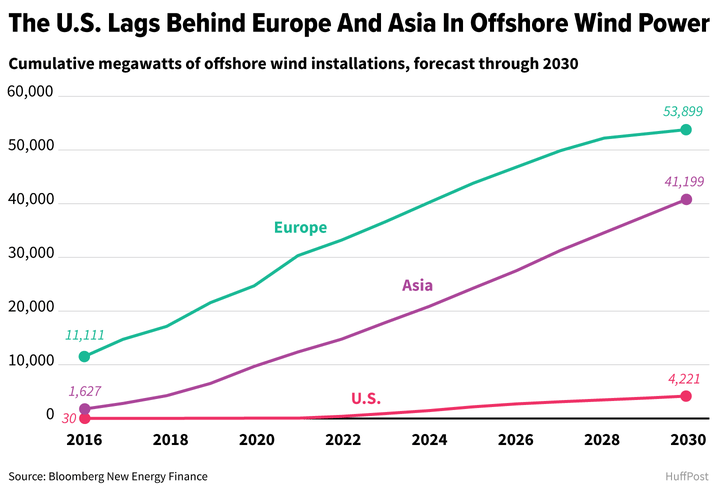 Revolution Wind will likely attract similar scrutiny.
"The question in our mind is whether or not these things are being done in a way that exercises responsible resource protection," said Jeff Ruch, executive director of Public Employees for Environmental Responsibility, which successfully sued Cape Wind for violating the Endangered Species Act. "In the case of Cape Wind, it was in the middle of important flyways and would have Cuisinart-ed a lot of important birds."
Piledriving the bases of offshore turbines produces loud noise that disturbs fish and sea mammals, but Deepwater Wind worked closely with whale surveyors and wildlife officials to avoid disrupting migrating creatures when building the Block Island Wind Farm last year.
To quell the criticism from well-heeled homeowners, Grybowski said the company plans to build Revolution Wind 30 miles from shore, roughly two to three times farther out than Cape Wind's proposed project.
"We're building a project out in the middle of the ocean as opposed to a location like Cape Wind, in the middle of the sound," he said. "This is a project that can be sited in a way that it will avoid controversy."
Deepwater Wind's other advantage comes from how it's pitching the project. Massachusetts put out two requests this year ― one for general clean energy proposals and another specifically for offshore wind ― as part of Republican Gov. Charlie Baker's push to slash climate-altering emissions. Revolution Wind's yearlong construction would begin in 2022 and the project could meet up to 10 percent of the state's outlined needs.
It could also boost the number of jobs available for the region's struggling mariners. Overfishing and climate change have decimated the cod population in New England, forcing federal regulators to dramatically lower the annual fishing quota. Fishing jobs have disappeared. Skills like hauling nets and sorting fresh catch may not transfer to work on offshore wind turbines, but Grybowski said the company plans to build an upkeep facility in New Bedford, a fishing hub roughly 60 miles south of Boston, and he wants workers with experience on the water.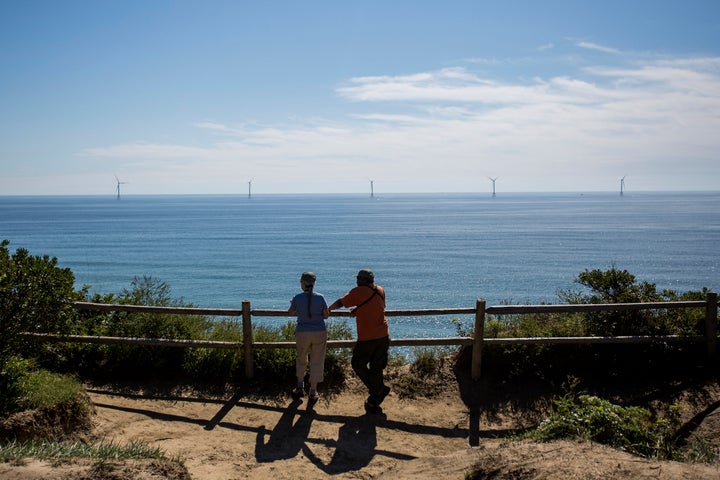 "There will be several hundred people employed in New Bedford, either through construction or long-term maintenance," Grybowski said. "We're going to need vessel captains, mates, people who are going to work outdoors and get on the water. People in the fishing industry today, they're ideal candidates for those types of jobs."
In the United Kingdom, where offshore wind is booming, marine industries are drawing new funding and attention, said Keegan Kruger, a London-based wind analyst at the data firm Bloomberg New Energy Finance. But he said most workers have come over from the offshore oil and gas industry. Deepwater Wind's turbines, for example, are built on the repurposed bases of offshore oil rigs.
"There's been a resurgence in investing in port infrastructure and setting up apprenticeships and training colleges," he told HuffPost.
For now, Deepwater Wind remains the primary offshore wind developer in the United States. In December, Norway's state-owned oil company Statoil won a $42.5 million bid to lease 79,350 acres of federal waters off the coast of Long Island. Bay State Wind, a joint venture between Danish wind giant DONG Energy and a local firm, is taking steps toward building in Massachusetts waters, too.
Deepwater Wind's Block Island farm already shut down the vacation spot's diesel-fueled power station this year. Now the company is working on a 90-megawatt project, dubbed the South Fork Wind Farm, 30 miles southeast of Montauk, New York, with plans to start providing power to Long Island utility customers in 2022. In Maryland, the firm is under contract to build its Skipjack Wind Farm by 2022. Revolution Wind would be its fourth location.
Offshore wind will provide 17,575 megawatts worldwide this year, according to Bloomberg New Energy Finance data, with 14,740 megawatts in Europe, 2,805 in Asia and just 30 in North America, thanks to the Block Island Wind Farm. But the industry has tremendous potential. Wind off the coast of the U.S. could generate 4,223 gigawatts of electricity ― four times the power that's currently produced by all sources in the country, according to a 2012 study by the National Renewable Energy Laboratory.
So the ghost of Cape Wind may not haunt the U.S. wind energy industry for long.
"Ten years ago, it was effectively onshore turbines that they put out at sea," Kruger said. "Now that's completely changed. First and foremost, this is a marine sector before it's a wind sector. Things are very, very different than they were back then."
Before You Go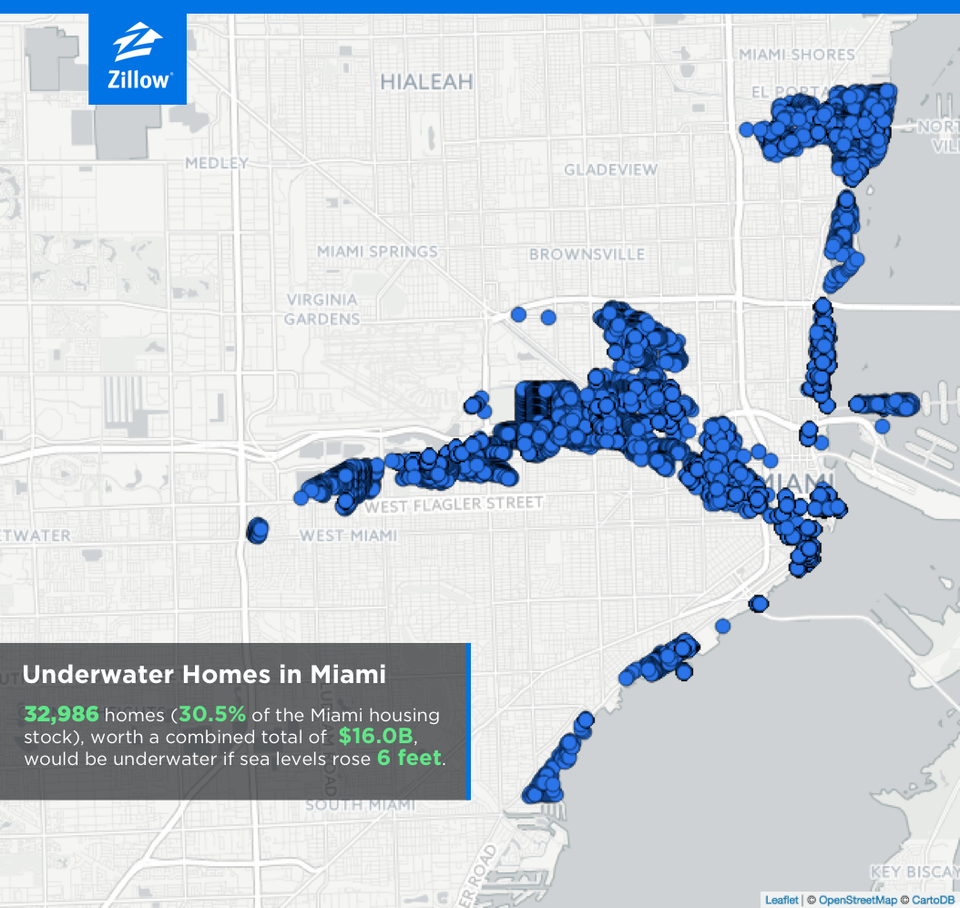 How Climate Change Could Affect The Housing Market
Popular in the Community