Shh... March 5, 2011 was Silent Day in Bali! Nyepi marks the new year here.
I'm sequestered in my beautiful ocean pool villa looking onto Kelating Beach. I'm not allowed outside the resort today while the Balinese stay at home for what is supposed to be a day of silent contemplation and fasting. But I asked a few Balinese, and they laughingly replied that these days families are more likely to hole up at home with loads of snacks and play games all day.
Electricity is supposed to be turned off, so no music. Nobody is allowed on the streets. Even the airport is closed. Only in Bali!
On the eve of Nyepi, there are parades all throughout the island of ogoh-ogoh made by local villagers. Ogoh-ogoh are papier-mache effigies of gods and creatures taken from Hindu mythology. They are paraded through the village to much fanfare before being burned, symbolizing cleansing and purification from evil.
I'm staying at Alila Villas Soori, the ideal place to enjoy this traditional Balinese festival and its contemplative aspects. It's located in the district of Kerambitan, about an hour and 15 minute drive from Denpassar airport near the island's famed Tanah Lot Temple. Unlike the rest of Bali, such as bustling Seminyak and well-developed Ubud, Kerambitan is still enjoying the quiet village life amidst verdant rice fields.
In the village, the grannies can still be seen keeping to their old ways, wandering around topless. While the ogoh-ogoh parades in Denpassar are much grander in scale. It was a treat to be able to watch the villagers show off their creations.
The best part was the ogoh-ogoh bonfire that took place on the beach right in front of the resort. Because so much heart and soul goes into making the ogoh-ogoh, only a few lucky (or perhaps unlucky) ones get chosen for this fiery fate.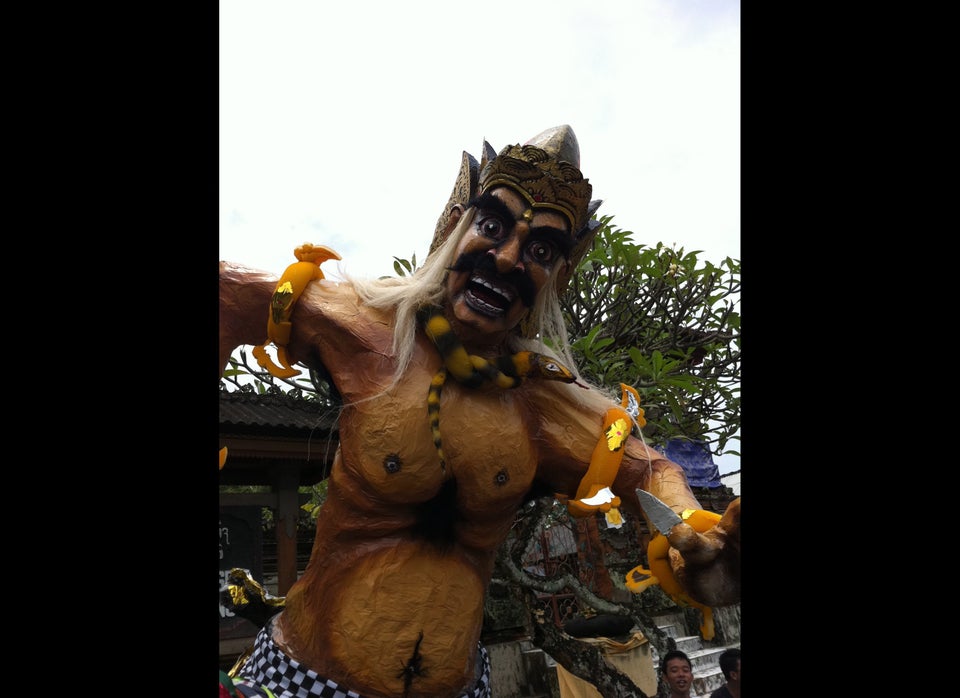 Ogoh-ogoh: Village Parade of Demon Effigies on Eve of Bali's Silent Day