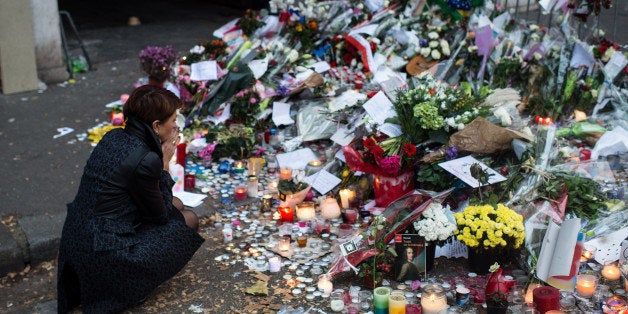 Oh, come, oh, come, Emmanuel,
And ransom captive Israel,
That mourns in lonely exile here
Until the Son of God appear.
Rejoice! Rejoice! Emmanuel
Shall come to you, O Israel!"

As 2015 comes to a close, we are soon to approach the season of Advent. For many in Western Christendom, Advent is a season of expectation, waiting and hope for a Savior, who comes to redeem a fragmented world. Candles are lit weekly reminding us of the light of Christ entering into the darkness of the world. "Oh Come, Oh Come, Emmanuel" is sung to remind us of God entering into the world's brokenness. Emmanuel (Immanuel), is a name for Christ which means "God with us." In the Bible, both the books of Isaiah and Matthew make mention of this phenomenon. I've always found myself fascinated by this concept of God being with us; by this concept of God literally entering into our crippled world. I've thought about how many ways this world could have received the message of the hope of liberation without this level of sacrifice. While I can't seem to get past the "why" of it all, I also can't help but to think; What if the lesson is that through God's intentional act of kindness, we too, as a faith community are supposed to emulate "Emmanuel" to the world around us? What would this mean for how we are supposed to enter into the pain & suffering of humankind?
Within the past few weeks our country continues to grapple with the realities of racial tensions that continue to pervade our national climate as many boldly declare that they stand #insolidaritywithMizzou. This weekend our world mourns in response to the unspeakable tragedy across the Atlantic and #westandwithParis as they endeavor to heal from the violence and loss of mass murder. Be it Beirut, Japan, Lebanon, Syria, Mexico, Baghdad or Strasbourg, we #PrayForTheWorld. There are many opinions on social and political matters and various hypotheses as to why things happen the way they do, but at the end of the day the great lesson of Emmanuel is that none of that really matters. The lesson of Emmanuel is about entering into the pain of human suffering. In quoting Jurgen Moltmann, in his book "God & Human Suffering," Douglass John Hall writes about what it means for God to truly be in our midst. "God is not greater than he is in this humiliation. God is not more glorious than he is in this self-surrender. God is not more powerful than he is in this helplessness. God is not more divine than he is in this humanity." I would argue that if God is not greater than this act of self-sacrifice, then we should only strive reflect that God-likeness.
Where understanding will always lack and any acts of service may fall short, in situations of powerlessness, there is power in the demonstrated act of love through intentionally entering ones presence into another's pain. A few weeks ago my mother, who is an education administrator was called to the hospital to be with the parents of an 11 year old girl who's life was taken tragically in a car accident on the way to school. While she was at the hospital with the parents, she texted me asking "What am I supposed to say? What am I supposed to do?" I responded, "Nothing. You just sit there. Your presence and silence may be enough." This being only an example of the reality of ongoing human suffering, I was reminded then as I am reminded today in the midst of our current anguish, that Emmanuel has entered, therefore we must enter too. We must place ourselves on the margins with the discouraged, lend our ear to the misunderstood, our presence to those who mourn and our service to those who suffer. Their pain takes precedence over our opinions. Perhaps our responsibility is to just sit in it with them or even to weep as Jesus wept in John Chapter 11 with those who mourned the loss of their friend and family member, Lazarus. This is what we mean by solidarity and what we mean when we say that we are standing with or praying for. These statements aren't meant to be merely political in nature, but rather a revolutionary act of Emmanuel: boldly entering into the suffering of humankind.
May we accept the gospel's invitation to enter into the pain and suffering of our sisters and brothers, and in turn deliver a message of redemptive light in the midst of the darkness that surrounds us.

"Oh Come, Oh Come, Emmanuel."
Popular in the Community