Lots of tourists go to Palestine, but I'd estimate that 90 percent of them do it as a strategic strike from Jerusalem to Manger Square in Bethlehem (about six miles away) to see the Church of the Nativity. They then return directly to Israel without spending a single shekel in restaurants or hotels. Obviously, there's much more to experience in this country.
In eight nights in Palestine, we are spending four each in Bethlehem (for sights in the south) and Ramallah (for sights in the north). Each city is like a suburb of Jerusalem, but because of the political situation, wall, and checkpoints, they are a long one-hour drive apart (barring delays, which are routine).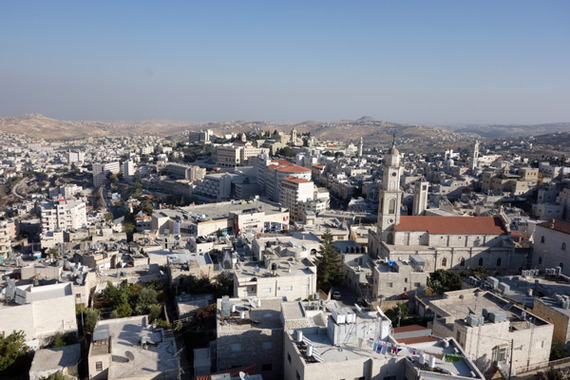 Just across the wall from Jerusalem stands Bethlehem. No longer just the little town of Christmas-carol fame, Bethlehem is a leading Palestinian city. From the rooftop of the highest hotel in town, we found the perfect wide shot to establish the city. Book covers featuring Bethlehem show a delightful town capping a hill with spires and minarets. This was pre-growth spurt and would be impossible to film today, as the city sprawls and is almost indiscernible with greater Jerusalem.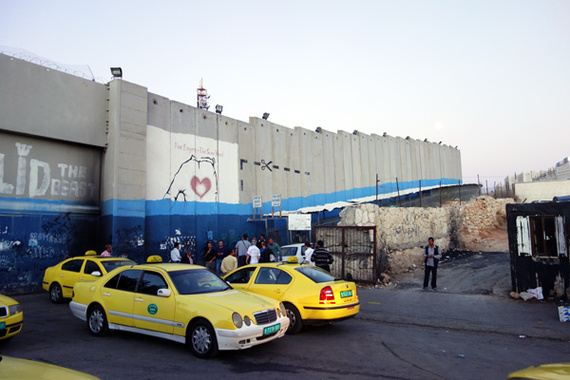 I want to encourage travel to Palestine with this program. While it's probably a bit too edgy for most Americans, it's amazing how after a couple days in Palestine, you feel right at home. I recently walked from San Diego over the border into Tijuana. Walking through the wall from Jerusalem to Bethlehem feels much the same. Of course, if you're Mexican or Palestinian, it's a different story. But for the American, just flash your passport and try not to get your sweater dirty on the turnstile. At first, we were nervous here with our big camera. But it soon became clear that Israeli guards don't really care what happens on this side of the wall. I walked through one way (back into Israel) and waited for a gang of Palestinian workers (who have special permission to do menial labor in Israel) to get off a bus. Then, with our camera rolling, I joined them filing through the turnstile back into Palestine. The travel nitty-gritty: Your passport is all you need. Palestine uses Israeli currency. Just walk across the border and haggle with the taxis... and in $5 and 10 minutes, you're looking at the church marking the spot where Jesus was born.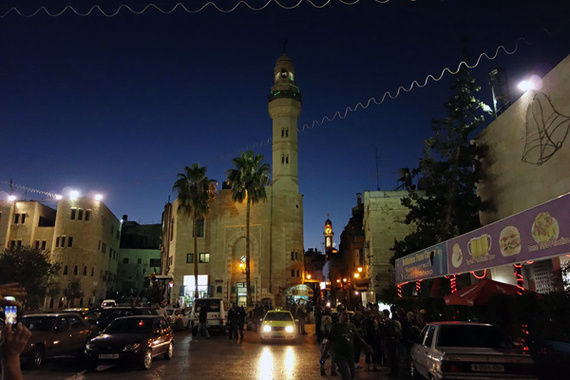 The little town of Bethlehem has a very cool Arabic vibe, especially in the early evening. Bethlehem's skyline is a commotion of both crescents and crosses -- a reminder that the town, while almost totally Arab, remains a mix of Muslims and Christians. While Palestinians are Arabs, not all Palestinians are Muslims. In fact, about 350,000 are Christian. And both Christians and Muslims are drawn to Bethlehem. For some reason, Palestine (while east of Israel) is one hour earlier. It's pretty late in the year, and we are out of light and done shooting here by 5:00.
I'll continue this Holy Land series until November 21st. Then, to celebrate my homecoming, I'll give a live, free slideshow lecture on Thursday, November 21st at 7 p.m. P.S.T. in Edmonds, Washington. You can attend in person (registration required)...or watch the live webcast from anywhere in the world (no registration required). Learn more at Rick Steves - Holy Land: Israelis and Palestinians Today.