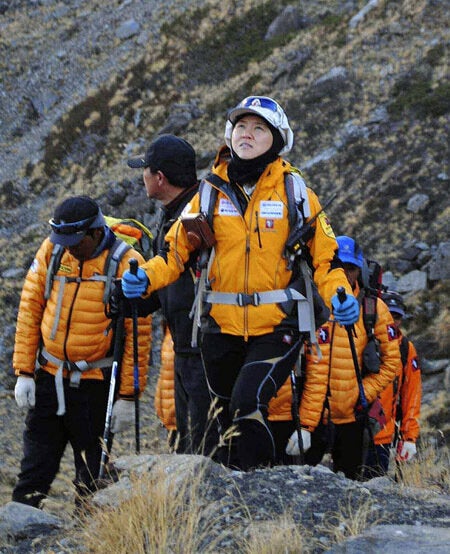 (AP) -- Scroll down for photos -- KATMANDU, Nepal - A South Korean mountaineer became the first woman to scale the world's 14 highest mountains, crawling on all fours Tuesday as she reached the last summit.
Oh Eun-sun, 44, arrived at the final, steep stretch of Annapurna in the Himalayas 13 hours after she left the last camp to beat a Spanish rival to the record. Her feat was broadcast live in South Korea by KBS television.
At the top, she pulled out a South Korean flag, waved, and then wept before throwing up her arms and shouting, "Victory!"
Annapurna was the last of the 14 peaks above 26,247 feet (8,000 meters) Oh needed to climb to set the mark. She reached the summit -- 26,545 feet (8,091 meters) above sea level -- 13 years after she scaled her first Himalayan mountain, Gasherbrum II, in 1997. She scaled Everest in 2004.
The whole team was in good health and was making its way down to the base camp, expedition coordinator Song Hea-kyong said in the Nepalese capital. They were expected back in Katmandu by the weekend, Song said.
Oh narrowly beat Edurne Pasaban of Spain to the record. After reaching Annapurna earlier this month, Pasaban, 26, has only the 26,330-foot-high (8,027-meter-high) Mount Shisha Pangma left on her list.
Oh also tried to summit Annapurna last year but turned away just hundreds of yards (meters) from the top because of bad weather. Snow and wind also stopped her from making the trek last weekend.
"I gave it up because of a sudden ominous feeling that something bad would happen to either me or my peers, including the sherpas, on my way back to base camp," she told The Korea Times newspaper last month.
She said this trip would be different, adding that she would be carrying a photograph of Ko Mi-young, a lifelong rival who fell to her death last year while descending from Nanga Parbat, the world's ninth-highest peak.
On Tuesday, KBS footage showed Oh breathing heavily after each step in minus-20 Fahrenheit (minus-29 Celsius) temperatures on snowy Annapurna.
"I'm so happy, and I would like to share this joy with the South Korean people," said an emotional Oh, murmuring, "Thank you, thank you."
President Lee Myung-bak sent a congratulatory message, saying South Koreans were "awakened to her great spirits of challenge," according to his office.
"She is really great and I'm proud of her," he said.
Oh's quest has met with some controversy, after some questioned whether she had in fact summited one of the peaks on the list: Kanchenjunga, the world's third-highest. Photos taken of that trek did not clearly prove she had reached the summit. She dismissed the criticism.
"I can say that I have stood at the summit of Mount Kanchenjunga," she told reporters in Seoul late last year, according to Yonhap news agency. "It was bad weather. Three sherpas told me that I reached the top, and one of them took the picture."
Oh has described mountain climbing as an addiction.
"For a while after a successful climb, I seriously consider quitting," she told The Korea Times. But "I find my heart longing for the exhilaration I had on the top of a summit."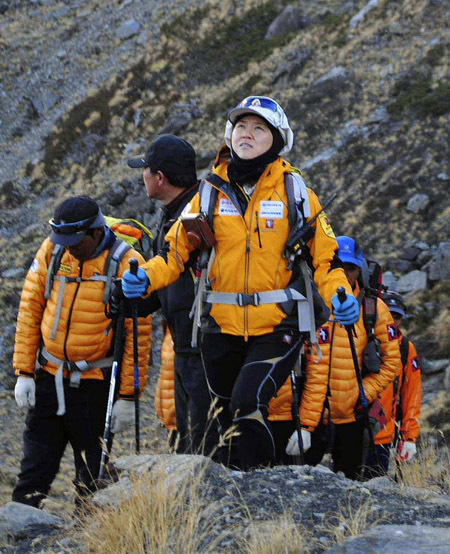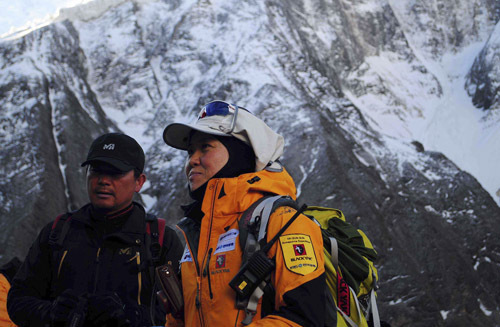 Popular in the Community